Home
»
Media Contacts & Coverage
Primary Media Contacts
Abbie Fink, HMA Public Relations, afink@hmapr.com
OR
Michelle Lind, Esq., CEO, Arizona Association of REALTORS®, michellelind@aaronline.com
---
Video Library
---
---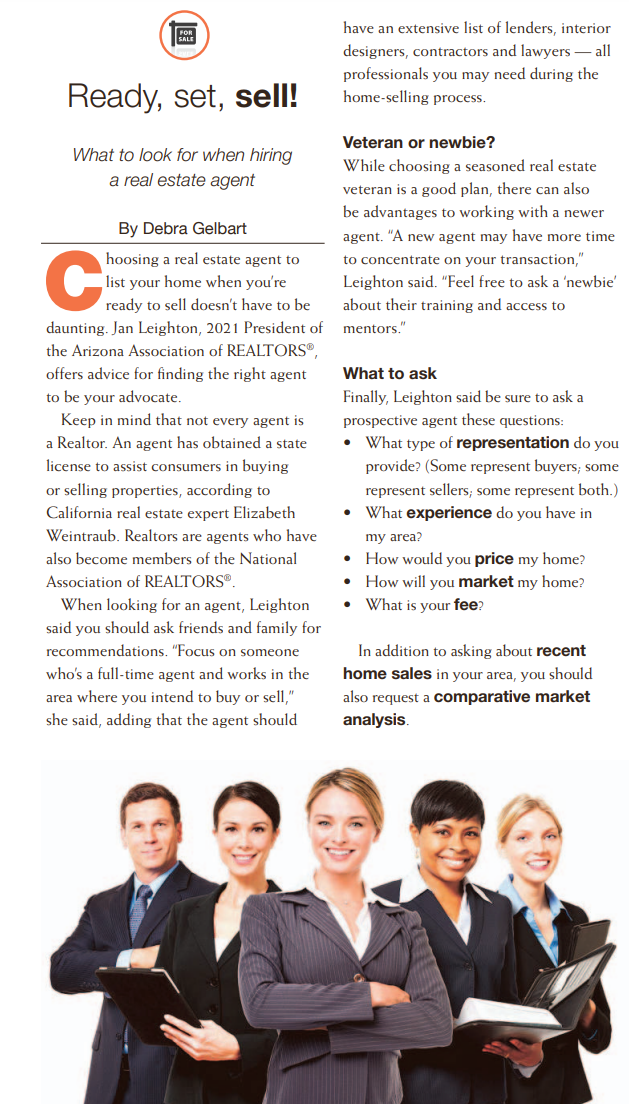 ---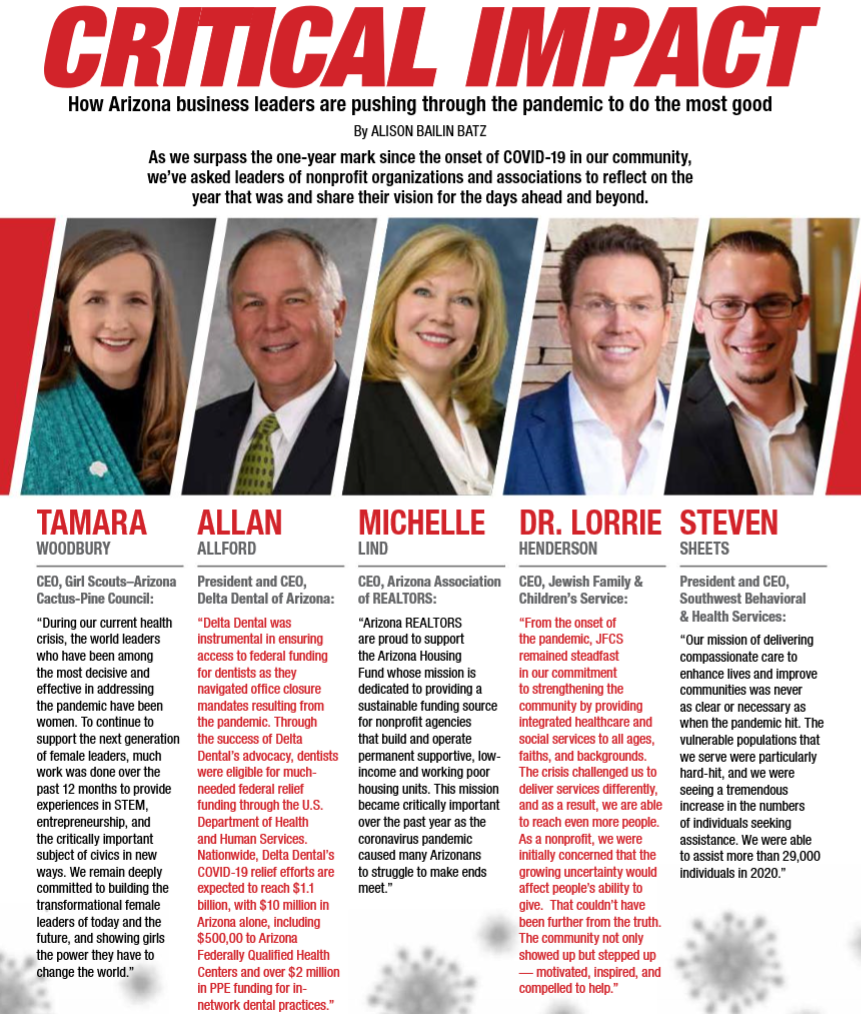 ---
ABC 15 – September 10, 2021
National housing experts say as temperatures cool down this fall, the recent home-buying frenzy could be slowing down as well, but will the same happen here in Arizona?
"We're seeing a little more inventory creep on market, which means people are having to get a little more realistic about their pricing," said Jan Leighton, President of the Arizona Association of Realtors.
USA TODAY – August 20. 2021
The Arizona Association of Realtors says listing agents should educate sellers about fair housing laws and the pitfalls of love letters, according to its CEO, K. Michelle Lind.
Payson Roundup – August 13, 2021
"There's not a lot of people talking about the inventory shortfall," said Gary Nelson, the 2021 president-elect of the Arizona Realtors. "We have more people wanting to buy than inventory available."
KVOA Tucson
Arizona REALTORS® First Vice President Eric Gibbs shares his opinion.
Airpark News – July 2021
Former music publisher Louis McCall finds the perfect pitch in real estate.
KPVI – July 7, 2021
A popular gripe about Californians moving into nearby states is they bring their politics with them. The newest complaint could be they're bringing high home prices as well.
phoenix_W_20210618_si-ASSOC

Daily Independent – June 20, 2021
Whether Valley residents will first see relief from soaring home prices or relief from extreme weather is a hot summer topic right now.
KTAR 92.3 – June 8, 2021
Gary Nelson, a realtor in Flagstaff, is seeing something similar. He said homes in his area are selling for about 5% over asking price.
Nelson, who's also the president-elect of the Arizona Association of Realtors, said nowadays it's rare for a home to sell for the price it's listed.
"We're seeing that pretty much throughout the state, except for possibly the rural remote areas," he said.
As for who's making the big offers, Nelson said it's mostly buyers from Arizona. He said about half of the buyers he works with are Valley residents looking to buy a vacation home in Flagstaff.
"But we do have some people from California and other states as well," he said.
ABC 15 – May 31, 2021
"I have read the Consumer Federation of America Report, but have not had the opportunity to evaluate the methodology used to create the report or its accuracy," said Michelle Lind, CEO of Arizona REALTORS®. However, I can comment on limited representation (dual agency) in Arizona."
"Clearly defining agency relationships in a real estate transaction is important for both the clients and the brokers. Clients deserve to know who is representing them and acting in their best interests. Brokers must be clear about who they represent in a transaction to determine what duties are owed to which party. Therefore, the Arizona REALTORS® has the widely used Real Estate Agency Disclosure and Election Form to address the different agency relationships."
---
In Business Magazine – May 2021
Addressing the office sector as distinct from the industrial, retail and multifamily sectors, Rick Padelford, an Arizona REALTOR® with Realty Executive Commercial, says, "As offices begins to open back up and vaccines continue to be more widely distributed, the office sector will need to consider how to clean and disinfect common area spaces and the evolution of air circulation throughout office spaces." He adds, "This is also something that we could see transferring to the retail sector," noting that COVID-19 created some common concerns among the sectors.
---
3TV/CBS 5 – April 24, 2021
Jan Leighton, the president of the Arizona Association of Realtors, says in a normal market, there would be 20,000 to 25,000 active properties for sale in the Valley, specifically single-family detached homes. As of Friday afternoon, that number was below 4,000.
---
AZ Big Media – April 18, 2021
According to the Arizona Association of Realtors, between March 2020 and March 2021, the number of active listings statewide fell 53 percent, while sales rose by just over 10 percent. The sharp decline in listings meant just over one month's worth of inventory at current sales levels, or falling nearly 55 percent, and prompting sales prices to rise by nearly 12 percent.
---
InBusiness Magazine – March 2021
The buzzword for 2020 across all industries, including commercial real estate, was "pivot." Fortunately, the fundamentals of the Phoenix-area commercial real estate market were strong before the onset of the COVID-19 pandemic, so we were prepared to weather the storm better than other markets across the U.S.
---
Arizona Daily Sun – February 14, 2021
Just to start, tell us a bit about yourself. What drew you to a career in real estate?
I'm a lifelong resident of Flagstaff and in 1994, my wife Tammy and I were deciding whether we were going to stay in the Flagstaff area and start a family or relocate. After touring a large part of the western U.S., we decided to stay in Flagstaff. That meant I needed to look for a career change that would allow me to be rewarded for my own work ethic and also give me a schedule so that I could continue to enjoy what northern Arizona has to offer. That is when I became a Realtor.
What does your upcoming role as president of Arizona Association of REALTORS® encompass?
The Arizona REALTORS® focuses on four main subjects for its 54,000 members: professional development, ethics and arbitration, legislative concerns and business services. The Arizona Realtors are very proactive on improving new and existing programs and technologies for our members that ultimately benefit the consumer. Currently, we are trying to work with our state legislature to try to balance laws effecting both landlords and tenants related to the COVID-19 pandemic. We also are very involved with fair housing, private property rights and housing opportunity on behalf of our clients and customers. I have been deeply involved with each of those aspects as a volunteer for the Association for many years. My role as president will be to continue to serve our members by chairing meetings, working with our phenomenal staff on a daily basis, speaking on behalf of the Association and trying to improve communication to the membership.
---
AZ Big Media
A bill that provides protection for businesses and others against frivolous COVID-19 lawsuits was introduced by Arizona Senator Vince Leach (R-SaddleBrooke) on Monday.
"What we're trying to do is give targeted protection with some reasonable liability protection for businesses, educational providers, the healthcare industry, government agencies, religious institutions…," Leach said. "We're trying to give everyone the assurance that if they're following sensible precautions against this terrible threat, this virus that we have, that they won't see an onslaught of nuisance lawsuits."
---
Newsbreak
At the close of 2020, the Arizona real estate market continued to remain strong. Historically low mortgage rates kept buyers buying, meaning Arizona's housing inventory was unable to keep up with demand. Representatives from the 2021 board of the Arizona Association of REALTORS share their predictions for 2021 as the seller's market continues to flourish throughout the state of Arizona.
---
Flagstaff Business News – Jauary 7, 2021
Staying strong since last June, the housing market on the local, state and national level has risen to a 14-year high, despite the pandemic, economic uncertainty and a difficult presidential election. Even during historically slow periods, like the holiday season, homebuyers are quickly purchasing the few homes listed for sale.
The shortage of housing inventory and extremely low interest rates have driven the hyperactive real estate market, says long-time realtor Gary Nelson, who heads the Gary Nelson Group and is the associate broker at Realty Executives of Flagstaff. That trend, he says, is expected to continue through 2021.
---
---
Media Archive
2020
Arizona Public Media, December 11, 2020
Arizona realtors see steady demand as state grows population. Eric Gibbs of the Arizona Association of Realtors discusses current trends.
---
Today's News-Herald, December 5, 2020
Lake Havasu City Real Estate Agent Mary Robert's term as President of the Arizona Association of Realtors took an unexpected turn just a few months in.
The real estate industry has remained strong statewide throughout 2020. But like everyone else, the pandemic has forced Roberts and the association to adjust its operations to conform to a new reality.
"It has been good for real estate – I can tell you it hasn't hit the real estate business at all," Roberts said. "But as far as leadership and running an organization of 55,000 members – it has been a lot of Zoom meetings. We have been kind of having to move outside the box in how you are going to reach out to people and help people through this. People are used to seeing each other, so you need to figure out what you need to do to reach out and help those members virtually."
---
inBusiness, AZ Health & Living & My Local News, December 5, 2020
The Arizona Association of REALTORS® recently approved a donation of $25,000 to the Arizona Housing Fund (AZHF) on behalf of the 2020 REALTORS® of Arizona Political Action Committee (RAPAC) Major Investors.
The Arizona Housing Fund is a dedicated and sustainable funding source for nonprofit agencies that build and operate permanent supportive, low-income, and working poor housing units. This donation will ensure that more housing units are constructed, meeting the growing community needs in Arizona with the goal of reducing homelessness.
---
Health and Living Magazine, My Local News & Newsbreak, December 3, 2020
The National Association of REALTORS® (NAR) Board of Directors has voted to approve a series of recommendations from NAR'S Professional Standards Committee that extends Article 10 of the Code of Ethics to include discriminatory speech and conduct beyond a member's real estate practice.
"Our members statewide have long adhered and made the commitment to uphold the principles of fair housing as well as NAR's Code of Ethics and Standards of Practice," says Arizona REALTORS® CEO Michelle Lind. "As new standards and revisions are introduced, we will continue to abide by those strict ethical mandates."
---
Peoria Times, November 14, 2020
Jan Leighton of JD Campbell Realty in Peoria is the Arizona REALTORS 2021 president.
"We are extremely proud to have Jan lead our executive team in 2021," Arizona REALTORS CEO Michelle Lind said. "With Jan's leadership, I am confident our association will continue to build on our previous successes and continue being the voice of the Arizona real estate industry."
Arizona REALTORS includes more than 50,000 professionals from all areas of real estate, including residential, commercial, property management, land and appraisal.
---
Inside Tucson Business, November 6, 2020
Local real estate professional Eric Gibbs has been announced as the vice president of Arizona Association of REALTORS at their 2021 executive committee, which honored members for professional accomplishments and leadership excellence during a recent virtual conference. In the 13 years Gibbs has spent as an active broker, he has earned a reputation as a leader in the Tucson real estate industry who gives back to the industry he loves by serving the real estate community through numerous committees and leadership roles. Before real estate piqued Gibbs' interest, he served 15 years in the U.S. Navy.
---
The Arizona 100 (November 4, 2020)
At its annual Leadership Conference held virtually, Arizona REALTORS® installed its 2021 state and regional association officers.
Jan Leighton of JD Campbell Realty, Inc. in Peoria will begin her term as the Arizona REALTORS® 2021 President. She will serve with 2021 President-elect Gary Nelson of Realty Executives in Flagstaff, 2021 First Vice President Eric Gibbs of Realty One Group – Integrity in Tucson and Treasurer Shelley Ostrowski of Reality One Group – Gateway in Yuma.
---
On Oct. 6, The National Association of Realtors announced Jeff Fields, with Russ Lyon Sotheby's International Realty in Scottsdale, as one of its five 2020 Good Neighbor Award winners. As a volunteer and past board president of nonprofit Teen Lifeline, Fields has served more than 28,000 youth through a peer-to-peer teen crisis hotline while providing community education on suicide prevention.
---
Jan Leighton doesn't back down fro ma challenge whether teaching seventh- and eighth-graders in the inner-city of Pittsburgh or bar-tending in Venice Beach where she became the first female General Manager for Grand American Fare Restaurant and Bar Corp. "I was told their bars were too rough for women," scoffed Leighton. Now with over 24 years in the Real Estate industry in Arizona's West Valley, Jan Leighton is poised to begin her term as President of the Arizona REALTORS® in 2021.
---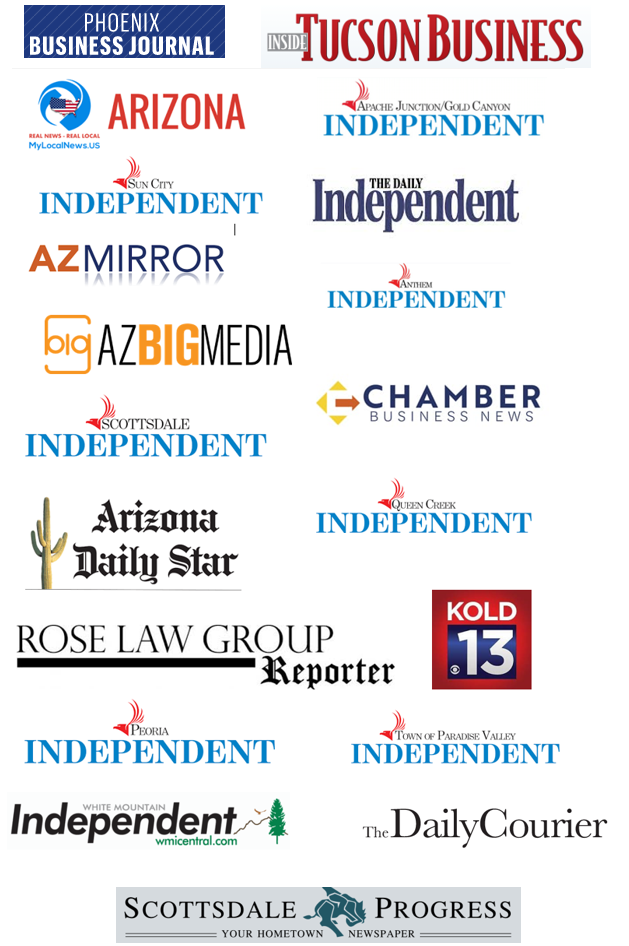 As tenants struggle to make ends meet, landlords were mandated by an executive order to adjust their rent collections schedules, allowing tenants upwards of eight months abeyance on payments. While this order provided needed relief to the tenants, it created additional hardship for the landlords, whose own financial stability often relies on the income generated from these rental properties. And although no rent was collected, the landlords were still expected to meet their financial obligations.
---
Chamber Business News (August 17, 2020)
At the request of the Arizona Multihousing Association and the Arizona Association of REALTORS®, Elliott D. Pollack & Company analyzed the potential impact of eviction moratoria on the Arizona rental housing industry. The results clearly indicate that eviction moratoria and the non-payment of rent could have devastating consequences on the rental housing industry and the real estate industry as a whole.
---
Arizona Mirror (August 17, 2020)
For the past four months, trade groups representing landlords and property owners have attempted to get additional state funds released for tenants and landlords but those monies have been slow to release.
Now those same groups are suing to overturn the eviction moratorium imposed by Gov. Doug Ducey, which created a situation they deem "unsustainable." However, tenant advocates say that landlords have already been evicting tenants and are able to receive money from evicted tenants.
---
There are approximately 10,000 homeless Arizonans who are living in either emergency shelters, transitional shelters or living unsheltered, in need of permanent housing. Existing Permanent Supportive Housing is always full with a waitlist as long as six months.
---
Arizona REALTORS® has officially elected its executive committee line officers for the 2021 year. The leadership team is comprised of several returning line officers with decades of industry experience including President Jan Leighton, President-Elect Gary Nelson and First Vice President Eric Gibbs. Next year, Yuma real estate pro Shelley Ostrowski will join the executive committee as treasurer.
---
Kirti Dwivedi and Bobby Borszich had just put down a deposit for what they envisioned would be a 60-person, Hindu-themed wedding ceremony and reception on May 2 at the Fairmont Scottsdale Princess, but it quickly became apparent the coronavirus outbreak and business-lockdown efforts were going to derail their plans.
Michelle Lind, CEO of the Arizona Association of Realtors, had a similar outcome when her group needed to cancel its annual conference and governance meeting, originally scheduled for late March, at a large Glendale hotel.
---
Chicago Agent Magazine (May 15, 2020)
Agents and brokers in markets across the country are dealing with their share of anxiety over the economic turmoil wrought by the COVID-19 pandemic. This year's National Association of Realtors' midyear legislative meetings – held virtually – featured a series of sessions designed to help members take care of themselves, professionally and personally.
---
Independent Newsmedia (May 12, 2020)
The Russ Lyon Charitable Foundation, a subsidiary of Russ Lyon Sotheby's International Realty, is partnering with the Arizona Association of REALTORS to raise money for the Arizona Housing Fund.
---
AZ BIG MEDIA (May 3, 2020)
The pandemic has many wondering if it's the right time to buy or sell a home, but those entering the market have found just what they're looking for.
Even with stay-at-home orders in place, there are still plenty of people listing and buying homes at a steady pace.
---
AZ Big Media (April 27, 2020)
A minimum wage employee must work 54 hours a week to afford a one-bedroom apartment in Maricopa County.
---
Cronkite News (April 13, 2020)
Fears of winding up on the streets are on the rise as more Arizonans lose their jobs due to the COVID-19 outbreak, but a fund has been set up to help local nonprofits build housing with access to onsite support services for low-income people.
---
AZ Daily Sun (April 10, 2020)
Gary Nelson, vice president of the Arizona Association of Realtors and a realtor with Flagstaff Realty Executives, said Flagstaff isn't the only area that has seen its supply drop.
---
Forbes (March 30, 2020)
Even though most existing real estate contracts already contain a 'force majeure' clause, state real estate associations are adding ones that relate specifically to coronavirus since this is such an unusual case.
---
Signals AZ (March 26, 2020)
As we all wade through the uncharted waters that the arrival of Covid-19 has thrust us into, those of us who work in residential real estate are scrambling to find ways to continue to conduct business, safely and sanely.
---
(KPHO CBS 5)
Are you buying or selling a home? Coronavirus concerns are impacting the real estate business, according to an industry expert. (CBS 5)
---
Estrella.com
Read about what our community is talking about—from Estrella news and events to home design and entertaining tips.
---
West Valley View (February 12, 2019)
With more than $58,000 in student loan debt from Northern Arizona University and a full-time job barely getting her from paycheck to paycheck, Kaitlin Kump never thought she would be able to buy a home in her 20s.
---
AZFamily 3 On Your Side (January 21, 2020)
The Arizona housing market is hot. But sellers still must make their listings stand out to get top dollar on a sale and this all begins with pics of your house.
---
New Home Central (January 17, 2020)
A continuing series from New Home Central. This column features all you'd ever want to know about Earnest Money.
---
Cronkite News (January 8, 2020)
With more than $58,000 in student loan debt from Northern Arizona University and a full-time job that barely got her from paycheck to paycheck, Kaitlin Kump never thought she would be able to buy a home in her 20s.
2016
SAAR 2017 Board of Directors take office – Scottsdale Independent (Dec. 27, 2016)
Prescott Area Association of Realtors executive retiring – The Daily Courier (Nov. 19, 2016)
Scottsdale REALTOR® Recognized for Excellence… – Scottsdale Independent (Nov. 7, 2016)
Community Brief: Monthofer installed as association president – Arizona Daily Sun (Nov. 3, 2016)
AAR 2017 President Paula Monthofer on Ask A REALTOR® Hotline – Arizona Midday (Oct. 25, 2016)
AAR 2016 President Paula Serven on Ask A REALTOR® Hotline – Sonoran Living (Oct. 25, 2016)
Arizona REALTORS® Hosts Annual Ask a REALTOR® Hotline – AZBIGMEDIA.com (Oct. 24, 2016)
AAR 2016 President Paula Serven Previews Ask a REALTOR® Hotline – That Real Estate Show (Oct. 23, 2016)
Home Sales, Prices Rising – Arizona Daily Sun (Sep 21, 2016)
More Millennials are Becoming Real Estate Agents – D. Patrick Lewis on KTAR 92.3FM (Sep 15, 2016)
Olympic Gymnast Takes on Twists and Turns of the Real Estate Market – Gilbert Republic (Sep 14, 2016)
Giving Back – Tucson Values Teachers (TVT) – Arizona Daily Star (Aug 15, 2016)
Broad Coalition Opposes UniSource Electric Proposal Ahead Of Arizona Corporation Commission Vote – PR Newswire (Aug 4, 2016)
REALTORS® Give on Donation Day – White Mountain Independent (Jul 26, 2016)
"With 43,792 members, the Arizona Association of Realtors took the No. 1 ranking…" – Phoenix Business Journal (Jun 24, 2016)
Homebuyers, beware: Lead pipe problems not always required disclosure – Arizona Republic (Jun 15, 2016)
Housing costs rising, study shows – Today's News-Herald Havasu News (Jun 2016)
Real Estate Agents Read to Kids at Clubs – North Central News (Jun 2016)
REALTORS® Foundation Provides Support for Community Members in Need – Bisbee Daily Review (May 29, 2016)
Real Estate Investors: Don't Overlook the Baby Boomer Market – 5 Arch Funding (May 23, 2016)
Storytellers – Arizona Daily Sun (May 15, 2016)
Tell A Story Day – White Mountain Independent (May 6, 2016)
Tell A Story Day – Yuma Sun (May 3, 2016)
Tell A Story Day – Casa Grande Dispatch (Apr 29, 2016)

Busy real estate season starts now [text] – Paula Serven on ABC15 News (Apr. 19, 2016)
What Makes (a) 'Green' Home? Arizona Leads US in Green Home Building – KJZZ 91.5FM (Apr. 21, 2016)
Scottsdale REALTORS® Represent U.S. and Arizona at Global Real Estate Expo – In Business Magazine (Apr 5, 2016)
The low-down on the BINSR – NewHomecentral.com (Mar 4, 2016)
About
The Arizona Association of REALTORS®
Arizona REALTORS® is the largest professional trade association in the state. It is comprised of individuals involved in the real estate industry, allied industries and firms. The association's more than 40,000 members represent more than half of the real estate licensees in Arizona. For more information about the Arizona Association of REALTORS®, please feel free to browse around this site.