Home
»
Media Contacts & Coverage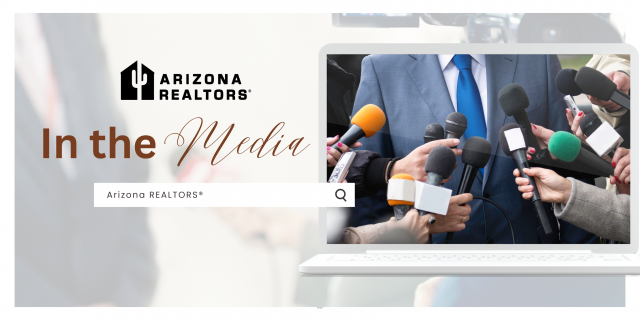 Media Contacts
Michelle Lind, Esq., Of Counsel, Arizona REALTORS®, MichelleLind@aaronline.com
OR
Abbie Fink, HMA Public Relations, afink@hmapr.com
---
Shelley Ostrowski, designated broker at Realty One Group Gateway in Yuma, will take over as president in 2024. Ostrowski has more than 25 years of experience in the real estate industry, having previously held leadership roles with the Yuma Association of REALTORS® in 2005 and 2016."
Shelley Ostrowski, designated broker at Realty One Group Gateway in Yuma, will take over as president in 2024. Ostrowski has more than 25 years of experience in the real estate industry, having previously held leadership roles with the Yuma Association of REALTORS® in 2005 and 2016."
Featured in: Yuma Sun
"The Arizona Realtors, the largest trade association in the state, recently announced its 2024 executive committee, which includes Shane Cook of Gilbert, who will serve as the 2024 treasurer."
"Comprised of 35 REALTORS® from all of the communities our association serves, the Arizona REALTORS® Equity, Diversity & Inclusion Committee strives to build a strong and diverse association in order to foster a more respectful and inclusive member and consumer experience."
"The Arizona REALTORS, the largest trade association in Arizona representing more than 55,000 Arizona REALTORS, installed its 2024 state and regional Association officers at its annual Leadership Conference held at the Wigwam Resort in Litchfield Park."
"High tech has really found Arizona and the value of our market," Phoenix and Scottsdale generational realtor Sindy Ready also told Digital. "We have a Taiwanese chip plant going in up in the north end of town. Intel is adding two plants down in the southeast end of our valley. There's Amazon, Google and just all kinds of support companies that are helping these chip plants build their products. And so the demand for people moving into the market just in the business segment has been huge."
In a recent column, you said that if a seller and a buyer dispute the validity of a home's sale, the standard Arizona Association of Realtors purchase contract requires mediation before a seller or buyer files a lawsuit.
"Lobbyist Tom Farley, who represents the Arizona Association of Realtors, said the group would have to see any proposed legislation before taking a position, but it has historically opposed "things like caps that take away from people's private property rights."
"So I have not specifically reviewed what Scottsdale is proposing. I've only heard about it, and it's similar to efforts that have been tried in the recent past, which is, you know, capping the number of short-term rentals. I believe they have some kind of spacing proposal as well," Tom Farley, a lobbyist for the Arizona Association of Realtors, told The Center Square Friday. "We've always opposed those things because they go against someone's private property rights and uses of their property."
"Second, under the standard Arizona Association of Realtors purchase contract, if you believe the buyer is not acting in good faith, you and the buyer will have to mediate this $20,000 earnest money dispute."
"According to the Arizona Association of Realtors, the median sale price of Arizona homes declined by more than 6% from May 2022 to May 2023, meaning homes in vacation destinations like Lake Havasu City may now be much more affordable than they were before."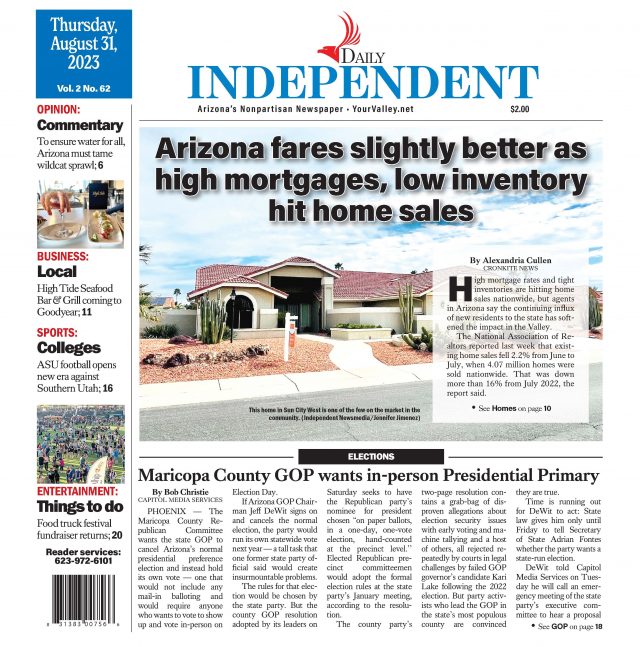 "What is happening now is the interest rates are currently around 7.5% and there are rumors that they are going to be pushing over 8% in the next few weeks, but because our market is in such high demand … ," said Sindy Ready, first vice president for Arizona Realtors. "There is just more demand than there are houses, so it is just pushing the market up."
Featured in:
KGUN 9 Tucson, Pinal Central, Daily Courier, Havasu News, AZPM, Phoenix Business Journal, AZ Big Media, Capitol Times, Payson Roundup, Verde Independent, Tucson Sentinel, and White Mountain Independent
"It is still a busy market believe it or not. What's happening is for the buyers when these interest rates go up, it means their buying power is less. And it does lend itself to the cash buyers having more opportunity."
"The Arizona Realtors is proud to once again support the Arizona Housing Fund, which we have done each year since its founding in 2019," said 2023 Arizona Realtors president, Eric Gibbs. "With the help of individual REALTORS® and their clients, the fund has distributed $1.35 million in grants to Arizona nonprofits to build permanent supportive housing and reduce homelessness in Phoenix, Glendale, Chino Valley, Page and Flagstaff."
Featured in: Phoenix Agent Magazine
"DirectOffer, a marketing and lead generation tool using AI and machine-learning to enhance property listings, has recently reached an agreement with the Arizona Realtors. This partnership aims to provide the Association's 55,000+ members with discounted access to DirectOffer's DO AudioTours, a patented technology that transforms static property listing photos into guided multi-language tours of homes."
"Business groups across Arizona are calling on the state Legislature to pass legislation today that would allow Maricopa County voters to choose whether to extend the county sales tax that funds transportation projects."
"The rental tax repeal and Prop. 400 have to travel together," said Farley, who represents the Arizona Association of Realtors. He added that even if Proposition 400 is a no-go, he's pretty confident Hobbs will sign the rental tax repeal. "Our goal is to get the bill passed this year with or without Prop. 400."
"Lobbyist Tom Farley, who represents the Arizona Association of Realtors, which supports the bill, told Axios Phoenix that lawmakers made two changes last month in the House to alleviate Hobbs' concerns."
"The long list of Arizona specialty license plates is getting even longer, as ADOT announced five brand new plates on Thursday. Two existing specialty plates are also getting a refreshed look."
Featured in: AZ Family, ABC 15, KJZZ, AZ Central, Daily Independent, Phoenix Agent Magazine, City Sun Times, and Yahoo Finance
"Sindy Ready, vice president of the Arizona Association of Realtors and leader at the Ready Team and RE/MAX Excalibur associate, said one of the most common questions from soon-to-be Arizona homeowners is whether or not they will have enough water."
"Lisa is a welcome addition to our volunteer leadership team as she brings her broad expertise and strong leadership skills to the association," Gibbs said in a press release. "As treasurer, Lisa is a key leader and resource for guiding our diverse network of members across Arizona."
Featured in: Phoenix Agent Magazine
"Sindy Ready first vice president for Arizona Realtors, said inventory is dropping throughout the Valley, with 9,415 single-family homes currently on the market in Maricopa and Pima counties compared with 11,000 last month."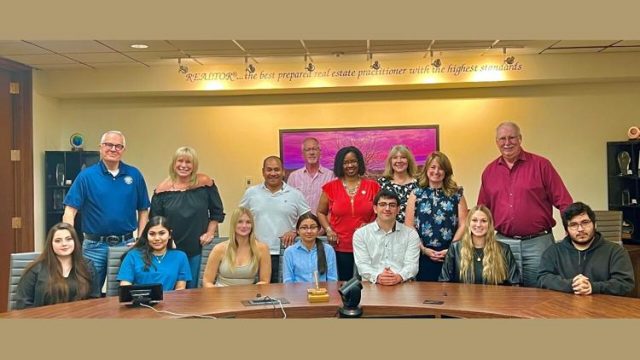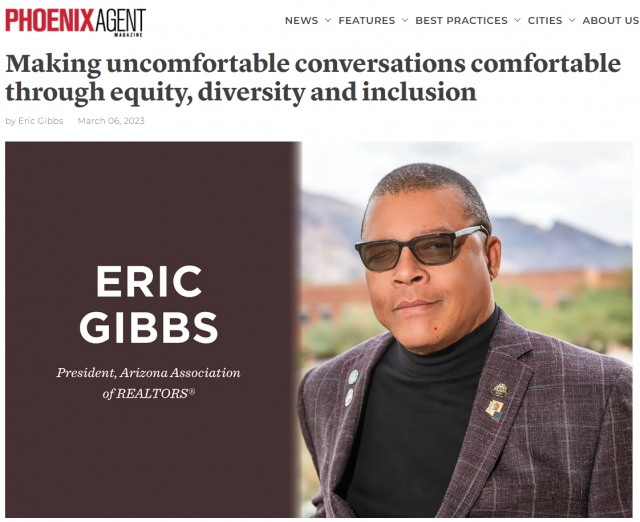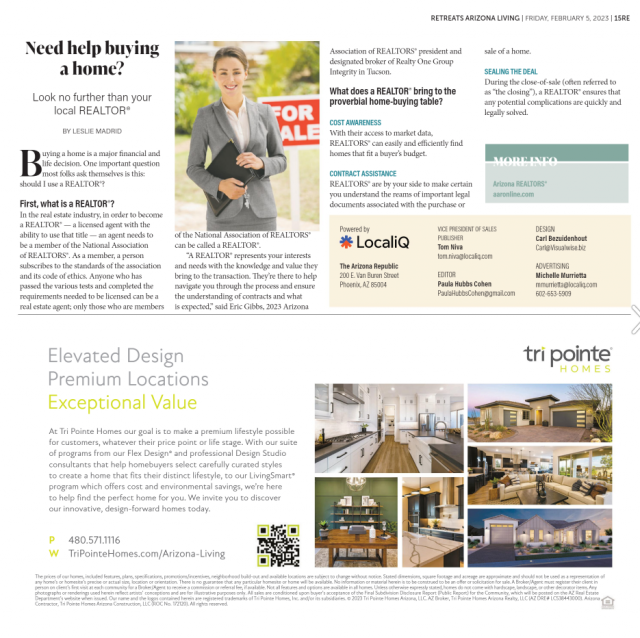 ScottsdaleIndependent-Sindy

"The issue of homelessness impacts Arizona's most vulnerable communities including families, the elderly and veterans — this must be addressed with the construction of permanent and affordable housing across the state," Michelle Lind, counsel for the Arizona Realtors, which donated $2,500 toward the grants, shared in a statement.
DailyNewsSun_20230104_18_0

---
Media Video Library
---
Media Archive
About Arizona REALTORS®
Arizona REALTORS® is the largest professional trade association in the state. It is comprised of individuals involved in the real estate industry, allied industries and firms. The association's more than 40,000 members represent more than half of the real estate licensees in Arizona. For more information about the Arizona Association of REALTORS®, please feel free to browse around this site.