Home
»
Arizona REALTORS® – Diversity, Equity and Inclusion
Arizona REALTORS® recognizes that we live in a diverse state — not only in our landscape, but in our demographics. We want to elevate what our membership offers to a wide, diverse audience across our state.
---
What Does Diversity Mean to You?
The Arizona REALTORS® Diversity and Inclusion Committee was proud to have Dr. Leonard Moore from the University of Texas lead an important interactive session that helped explain why Black people are pessimistic about the future of race relations in America.
We examined how racial attitudes and practices of the past such as housing discrimination, impact and frame the present.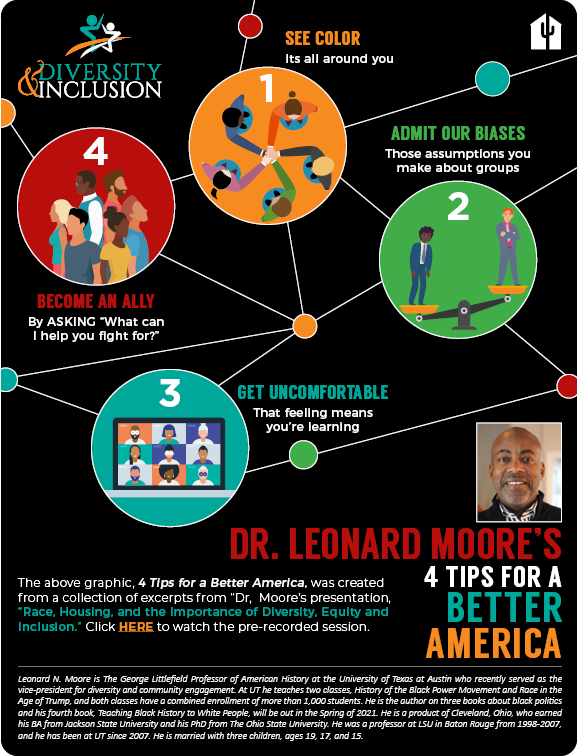 ---
The Reporting Behind the Long Island Divided Investigation
Watch Bill Dedman, the Pulitzer Prize-winning journalist and investigative reporter delve into the Long Island Divided Scandal. A three-year investigation into racial segregation and illegal steering.
---
DEI: Level-Setting Our Dialogue
By: Austin Board of REALTORS®
The last year has brought many new realities to our community, as well as exposed a long-standing reality for far too many in our country. We are experiencing a renewed and reinvigorated desire to grapple with our country's legacy of racism, and no industry or sector of society is immune to the questions that are raised.
UPCOMING EVENTS
SEPTEMBER 1st (during Arizona REALTORS Summit)
The Umbrella Effect – 1:45 – 2:25 p.m.
The Umbrella Effect – is a fast paced, course that provides practical steps to make difficult conversations more comfortable, with a focus on awareness and cooperation rather than criticism or shame, so everyone moves forward together. You will be provided with clear examples and equipped with three simple, immediate tools you can use to create an unstoppable, inclusive culture in your business, community, and daily life.
Discovering the "Inclusive You" Workshop – 2:30 – 3:10 p.m.
Take the Umbrella Effect to the next level when the entire group explores topics covered in the Umbrella Effect through active participation and collaboration. Overcome your own biases by moving from conversations led by gut instinct or emotion and instead focus on deliberately inclusive thinking and listening. Each Think Tank is unique, and group led, with the goal of building social confidence and specific, actionable ideas you can use at the end of the workshop.
Confronting the Rush to Hush – Untold Stories from the Front Steps – 3:15 – 3:50 p.m. Curious to know more about Diversity, Equity and Inclusion? Have a question you feel awkward to ask? Our panelists will answer anonymous pre-submitted questions and share the experiences from their journeys.  Expect to leave this session wanting to become an ally to building an inclusive community and business model.
---
---
RESOURCES FROM ARIZONA REALTORS®

RESOURCES FROM NAR

NAR VIDEO
NAR BOOK RECOMMENDATIONS
FAIR HOUSING
HOUSING REPORTS
Reports about the state of homeownership among minority/diverse communities and the barriers they may face.
---
INCLUSION AND DIVERSITY PARTNERS
Members of Arizona REALTORS® are sometimes also members of other real estate associations. We are working to actively foster relationships with these associations so that, together, we can offer more opportunities and services to our mutual members. The following is a list of those associations that have a presence in Arizona: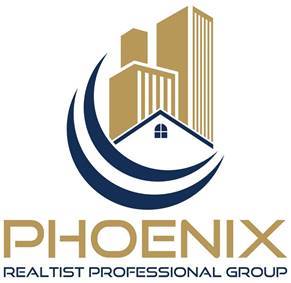 Serving African Americans' need for equal representation in real estate transactions and housing opportunities.
---
NAGLREP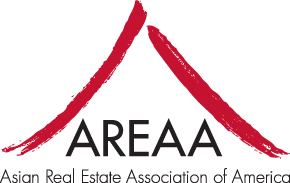 Dedicated to promoting sustainable homeownership opportunities in Asian American communities by creating a powerful national voice for housing and real estate professionals that serve this dynamic market.
---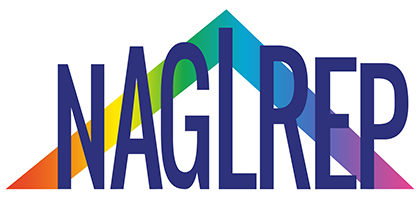 Advocating on behalf of the rights of the Lesbian, Gay, Bisexual, and Transgender (LGBT) community as it relates to housing and discrimination laws.
---

The Voice for Hispanic Real Estate® and proud champions of home ownership for the Hispanic community in and around Phoenix, Arizona.
---


A 501(c)6 non-profit member organization dedicated to empowering the LGBTQ+ community on their path towards and enjoyment of homeownership.
---
MISSION
Effectively communicate with Arizona's diverse population to help Arizona REALTORS® to be the best prepared real estate practitioners with the highest standards and build successful relationships with their clients, colleagues and other housing industry professionals.
VISION
To provide diversity and leadership training by hosting educational and networking events, promoting fair housing practices and advocating for all.
---