Home
»
REALTORS® Issues Mobilization
REALTORS® ISSUES MOBILIZATION
Do you have an issue in your community that needs funding support? Issues Mobilization is a tool to help support your community issues financially. The REALTORS® Issues Mobilization Committee (RIMC) reviews and approves funding requests from local associations to expend their own local issues mobilization reserve balances as well as requests to the state reserves of the Issues Mobilization fund. The RIMC is governed through by-laws and is comprised of REALTOR® members from various areas across the state.
REALTORS® Issues Mobilization Fund FAQ
(Click on the thumbnail below to load PDF of FAQ)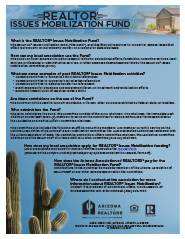 Examples of Issues That Can be Funded Include:
Postcard Campaigns, Local Board Issues, Newspaper Ads, Forums, Educational Print Materials, or Coalition Participation Fees.
Issues Mobilization Request Forms