Home
»
REALTORS® Issues Mobilization
REALTORS® ISSUES MOBILIZATION
Do you have an issue in your community that needs funding support? Issues Mobilization is a tool to help support your community issues financially. The REALTORS® Issues Mobilization Committee (RIMC) reviews and approves funding requests from local associations to expend their own local issues mobilization reserve balances as well as requests to the state reserves of the Issues Mobilization fund. The RIMC is governed through by-laws and is comprised of REALTOR® members from various areas across the state.
REALTORS® Issues Mobilization Fund FAQ
(Click on the thumbnail below to load PDF of FAQ)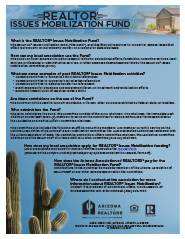 Success Stories
Issues Mobilization Request Forms
Issues Mobilization Request Form
---
Arizona REALTOR® Party Corporate Ally Program
The Corporate Ally Program (CAP) is a powerful partnership between the Arizona REALTORS® and corporate allies aimed at protecting, promoting, and strengthening the real estate industry. With contributions from local associations, affiliates, brokerage offices, Institutes, Societies, Councils, and Chambers, as well as industry partners, CAP supports federal, state, and local advocacy campaigns and public policy priorities.
This innovative program makes it possible for the real estate corporate family and other entities to help support advocacy efforts and address the most pressing issues to the real estate community. Corporate entities and other groups that are not primary REALTOR® members are not legally allowed to invest in RAPAC, but investing in the REALTOR® Party CAP is a way they can participate to help protect our industry.
As a soft dollar program for the real estate industry, CAP has the funding and prestige to successfully push for and fight against issues that affect us all. Arizona REALTORS® uses these voluntary investments to increase the presence of our issues mobilization fund discussed above.
Since these are soft dollar investments, which is different than hard dollar investments to RAPAC, these funds are not directly provided to candidates running for elected office. They are instead utilized to help support issues, policies, and ballot measures that help protect, promote, and strengthen the real estate industry. CAP is nonpartisan, addressing the most pressing issues facing the real estate community.
Corporate Ally Major Investors
Corporate investors in the REALTOR® Party can receive Major Investor recognition the same way individual members receive recognition as Major Investors of RAPAC. Below are the various levels and the benefits organizations and individuals receive at each level of CAP major investment.
STERLING R: $1,000 – $2,499 annually
CRYSTAL R: $2,500 – $4,999 annually
GOLDEN R: $5,000 – $9,999 annually
PLATINUM R: $10,000 – $24,999 annually
PLATINUM DIAMOND R: $25,000+ annually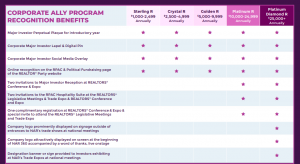 ---
Invest in Arizona REALTORS® Corporate Ally Program
---