Welcome to AAR's Legislative & Political Affairs Department
If you have questions, comments or concerns on matters related to legislation, the REALTOR® Party, RAPAC and Issues Mobilization, please contact the Legislative and Political affairs department at  legislativeandpoliticalaffairs@aaronline.com.
---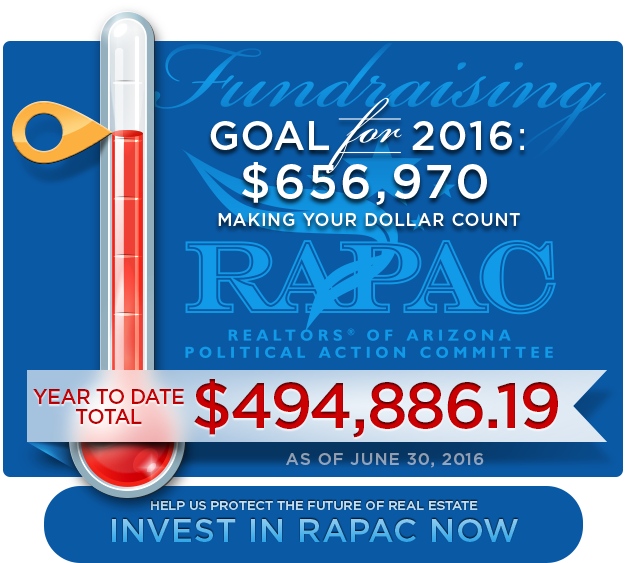 ---
Arizona REALTORS® 2016 legislative successes
View/download a PDF infographic for printing
View text-only version
---


Learn about RAPAC through our colorful Infographic and a brief list of RAPAC wins, "What has RAPAC done for you lately?"

---
---
View Arizona REALTORS legislative successes.
---
Why Arizona REALTORS® Invest in RAPAC?
Watch as Arizona REALTORS® discuss why it's important to make a investment in RAPAC.
Learn more about the REALTOR® Party, RPAC and investing in your futureby visiting
NAR's REALTOR® Action Center
---
RAPAC & Issues Mobilization
Learn more about RAPAC, the REALTORS® of Arizona Political Action Committee.
Legislative Resources
Check here for links to some great sources of information.
Legislative Links
A Collection of various resources available to AAR members.
---
Voter Registration
Is Your Voter Registration Current?
If you have moved, changed your name or political party please be sure to update your voter registration.
As a reminder, you must have a valid picture ID with your current address on it in order to vote at the polls. If you need to update your address on your ID, you can
change it online. A new copy of your drivers license or state ID card will be sent to you for $5.

Print Friendly