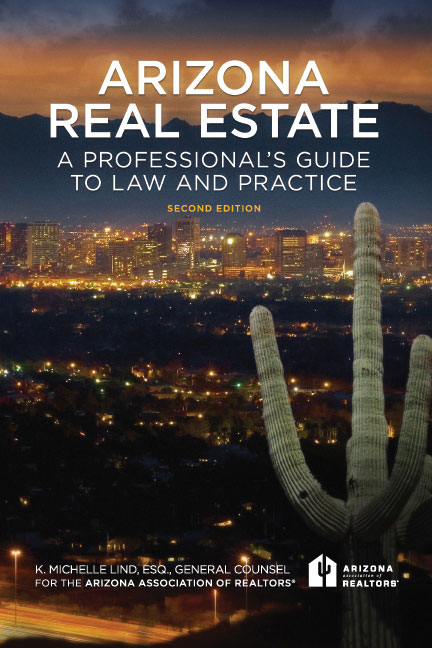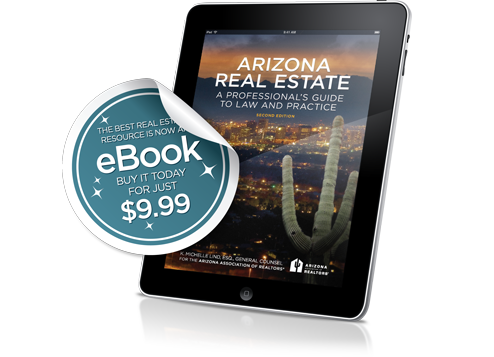 Written by AAR CEO K. Michelle Lind, Esq.
---
Ordering Methods
eBook Price: 9.99 each
Order eBook Now

Instructions for Download
Also available through:
The eBook is fully searchable:
Type in a word or phrase and the search box will bring up each occurrence and which page/pages it can be found on.
You can copy and paste information from the eBook into an email or document.
You can highlight and bookmark areas so that you can easily refer back to that section.
Watch videos about the eBook
---
A must read for every Arizona real estate broker and agent!
Get answers to the most common real estate questions in an easy to read reference for REALTORS®, other real estate practitioners and attorneys involved in the industry. The topics covered in this book include:
Arizona Department of Real Estate Licensing & Regulatory Authority, The Standard of Care & a Broker's Duties, Agency Relationships & a Broker's Duties, Broker Employment Agreements, Advertising & Marketing, Real Property Contracts, Interpreting the AAR Residential Resale Contract, Residential Contract Related Forms & Other Addenda, Short Sale Transactions, REO (Real Estate Owned) Transactions, New Home Subdivisions, Vacant Land Transactions, Commercial Transactions, Sale of Manufactured and Mobile Homes, Financing & Loan Defaults, Disclosure, Escrow & Title Issues, Due Diligence, Homeowners' Associations, Claims & Remedies, Fair Housing, RESPA, Antitrust, Leasing & Property Management, >Miscellaneous Real Estate Issues, Broker Risk Reduction, Officer or Director Liability
This guide includes references to real estate case law, statutes and rules. At the end of every chapter, you will find a list of "Key Points to Remember." For easy reference, the book is fully indexed.
For questions or help downloading the eBook please contact Christina Smalls at christinasmalls@aaronline.com.