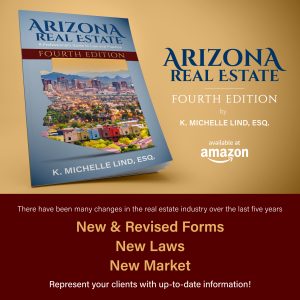 Written by Arizona REALTORS® Of Counsel K. Michelle Lind, Esq.
---
The fourth edition is available in paperback.
Available for purchase on Amazon.com and all major online book retailers:
---
A must read for every Arizona real estate broker and agent!
THE BOOK
This book is a comprehensive overview of real estate law and practice in Arizona. REALTORS®, other real estate practitioners, and attorneys involved in the industry will find the information helpful to address everyday legal and practical real estate issues. If you are new to the industry, this book is an excellent resource as you gain experience. If you are a "seasoned" practitioner, you can use the book as a reference to answer day-to-day questions.
The many references to case law, statutes, and rules are included for those who want to undertake further research on an issue. There are also numerous discussions of the standard Arizona Association of REALTORS® forms and contracts throughout the book.
By understanding their duties and complying with the standard of care, real estate brokers not only diminish the potential of costly and time-consuming claims but also reduce the risk that clients will encounter problems during or after the transaction.
THE AUTHOR
Michelle Lind is an attorney and has represented The Arizona REALTORS® for over thirty years. She served on numerous Department of Real Estate committees, as Chair of the State Bar Real Property Executive Council and was a State Bar board-certified real estate specialist.