ARIZONA REALTORS® 2023 LINE OFFICERS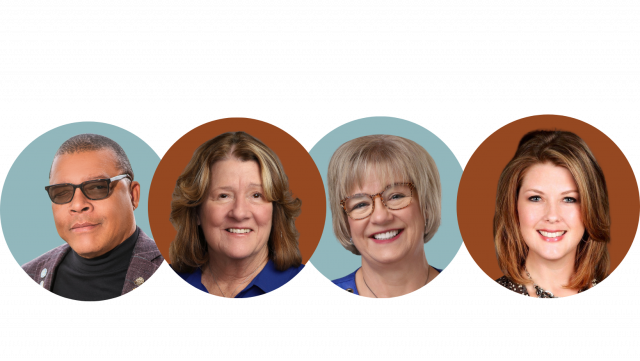 President Eric Gibbs, President-Elect Shelley Ostrowski, First Vice President Sindy Ready, and
Treasurer Mandy Neat
---
ARIZONA REALTORS® LEADERSHIP
Line Officers Bios
Executive Committee Members
Past Presidents
Primary Committee Members
Arizona REALTORS® Speakers List
Become a Leader or Volunteer
Apply To Become an Arizona REALTORS® Officer – Please read these qualifications and complete the form on this page if you would like to be considered for President-Elect, First Vice President, Treasurer, Region Vice President or National Director.
Arizona REALTORS® Committee Volunteer Information – Read about the guidelines, responsibilities and application deadlines of the Primary Committees.
Arizona REALTORS® Primary Committee Volunteer Application – Participate in the state association's decision-making process, contribute to the Arizona real estate industry, build valuable contacts, get cutting-edge information and learn skills for your business success.
---
EXECUTIVE COMMITTEE
2023 Executive Committee Members
Meeting Materials
2023 ExCom Committee Webpage (private)
2022 ExCom Committee Webpage (private)
2021 ExCom Committee Webpage (private)
---
BOARD OF DIRECTORS
2023 Board of Directors Members
Orientation
2023 Board of Directors Orientation (Video & PowerPoint)
Serving the Arizona REALTORS® as an Officer or Director
Board of Directors Position Description
Board of Directors Responsibilities and Authority
NAR Video – "Fiduciary Duties Owed by Directors of Associations
Meeting Materials
2023 Board of Directors Meeting Materials (private)

2022 Board of Directors Meeting Materials (private)

Governing Documents
---
National Association of REALTORS® Committee Involvement
2022 Committee Members from Arizona
Become an NAR Volunteer
Getting Involved at NAR – When it comes to making decisions at the national level, NAR's committees, advisory boards, forums, and councils are the first place where ideas are discussed and voted upon before being approved by the Board of Directors. This brief description is provided to understand the committee selection process and how you can get involved at NAR.
Videos:
---
Special Awards / Other Resources
Arizona REALTORS® Award Winners
REALTOR® Emeritus
Sample Installation Scripts
Arizona REALTORS® Calendar of Events & Classes
---
Member Outreach
See how the Arizona REALTORS® helps members in need – Arizona REALTORS® provides direct assistance to members in Arizona and other states in times of need or with critical legal issues.
---
Leadership Development Opportunities
Arizona REALTORS® Leadership Training Academy (LTA) – LTA is open to Arizona REALTORS® officers and incoming local association presidents-elect. The program is designed to help our state and local presidents-elect develop their leadership and communication skills, which will help them not only in their leadership role with the state association but also in their day-to-day business.
Module 1: Introduction to Leadership
Module 2: Messaging & Communicating
Module 3: Vision and Value
Module 4: Planning for Success
The A-B-C's of Parliamentary Procedures pocket guide to Roberts Rules of Order: https://www.channingbete.com/p-CBC0022?xtor=-[B00150]–[product_LINK_1]-[OTUxMjgwODcyNjc5S0]–
NAR Leadership Assessment
You will use your NRDS ID to log in to the assessment. If you do not know your NRDS ID, you can look it up online or call Information Central at 1-800-874-6500.
• A single scenario score is not an indicator of your overall score; each scenario is designed to test specific competencies/sub-competencies. Your overall score will be calculated using your decisions from each scenario.
• You can re-take the assessment as many times as you want; there is no limit.
• You cannot "fail" this assessment; this assessment identifies areas of leadership in need of improvement, it does not indicate "failure".
NAR Volunteer Leadership Toolkit: https://www.nar.realtor/volunteer-leadership-toolkit
NAR REALTORS® Excelling in Association Leadership (REAL) – Learn the basics of volunteer leadership with this no-cost, self-guided online course that is available 24 hours a day, seven days a week through REALTOR® University.
NAR REALTOR® Leadership Program (RLP) – The REALTOR® Leadership Program is designed to produce the skills and knowledge necessary in REALTOR® leaders to lead local and state associations. The course is broken into four parts which combine online and in-person learning at NAR national meetings or hosted at your association.
NAR Leadership Academy – The NAR Leadership Academy identifies, inspires, and mentors emerging leaders from the local and state level. Participants complete a nine-month training program designed to develop institutional knowledge and leadership skills.
---