Be Successful – Competency Areas You Should Master
Body of Knowledge in Residential Real Estate
Posted: 1996 ~ Reviewed 2005
This is a statement of what the residential real estate practitioner needs to know or be able to do in order to practice competently. The body of knowledge below was developed by researching similar task analysis documents and curricula of real estate educational programs (including university real estate research centers). The NATIONAL ASSOCIATION OF REALTORS® Education Committee appointed a group of REALTORS® to develop a draft model based on this research. The model was sent by survey to approximately 300 real estate practitioners and educators for validation; below reflects the outcome of that validation survey.
The COMPETENCY area is indicated in bold, the TASK area is immediately below the competency and the individual TASKS are bulleted. Have you mastered these competencies? If not, designations courses are geared to teach you how to perform all these tasks — check them out.
Sales Process
Prospecting
Identify spheres of influence
Develop a referral network
Telephone techniques
Develop a farm or business base
Use contact management databases
Work with expired listings and FSBOs
Marketing
Hold an open house
Develop and use a personal presentation program
Show a property
Establish property price
Make a listing presentation
Present offers
Prepare a Comparative Market Analysis (CMA)
Create advertising
Create a direct mail campaign
Develop a marketing plan for a property
Handle competing offers
Research a property
Customer and Client Service
Build trust with client
Qualify buyers /sellers, (needs, wants, financial)
Counsel seller / buyer on home buying process
Communicate with seller and buyer
Negotiation skills
Transaction management, contract to closing
Knowledge of home financing
Legal and Regulatory
Professional Standards
Comply with NAR Code of Ethics
Comply with NAR professional standards
Understand arbitration and mediation process
Understand and comply with state rules and regulations
Fair Housing
Understand and comply with fair housing laws
Understand and comply with Voluntary Affirmative Marketing Agreement (VAMA)
Understand and comply with Americans with Disabilities Act (ADA)
Brokerage Relationships
Understand and comply with the law of agency
Explain agency relationships to a seller or buyer
Understand employment agreements
Understand and comply with antitrust law
Recognize and disclose a closed business arrangement
Contracts
Understand and complete applicable contracts, agreements and forms
Handle clauses and contingencies
Understand and comply with applicable escrow and trust fund requirements
Avoid unauthorized practice of law
Environment
Understand and comply with appropriate environmental laws
Locate qualified environmental professionals
Know consequences of failure to comply
Technology
Hardware
Assess individual technological needs
Select appropriate hardware
Software
Assess individual technological needs
Select appropriate software
Tools: Contact management, word processing, presentations, Multiple Listing Service (MLS), Comparative Marketing Analysis (CMA), database management, spread sheet, accounting, financial management, etc.
Communications
Assess individual communication system needs
Select appropriate communications systems
Tools: On-line systems, cellular phones, interactive television, e-mail, voice-mail, pagers, Internet, etc.
Professional Development
Business and Personal Management
Develop goal setting and time management strategies
Maintain a professional image
Develop a personal business plan
Develop a professional contacts network
Develop problem solving skills
Develop communication skills
Develop negotiation and counseling skills
Community involvement
Continue life long learning
source: NATIONAL ASSOCIATION OF REALTORS®
Help, I'm New! How Can I Market Myself?
By Blanche Evans
Posted: 1999 ~ Reviewed: 2005
You are a new agent. Your company is introducing you to the marketplace with a feature story in the papers and adding your bio to the company website. And you don't even have your first client yet. What are you going to say about yourself?
Few topics can bring on writer's block faster than writing about oneself — especially when you have to sell yourself. No matter what you put down, it seems trite, conceited, self-serving, boring, or worse, calls attention to your inexperience. Who wants to read this stuff, you ask?
You'd be surprised. The human animal is eternally fascinated by other people, and your bio could be read with enthusiasm by any number of people. And, who knows? It might even attract some business.
Like any other learned skill, writing has a blueprint you can follow, and the rest will come. But don't shut yourself down before you get started. Writing about yourself may seem difficult, but it doesn't have to be intimidating.
Lesson One: String the information
Writing a bio is like tying together strings. Each string represents a paragraph of information that is organized under a topic. (Remember topic sentences in junior high?) The first paragraph lays down a string of information, like your name and what you have done (joined XYZ company). The next paragraph picks up the string by explaining who you are, and then the next paragraph could explain why what you did was special, and so on. The idea is to make it flow. Try to avoid abrupt changes of topics from one paragraph to the next. If you don't need to change topics, make a transition sentence to ease into a subject change.
Lesson Two: You have more appeal than you think
New agents think there is nothing to say, but there is a wealth of material in your past and present that can relate to your new career. What you want to do is provide as much of an overview as possible with details that will distinguish you to the widest range of buyers and sellers. They are your audience, and what you write needs to appeal to them. So include your educational, business, philanthropical, and community service backgrounds.
I once wrote a profile for a new agent that put a lot of so-called negatives to advantage. If I had written just the facts as she presented them to me, the story would have been titled, "Devastated Divorcee Attempts New Life in Real Estate." Not very appealing. Instead we talked, and I soon found out a lot of great things I could use. Her special interests included gardening, interior design, and volunteering in her church's nursery, where she met a lot of young families. So we played up the positives by writing that she "has a special place in her heart for young families starting out. They rely on her for guidance, especially when evaluating homes that require updates of fresh landscaping."
We continued to embellish her profile with an authoritative-sounding quote, "Starter homes often need updates," New Agent said. "When I show homes to my first-time buyers, I use my experience to see the possibilities, I know what will add value to a home and what will work for my customer's budget."
After this story ran in the paper, who do you think made appointments to meet this agent? Several new homebuyers who though she could help them find the right home in their price range.
Lesson Three: Ask questions of yourself to generate topic ideas
Agent profiles tell a story. A story is made up of answers to questions such as who, what, when, where, and why. Brainstorm with yourself, asking questions that you think buyers and sellers will want to know the answers. Take the answers and turn them into points of difference that will help distinguish you from other agents.
Did you move to take the real estate job? Recount your relocation experience as a good reason why you can empathize with the needs of transferees. You already know from experience what types of services they need to make the buying, moving, and settling-in experience easier.
Do you have previous work or school experience? If so, look for the qualities in your previous work or school curriculum that are of value in a real estate career. Ask your office manager what work experience they consider valuable preparation for a career in real estate, and pick the same examples from your work experience. Connect the experience to your new position. If you were a history major, for example, you could have a special interest in historic homes or older homes with character. To play down the fact that your are new, say, "This experience was invaluable in helping me relate to buyers and sellers."
What are your personal qualities? Positive characteristics don't need a spin, but negative ones sometimes do. And it helps if you can include a quote from someone in your office, the company owner, or office manager on why they hired you and why you will be good at the job. That Type A perfectionism you have taken so much flak about now becomes "He is extremely focused on details — an attribute buyers and sellers appreciate especially at contract time."
What are your interests? Sometimes a personal hobby can make a great client niche. One REALTOR® was having trouble standing out among the crowd at a large firm. Her hobby was golf, so in her spare time she researched all the new and existing home communities with golf courses in her area. She made a note of public courses, as well, creating a handy database for research. Her niche is so in demand that she now specializes in golf course communities. An added bonus is that she plays golf often with her clients.
Lesson Four: Dance with the partner that brought you
Be sure to include a quote as to why you chose to work with your broker over other in the market. Take your finished bio to someone in authority whom you trust, and ask that person's help in editing your work. Look for typos, misspellings, and other inconsistencies. Be open to suggestion, and don't be hurt by some constructive criticism. Your goal is create a bio that will work as a marketing tool for you. It doesn't matter how you get there.
Reprinted with permission of Real Times.
Real Times is an on-line real estate news service for consumers and professionals, at www.realtimes.com.
Handling Objections
by David Compton
Listed here are some suggested responses to common objections of sellers during your listing presentation:
"I have a friend in the business."
acknowledge that you understand why they would feel obligated.
ask how they would feel if they had to fire their friend like they could with us.
ask how comfortable they feel about sharing certain delicate information about themselves with their friends.
emphasize the importance of your marketing plan and that their friend should have also prepared one that is as aggressive as yours.
ask if their friend is full-time in the business.
compare your "sold" statistics with their friends.
"I want to interview other agents."
acknowledge that it would be a "good idea."
remember to keep the recruiting letters that you receive from other agents and to show them to the seller
use your "sold" comparisons and make sure that it has the companies that you've received recruiting letters from.
show them your marketing plan.
"I'll pay you XXX percent; that's what your competition offered"
review the services you offer and your marketing plan.
emphasize what you offer that the competitor(s) don't.
relate this question to negotiating skills (i.e., "Mr. Ms. Seller, if they're willing to give such a generous concession with their fee, how confident do you feel about their ability to negotiate on your behalf? We negotiate very vigorously to get you the best price obtainable in the shortest time with the least inconvenience")
emphasize (delicately) the necessity of motivating other agents to show the property and how its an integral part of your marketing plan (which homes will agents show first – the homes offering a higher split or lower split?)
point out to them that your manager/broker will not approve the listing without a XXX percent marketing fee.
ask them what part of your marketing their home would they like to eliminate to compensate for the income reduction.
explain seller who actually shares in the commission (the listing agent, the selling agent and possible the broker).
ask the seller if they would do their job for less money.
"I don't want a sign in my yard; the neighbors are nosy and people would drop by at inconvenient times"
let them know that the sign is a very integral part of your effective marketing system.
emphasize that the neighbors are one of the best resources in getting a property sold. They might have a friend or relative whom they want as a neighbor.
let them know you can put a rider on the sign that will say "shown by appointment only."
emphasize that your best floor calls usually come off the signs rather than the ads. The people calling are usually seriously interested.
emphasize that your firm's sign is recognized throughout your market and will give their home more credibility in the marketplace.
"I don't want a lockbox"
show them how the system works and the security system's function in conjunction with it. Emphasize that the system keeps a record of who has had access to the property.
stress the importance of making their property accessible and that making it as convenient as possible for other agents to show it will give them more exposure.
be prepared to suggest an alternative location for the lockbox like the hose bib of the side
Getting Results from Goal Setting
by Steve Paris
You've established your goals for the year. Now how do you make them happen? Start with a plan of action and follow it through — all the way to celebrating your success!
Start with the end in mind
Develop a clear picture of what you want to accomplish. State the end results in one sentence that even a child can imagine, understand and remember. Consider the power of President Kennedy's goal "to send a man to the moon and bring him safely back home within this decade." Thousands of people did very detailed work and spent billions of dollars based on this simply stated goal.
Develop a written plan
Get it on paper (or in the computer). Make the plan as specific as possible, in terms of what will be done and by when. A timeline will help you keep on track as far as providing a written outline of your accomplishments to date and what remains to be done.
Enlist support of others
Let them know what you are doing, and how they and others will benefit from the results you want to produce. Invite them to lend their support however they can.
Set up milestones and reporting systems
Break the job down into segments, and set target dates for completing each segment. Develop a reporting system on paper or via a good software program. Communicate often with all those who have a need to know to avoid unwanted surprises.
Have a support system
Set up the supports you need in your work and in your personal life. Have one or more advisors that you meet with regularly to report progress, and get advice and encouragement. Your personal coach can be one of these key people.
Monitor progress and make adjustments
Realize that even the best plans need to be adjusted in the heat of the battle. Make adjustments quickly and respond to new opportunities or short cuts along the way that help you reach your destination faster. If you find it difficult to get around or through certain roadblocks, get help and advice promptly.
Form mutually beneficial alliances with others
Find out what other people or groups are natural allies and team up with them so you can help each other reach your objectives more easily and effectively.
Work your plan regularly and continuously
Maintain a high focused activity level yourself, and get help when you need it. Don't try to do everything yourself. Delegate as much as you can, and follow up with those to whom you delegate work.
Keep your allies on your side and your enemies at bay
Inform your allies about progress you are making and problems you are having. Thank them for their help. Protect yourself from important enemies by setting up and maintaining boundaries between yourself and your enemies. Recognize that enemies can be within you as well as about you. When you find that you are doing things that impede your own progress, replace that activity or habit with a better one. Ask your advisors what you personally can do better. Then put the corrections in place.
Celebrate progress along the way and at the completion of your work
Share the glory. Recognize and thank the people who have helped you produce results.
Reprinted with permission of Real Times. 
Real Times is an on-line real estate news service for consumers and professionals, at www.realtimes.com
The ABC's of What I Learned in Real Estate
by ELIZABETH NEWLIN on SEPTEMBER 24, 2010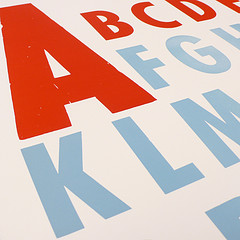 Image courtesy of Flickr user kvanhorn
A – Appraisals aren't the black-and-white system of valuation I thought they were before I got into real estate. And they can kill a deal faster than you can indignantly shout, "But that comp backs to a major road!"
B – Basements are like four-leaf clovers here in Arizona: almost impossible to find, and even when you do, not as great and exciting as you thought it was going to be.
C – Commission checks with small numbers are sometimes more satisfying than the illusive five-digit ones. Collecting a check for that short sale you spent a year crow-barring through the system can make the measly $1500 you take home feel a bit inflated.
D – DocuSign has saved my life. If I had to actually sit down with one particular client every time in the last 18 months he wanted to write an offer on a short sale he was going to eventually cancel on (23 offers, people!), I would have FUDed him a year ago. Luckily, we DocuSigned all but the first one, and now we're finally closing on a property.
E – Empathy goes a really long way when things start to get rocky. Most people just want to feel like someone understands what they are going through and that their emotions are legitimate. A little bit of empathy can usually calm the most irate client.
F – Flats are vital. High heels are for hookers and real estate agents in the movies, not actual agents who have to troop through the rocks on the side of each and every house they show to get the lockbox open. Nicely sculpted calves are not worth landing on my butt in the spider-webby weeds around the hosebib.
G – Granola bars in the glove box. These have saved me from swooning face first into a murky green pool many a long showing day.
H – Health insurance was a luxury I should have appreciated more when I was working the corporate 9 to 5.
I – Insanity generally runs along a genetic line. So if you've encountered it in someone, expect to find it in her brother when he's referred to you.
J – Juggling is not a circus act. It's a survival technique.
K – Kindness begets kindness. That pushy lady on the PTA could be your next client if you play your cards right. Probably best not to slash her tires after the meeting because she shut down your proposal for a cotton candy booth at the fall festival.
L – Land-leases are totally asinine. Stay far, far away from them.
M – Money can fix a lot of things about a property, but far from everything. Money can't make a house not back to a busy road, make a backyard big enough to put in a pool or raise low ceilings in a two-story house.
N – Never calculate your paycheck before the house has closed. Doing so will only cause the deal to fail in new and spectacular ways. Chickens are best left uncounted.
O – Open houses account for not even 5% of what I actually do–contrary to my impression of what real estate agents do before I became one.
P – Price is king. You can't get away from it. Any properly priced property will eventually sell. It's determining the proper price that's the tough part.
Q – Quality wins against quantity in any circumstance: houses, clients, square footage. (Well, except for wine. But that goes unsaid, right?)
R – Restroom breaks in vacant houses are a bad idea. It's best to wait for the next occupied house where you can be sure to find running water and toilet paper. (Yes, I've learned this one the hard way. Shut up.)
S – Sewage smell. No, nothing died in here; the water hasn't been run because it's vacant, so the sewage traps dried out and you now smell the sewer. Doesn't it make you grateful for the convenience of modern plumbing?
T – Termites. They're the only thing that can kill a deal faster than a bad appraisal. And unfortunately, no property is immune to the creepy little tunnel-building creatures.
U – Unicorns are more common than buyers who you've met on the internet who are coming into town for one day and will actually buy a house like they are promising. You will give them a free tour of the valley from Surprise to Queen Creek and never hear from them again.
V – Vacations breed deals. Schedule a vacation, and you will be immediately inundated with work that cannot wait. It can't be a fake vacation, though; that doesn't work. It has to be one you put a huge deposit down on and can't cancel.
W – Wine cures all ills. (I was going to use W for water in copious amounts during showings, but who are we kidding? Wine is more important to my sanity.)
X – Xanax. What wine can't cure, it will. (Negotiating real estate is not for the faint of heart.)
Y – Yard size is totally relative. A buyer in from Wyoming is bound to be horrified. One in from New York will be thrilled.
Z – Zillow sucks the big toe of a jolly green giant. And yet the general public will always believe what the computer-generated algorithm thinks a house is worth over the agent they hired. This will remain one of the great mysteries of real estate.
---
Enjoy this post? Get the latest blog.aaronline.com posts sent to you by subscribing via email or RSS.
| | | |
| --- | --- | --- |
| | | Elizabeth NewlinRealtor. Mom. Foodie. Blogger. Dancer. Wino. Kidder. Not in that order. Read more of my real estate stories and experiences atwww.RealEstateTangent.com. Or don't. I don't care; it won't hurt my feelings. No, those aren't tears, I'm chopping onions, shut up! |
Costa Rica

Costa Rican Association of REALTORS® (also known as CCCBR)
NAR's Ambassador Real Estate Association in Costa Rica – Costa Rica Chamber of Real Estate (one of Arizona's cooperative counterparts in San Jose, Costa Rica)
Costa Rica Global Association of REALTORS® (one of Arizona's cooperative counterparts in Guanacaste, Costa Rica)
Costa Rica (information provided by the U.S. Department of State)
The Bureau of Consular Affairs (U.S. Department of State)
Learn about Costa Rica's residential and commercial business practices, and the Code of Ethics.
Costa Rica Global Association of Real Estate – website for the Authorized Licensing Organization for Realtors in Costa Rica Listing and Realtors Database
Mexico
Resources

Articles and Publications
The Foreign Investment in Property Tax Act (FIRPTA) AAR General Counsel Michelle Lind provides insights into FIRPTA.
Association of Foreign Investors in Real Estate (AFIRE) is a trade association for the foreign real estate investment community whose members have a common interest in preserving and promoting international real estate investment.
Foreign Embassy Information and Publications
Hoover's (Handbook)-International company information
Government
United States Government Agencies
Department of Agriculture research US Import/Export data with other countries
Department of Homeland Security (DHS)
Foreign Consular Offices in the U.S.
Overseas Private Investment Corporation a US government agency that assists US private investment overseas
U.S. Customs and Border Protection (CBP)
U.S. Citizenship and Immigration Office
U.S. Census Bureau find data on the demographics of immigration into the US
U.S. Census Bureau Foreign Trade Statistics statistics on countries that trade with the US, products that are traded, and balance sheet on the dollars that are imported and exported for each country
United States Department of Commerce information on the policies that the United States has for commerce and lists information concerning trade
Visa Information (U.S. State Department)
International Government Agencies
Brazilian American Chamber of Commerce promoting trade and investment between the United States and Brazil
Chamber of Peruvian Construction known as CAPECO offering services to promote national development and to improve the quality of life of citizens
Organizations
Arizona Department of Commerce extensive information for business people looking for international resources
Arizona Hispanic Chamber of Commerce promoting the success of Hispanic businesses through relationships, development and knowledge
Arizona International Growth Group Blog
Asian Real Estate Association of America (AREAA) members work in the real estate industry that serve the diverse Asian Pacific American market
Border Trade Alliance addresses many cross-border issues between the U.S. and Mexico
Canadian Snowbird Association a national not-for-profit advocacy organization dedicated to actively defending and improving the rights and privileges of traveling Canadians
Colliers International Commercial Real Estate Consultants
Consular Corps of Arizona information on who is represented in Arizona, history, events, members, and sponsors
Federation of International Trade Associations (FITA) is a global trade portal of information on international business
Foreign & Commonwealth Office, London working for the United Kingdom interests for a safe and prosperous world
Hispanic Association of Real Estate Professionals
Inter-American Development Bank news beyond the American soil
International Division of the National Association of Home Builders (IUHF) provides a wide range of services and products for its US and international members
International Union for Housing Finance – a worldwide networking organization that provides the latest developments in housing finance
International Consortium of Real Estate Associations http://www.ired.com/ or http://www.worldproperties.com/aboutICREA.aspx
International Investment Law provides comprehensive guidelines, legal Journals, and Investment Arbitration-Related Databases to professionals with specific needs
National Law Center for Inter-American Free Trade dedicated to developing the legal infrastructure to build trade capacity and promote economic development in the
People to People offers a unique experience for international professional exchange
Miscellaneous
Doing Business in International Markets (U.S. Department of State)
International School of Arizona the school's curriculum emphasizes second language acquisition through immersion
Journal of Commerce an interactive business tool for industry experts who require a resource that will give them the information they need to meet their business goals
visit.
Market ICIWorld Commercial Real Estate Electronic Network
NationMaster offers global statistics, country profiles, and statistics for comparison that can be used in business plans or marketing
Currency
Automatic Currency Exchange the universal currency converter
Cultures
Test your cultural IQ test your cultural knowledge with this online 20 question quiz
Business Etiquette When Working With Other Cultures
Languages
Language Dictionaries (hosted by YourDictionary.com) look up almost any written language from 200 countries in the world
Jennifer's Language Page – Learn how to say several words and phrases in hundreds of different languages
Travel
The Weather Channel (travel) accurate weather forecasts domestically and internationally
U.S. Department of Homeland Security (for Travelers)
Transportation Security Administration (TSA) – for Travelers
Virtual Tourist domestic and international travel guide
National Association of REALTORS® (NAR)
Events and Education