Einstein's Riddle
Can You Solve Einstein's Riddle??
The Situation:
There are 5 houses in five different colors.
In each house lives a person with a different        nationality.
These five owners drink a certain type of beverage, smoke a certain brand of cigar and keep a certain pet.
No owners have the same pet, smoke the same brand of cigar or drink the same beverage.
 The question is: Who owns the fish?
Hints:
the Brit lives in the red house
the Swede keeps dogs as pets
the Dane drinks tea
the green house is on the left of the white house
the green house's owner drinks coffee
the person who smokes Pall Mall rears birds
the owner of the yellow house smokes Dunhill
the man living in the center house drinks milk
the Norwegian lives in the first house
the man who smokes blends lives next to the one who keeps cats
the man who keeps horses lives next to the man who smokes Dunhill
the owner who smokes BlueMaster drinks beer
the German smokes Prince
the Norwegian lives next to the blue house
the man who smokes blend has a neighbor who drinks water
Einstein wrote this riddle this century. He said that 98% of the world could not solve it.
Click Here for the solution to Einstein's Riddle
(Einstein's Riddle was originally published at https://udel.edu/~os/riddle.html)
Want to be on a NAR Committee? Here's how!
To lay the important foundation and groundwork for understanding the National Association of REALTORS® (NAR) committee selection process, it may be helpful to ask yourself the following questions:
Who, if anyone, has encouraged you to apply?
Why do you want to be on a NAR Committee; what are your qualifications?
What do you know about NAR's Committee structure?
How do you find a committee that interests you?
Where do you go to get all there is to know about NAR committees?
When will you make a commitment to pursue your selection of a NAR committee?
These are some of the questions you need to explore and address, as well as determining if NAR committee membership is something you really want.
What Are NAR's Committees? When it comes to making decisions at the national level, NAR's committees, advisory boards, forums, and councils are the first place where ideas are discussed and voted upon before being approved by the Board of Directors. (Read more on REALTOR.org)
Here are some important, basic steps you can take to ensure you're on the right track.
Make sure your NRDS ID personal information is correct and current. This is especially important when it comes to your email address (NAR's primary method of communication is via email). Please note that changes in your business contact information must be handled by your local association.
One of the fastest ways to look up your NRDS number is to go to the My Account tab at the top of AARonline.com, then visit REALTOR.org to confirm your personal information.
Login to create your Expertise Profile, so that NAR has a detailed resource when selecting committee, work group and presidential advisory group appointments, or when seeking members for other volunteer opportunities.
You will be able to indicate the level of participation with which you feel comfortable when completing the profile form. Please note that this is not synonymous with submitting a Committee Application (login also required). If you wish to serve on a specific committee, you must still submit an online committee application during NAR's application period.
Read and re-read the NAR REALTOR® Committee Structure. If you are serious about becoming a committee member this is a "must" read. It is a 78-page document and comprehensively covers most everything you want to know about NAR's committees including, but not limited to timelines; application and appointment notification process; committee policy, procedures and functions; plus a complete list of committees, advisory boards and forums.
On the Committee Selection Process webpage, you can enter and view committee recommendations. Once applications are submitted and endorsements received, they are compiled into reports, which are used by NAR Officers in the committee selection process. You will only have access to the applications that you have entered.
When given the opportunity to write an endorsement for someone, focus on content quality, not quantity. Avoid merely listing leadership positions or titles someone has held. Place the spotlight of your endorsement on specific experiences and achievements. Mention individual accomplishments in areas of specialization; articles written; research conducted; qualities that typically make them stand out; offer reasons why they, in particular, are best suited for a specific committee.
Take a moment to think about what you want to state before you actually put it in writing. Is it a truthful and an accurate representation? Will the quality of your endorsement be helpful and convincing to a potential decision-maker?
Lastly, of utmost importance, when you write an endorsement for someone that has expressed an interest in more than one committee refrain from the temptation to "copy and paste" that information to a committee with a different purpose and function.
James "J.T." Tsighis is 2016 Chair of NAR's Risk Management License & Law Forum
Forward Forecast 2016
To view the contents of this post, you must be authenticated and have the required access level.
Forward Forecast 2016
To view the contents of this page, you must be authenticated and have the required access level.
Certified Residential Property Manager

Property Management:  Certified Residential Property Manager (CRPM)
This program is dedicated to property management offering classes that can be used for real estate license renewal. This program was developed and designed to hone  knowledge and skills in topics that relate to the day to day business of a property manager. The curriculum was developed in concert with property management attorneys and long time property manager practitioners.  (this certification is not an NAR program)
The Property Management Bootcamp either the basic or advanced course is a required course for everyone.  Property Managers  with less than 2 years of property management experience are required to take the basic bootcamp (Will the Real Property Manager Please Stand Up).  Property Managers with more than 2 years experience can take either the basic or the advanced bootcamp.
To earn the certification, students must complete all the required curriculum within three years of the first course taken.  The first official CRPM course was offered in August 2015.
Required Curriculum includes:
Topics covered in this program include:  property management bootcamp, accounting, contracts, agency, fair housing, agency, ethics, legal, disclosure, plus one elective course.  All classes are approved for c/e credit and 3 hours in length with the exception of the 6 hour Property Management Bootcamps.
Certification criteria:
Successful completion of the course requirements within three years of taking your first course (CRPM certification rollout was in August, 2015)
Complete and submit the CRPM Completion Form to AAR after your last class
Hold active membership in either NAR, NARPM, IREM, AMA
Note:  Courses may be taken in any order.   Click here for the CRPM Certification Requirements & Last Class Form
Re-Certification:  Attend a free webinar  annually.  Webinar will be posted every January 1 and must be viewed prior to March 31 of each year. There are no certification or recertification dues.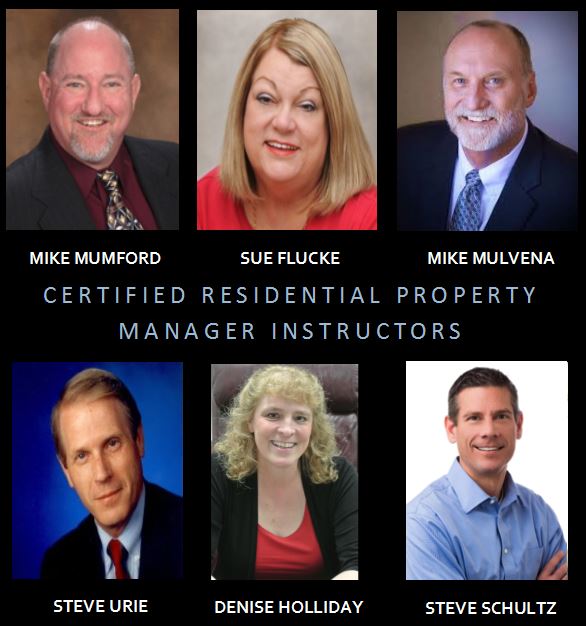 CRPM Instructors:  Mike Mumford, Sue Flucke,  Mike Mulvena, Steve Urie, Denise Holliday and Steve Schultz.
Complete List of Approved Courses:  (Please refer to this list of classes to verify the class you took counts toward the CRPM certification)
(list updated 8/24/2016)
G100:  BOOTCAMP (choose 1)
| | |
| --- | --- |
| | T100:  Accounting (choose 1) |
| T101 | Property Management Trust Accounting |
| T102 | Advanced Property Management Trust Accounting |
| | |
| | B100: Code of Ethics (choose 1) |
| B101 | NARPM Code of Ethics |
| B102 | NAR Code of Ethics & Property Management |
| | |
| | L100:  Legal (choose 1) |
| L101 | Arizona Landlord Tenant Act Part 1 |
| L102 | Case Studies in ALTA Part II |
| L103 | Unlocking the Mysteries of ARTLA |
| L104 | Lanlords and Tenants Playing Fair |
| L105 | Risk Reduction for Property Managers |
| | F100:  Fair Housing  (choose 1) |
| F101 | Accidential Fair Housing |
| F102 | Fair Housing for the Property Manager |
| | |
| | D100:  Disclosure  (choose 1) |
| D101 | A Property Managers Duty to Disclose to the Public |
| D102 | Property Management bootcamp – The Rules |
| D103 | AAR's Residential Lease Owner's Property Disclosure Statement |
| | |
| | C100:  Contract Law (choose 1) |
| C101 | The Ins and Outs of the AAR Forms and Do I Haave to Use Them |
| C102 | AAR Property Management Agreement |
| C103 | The Anatomy of the Property Management Agreement |
| C104 | The Anatomy of the AAR Lease Agreement |
| C105 | Overview of the AAR Property Management Forms |
| C106 | Property Management Bootcamp – The Risk |
| C107 | Property Management: – AAR Forms & Legal Issues |
| C108 | Leasing for Single Family Homes |
| | |
| | A100:  Agency  (choose 1) |
| A101 | Agency in Property Management |
| | |
| | E100:  Electives (choose 1) |
| E101 | BMC For Property Managers |
| E102 | Do It Right or Get the Heck out of Property Management |
| E103 | 3 P's of Broker Audits |
| E104 | How to Evict a Tenant Legally and Practical Application |
| E105 | Intro to Property Management |
| E106 | Arizona Medical Marijuana Act |
| | |
| | G100: Bootcamp (choose 1) |
| G101 | Basic – Will the Real Property Manager Please Stand Up |
| G102 | Advanced Property Management Bootcamp |

Click here for the CRPM Certification Requirements & Last Class Form
2016 Class Calendar Through AAR:

 
Denise Holliday, Steve Schultz, Steve Urie and Mike Mumford offer classes outside of AAR's Education Outreach Program – contact them directly to schedule a course with them.   Registration flyers/details for classes scheduled through AAR can be found on the AAR calendar  http://www.aaronline.com/calendar/
October 11, Advanced PM Bootcamp 
Location: SEVRAR
October 14, Accidental Fair Housing
Location: Scottsdale Area Association of REALTORS®
Instructor: Denise Holliday
November 10, Risk Reduction for Property Managers
Location: Hogan School (Tucson)
Instructor: Steve Schultz
December 19 – AM class, Agency in Property Management
Location: Hogan School (Tucson)
Instructor: Sue Flucke
December 19 – PM class, A Property Manager's Duty to Disclose to the Public
Location: Hogan School (Tucson)
Instructor: Sue Flucke
Upcoming Live Streaming From AAR's classroom directly into Local Association classrooms around the state:
November 18, 9:00 – Noon , NAR Code of Ethics and the Property Manager         
Instructor: Mike Mulvena
Locations: Kingman, Lake Havasu, Sedona, Southeast Arizona, Tucson, White Mountain, Western Pinal, Yuma Associations
November 18, 1:00 – 4:00, Overview of AAR PM Forms          
Instructor: Sue Flucke
Locations: Kingman, Lake Havasu, Sedona, Southeast Arizona, Tucson, White Mountain, Western Pinal, Yuma Associations
Instructor Materials (password required)
2016 Certified Residential Property Managers:
Mike Mumford
Sylvia Theiste
Betty Hannon
Christopher Lopez
Tammy Schembri
Kim Urrea
April Richards
Megan Titche
Leslie Latham
Nicolle Stuhlberg
Wade Denman
Leiloni Lenahan
Kevin Michels
Linda Seely
Louis Kahn
Dennis Kraesig
National Association of Residential Property Managers (NARPM)
---
CRPM Logos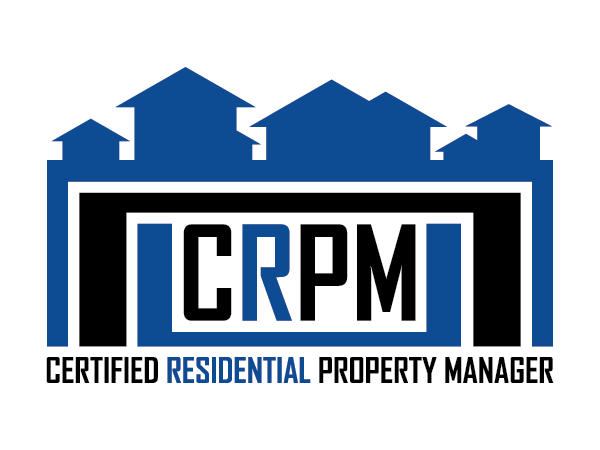 Download Logos
The Value of REALTOR® Education
REALTOR® Designation Awareness Month is recognized annually in the month of November. The National Association of REALTORS® encourages members to increase their professionalism, marketability, and proficiency through the pursuit of an officially-endorsed NAR designation or certification. If you're not swayed merely by the new knowledge you'll gain by earning a designation, you'll also be happy to know that, according to NAR, a REALTOR® who earns one or more designations also earns more money. Based on data from the 2013 NAR Member Profile, the median income of REALTORS® without a designation was $33,500 and the median income of those with at least one designation was $61,100: a difference of $27,600.
The Arizona Association of REALTORS® supports your desire to gain more knowledge, more income and raise the level of professionalism throughout the real estate industry.
"The value of REALTOR® education is so much more than the letters you place behind your name," said Barb Freestone, senior vice president, Professional & Business Development at AAR. "It's about the skills you learn from true industry experts that will set you apart from others in your field. Earning a designation or certification helps REALTORS® reach their career goals much faster. With a comprehensive curriculum, you can expand your referral network, stand out from the crowd and raise your level of professionalism. We want you to come away from these courses with the skills you need to enact real change in your career and in our industry."
Currently, AAR offers many NAR designations and will be adding more in the coming year. Below is a brief breakdown of a few of the designations offered by AAR. To find an upcoming class, visit the AAR calendar.
---
ABR®: Accredited Buyer's Representative
This designation provides the expertise REALTORS® need to gain a competitive edge in serving today's home buyers. Accredited Buyer's Representatives (ABR®) stand for the benchmark of excellence in buyer representation. Not only do ABR® designees earn more, but member benefits such as publications, marketing tools, a referral network and other resources, help them maintain that edge.
Note: This is a two-day course, plus a one-day elective.
---
CRB: Certified Real Estate Broker Manager
To stay ahead of the competition, brokers and managers must learn new trends and business strategies to improve individual and company performance. The Certified Real Estate Broker Manager designation is open to any real estate professional and delivers the knowledge and resources needed to create opportunities to excel. After taking CRB courses, managers and brokers will be better positioned to develop and streamline operating practices, market and position his or her company, and better understand how to keep brokerage costs in check. Read about who can participate in the CRB.
---
GRI: Graduate, REALTOR® Institute
The GRI designation is the cornerstone of REALTOR® education. This professional development course provides REALTORS® with in-depth knowledge of legal and regulatory issues, technology, sales process and professional standards and is taught by professionals with proven track records of success.
In 2014, the GRI designation will undergo a major overhaul, evolving into a designation that can be tailored fit each individuals needs. New classes and a more streamlined approach will give REALTORS® the opportunity to earn multiple designations at once and will be flexible in terms of time and learning preference. To see how the GRI has evolved to meet the needs of today's REALTOR® visit www.azgri.com
---
SRES: Seniors Real Estate Specialist®
This designation educates REALTORS® on how to develop business building skills and the resources needed to serve the 50+ consumer. One student said recently, "I learned so much more than I expected to in this course that will help me be a better REALTOR®, no matter what age my clients are."
---
RSPS: Resort & Second-home Property Specialist
NAR's advanced education-based certification is designed for resort and second-home professionals. This core course focuses on the knowledge and skill base that real estate professionals need to specialize in buying, selling, or managing second homes in a resort, recreational, and/or vacation destination and properties for investment, development, or retirement. Find out more here.
---
SRS: Seller Representative Specialist
SRS is the premier seller agency designation recognizing real estate professionals who have completed special education in seller representation. The SRS covers a comprehensive look at seller representation, including marketing, but also discusses the full lineup of legal issues, Code of Ethics issues and practical issues of getting the listing from acquisition to closing.
According to one student "This class was a great investment in my business and me. I learned quite a bit about ramping up my listing presentation, how to make myself look more professional and help my customers and clients see that I have their best interests at heart…"
---
e-PRO®
The e-PRO® certification teaches you the latest social media technologies to create an online presence vital to reaching today's hyper-connected consumers. The National Association of REALTORS® has partnered with the Social Media Marketing Institute (SMMI) to develop a program to help you successfully compete in today's ever-evolving real estate market. The new e-PRO® curriculum shows you how to use the latest social media technologies, such as Facebook and Twitter, to create an online presence vital in reaching today's hyper-connected consumers. NAR's e-PRO® certification also teaches REALTORS® how to take advantage of rich media and e-office strategies to run his or her business more efficiently.
---
Become a Certified Risk Management Specialist

AAR also offers the rCRMS (Certified Risk Management Specialist) program to REALTORS® across the state. This certification program is taught by practicing attorneys in Arizona and helps members successfully manage real estate transaction while reducing clients' exposure to potential risk. Earning this certification will give your clients the utmost protection during their transaction!
Requirements for certification include attending one contract course, three core courses, and one elective course. The requirements must be completed within a two-year period, and rCRMS holders must recertify every two years by taking one of the contract courses.
Watch the rCRMS video to find out more!
---
Tell us: What designations do you have and which ones deliver the most "bang for your buck"?
Do You Speak House?
All homes talk. Sometimes it just takes a trained ear to hear what they're saying. In 2014, the Arizona Association of REALTORS® will introduce a one-day course in the recently-revamped GRI designation that will teach both new and seasoned REALTORS® how to understand that property condition, warranted items, inspection reports and more can speak volumes about a home.
The Market Essentials: Property Condition course will be rolled out next year to those pursuing their GRI designation. This course will focus on understanding:
The impact of property condition on salability and potential buyers.
Financing opportunities depending on property condition.
Disclosure requirements for both buyers and sellers.
Warranted items as provided in the AAR purchase contract.
Using inspection reports to write a BINSR and using the BINSR correctly.
Working with appraisers, the Home Value Code of Conduct (HVCC) and best practices.
When qualifying a property for listing, REALTORS® play a very important role. REALTORS® who participate in this course will leave with a greater understanding of how to qualify both the property and the seller. With the many tools and resources available, this course will also help REALTORS® identify "red flags" that may cause problems prior to listing a home for sale. Uncovering these tools and utilizing them wisely will have an impact on buyer financing and desirability.
When selling real estate, it is extremely important to match the buyer to the right property. Not only taking into account aesthetic needs, but also understanding available financing and the types of properties that clients are willing to purchase. This course covers the best ways to match a buyer to a home based on a number of differing factors.
Any seasoned REALTOR® will tell you that a good inspector and a knowledgeable appraiser are crucial to selling a home. Knowing how to read a home inspection report and understanding how to assist your clients with the report is a great way for a REALTOR® to flex some expert muscle. The same is true for appraisals. This course delves into the multiple factors that affect the price of a property and teaches REALTORS® more about the entire inspection and appraisal process; including how to dispute an appraisal.
Read more about all the changes taking place regarding the GRI designation and find out how you can also build successful Strategies in Effective Consumer Satisfaction.
AAR would like to thank David Gilpatrick, Residential Environmental Services of America and Holly Mabery and Stacey Onnen from Keller Williams Check REALTY for their contributions to this class.
2016 Spring Convention Schedule
TUESDAY
Session
Speaker
8:00 – 9:00
WCR Governing Board Meeting
Lyn Trayte
8:30 – 11:30
C/E:  Agency for Property Managers
3-Agency
Sponsored by NARPM(refreshments provided by NTN)
Steve Urie
8:30 – 11:30
C/E:  Real Sticky Situations
3-Commissioners Standards
Larry Hibler
8:30 – 11:30
C/E:  BMC #1
3-Commissioners Standards
Evan Fuchs
9:00 – 10:00
WCR General Board
meeting
Lyn Trayte
10:00 – 11:00
CRS General Membership
Meeting
10:00 – Noon
WCR Breakout Session
Andrea Goodheart & Bob Wasieko
11:00 – 12:00
CRS Board Meeting
12:00 – 1:15
WCR Lunch
($25 ticket purchase required)
Jonathan Smoke
1:30 – 4:30
C/E:  Property Managers Duty to Disclosure
3-disclosure
Sponsored by NARPM(refreshments provided by NTN)
Denise Holliday
1:30 – 4:30
C/E:  BMC #2
3-Commissioners Standards
Evan Fuchs
1:30 – 4:30
C/E:  Arizona Fair Housing A Historical Journey
3-Fair Housing
Sponsored by Arizona CRS Chapter
Bill Gray
1:15 – 2:15
WCR Breakout Session – Team Building
Holly Mabery
2:00 – 5:00
AAR Executive Committee
Paula Serven
2:15 – 4:30
WCR Breakout Session
Theresa Lioti & Bill
Risser
4:45 – 5:30
WCR: Line Dance Class
Mike McIntyre
5:15 – 7:00
Welcome AARtini Reception
PLUS…
CornHole Tournament
7:00 – 9:00
Cocktails with Champions
Sponsored by WCR
($30 ticket purchase required)
WEDNESDAY
Session
Speaker
7:45 – 9:00
LTA Breakfast (by invitation)
8:00 – 5:00
RAPAC Auction (Item Drop-off: 8:00-10:00 am) Open: Noon – 5:00 pm
8:00 – 9:00
Morning Networking Session with Coffee & Danish
9:00 – Noon
General Session
Jonathan Smoke & Nobu Hata & Jeff Turner
Noon – 1:15
Lunch
Kenny Parcell
1:15 – 2:30
Family Feud
Holly Mabery
1:30 – 4:30
C/E:  BMC #3 Supervision
3-Commissioners Standards
certificates issued through Desert Sage School
Jon Kichen
2:45 – 3:30
Broker: Nobu Hata – Attract Retain Tomorrow's Agent
Nobu Hata
2:45 – 3:30
Business Building: Ratings: Jeff Turner – Build Your Business Around Ratings
Jeff Turner
2:45 – 3:30
Technology: YouTube
Bill Risser
2:45 – 3:30
Transaction:  Solar Leases: What You Need to Know
Liz Recchia
2:45 – 3:30
Digital Marketing: The Basics
Beth Adams
3:45 – 4:30
Broker: Professionalism: How to Raise the Bar
John Foltz
3:45 – 4:30
Business Building: Powerful Pen: Creating the Emotional Connection
Jeff Turner
3:45 – 4:30
Technology: How to Sell a House with video
Beth Adams
3:45 – 4:30
Transaction: BINSR Bantor
Laura Mance
3:45 – 5:00
AE/President/President-elect Forum (by invitation)
Paula Serven
5:00 – 6:45
Reception
Sponsored by Region 3
7:00 – 8:15
Dinner ($38 ticket purchase required)
8:15 – 10:30
"After Party" (Karaoke, Lip Sync Battles and more..)
THURSDAY
Session
Speaker
7:45 – 8:45
Broker Breakfast ($21 ticket purchase required)
8:00 – 2:40
Auction Open (Item Pick Up: 4:00-5:00)
8:00 – 9:00
Morning Networking Session with Coffee & Danish
9:00 – Noon
General Session
Nobu Hata
Fletcher Wilcox
Mathew Consalvo
Michelle Lind
Noon – 1:30
Lunch
Nicole LaSlavic & Kenny Parcell
1:45 – 4:45
C/E:  The Anatomy of a Transaction
3-Disclosure
Laura Kovacs
1:45 – 2:30
Broker: Pre-Post Possession: Avoid Clauses that lead to
Lawsuits
Scott Drucker &
Nikki Salgat
1:45 – 2:30
Business Building: Professional Profitable and Protected
Paula Monthofer &
Eric Gibbs
1:45 – 2:30
Technology: RPR
Curtis Doss
1:45 – 2:30
Transaction:  Top 10 Overlooked Items in the Residential Purchase Contract
Holly Mabery & Gary
Nelson
1:45 – 2:30
Marketing:  25 Action Items for Database Marketing
Pat Zaby
2:45 – 3:30
Broker: Team Dynamics in 39 Minutes Or Less
Holly Mabery & Evan
Fuchs
2:45 – 3:30
Business Building: Top 10 Things to Know about Military Buyer and Seller Clients
Curtis Doss
2:45 – 3:30
Technology: Using REALTOR.com Profiles, Reviews and Ratings
Gary Nelson & Ron LaMee & Bob Greenspan
2:45 – 3:30
Transaction:  Tools to Show Buyers Now is the Time to Buy
Pat Zaby
2:45 – 3:30
Marketing:  Digital Marketing Tools
Beth Adams
3:45 – 4:30
Broker: Teams and ADRE
Jim Sexton & Commissioner
Lowe
3:45 – 4:30
Business Building: Elements of a Successful Exit Strategy
Pat Zaby
3:45 – 4:30
Technology: Zipforms
Curtis Doss
3:45 – 4:30
Transaction:  Schedule B, Section What?
Bill Risser
4:45 – 5:30
NAR Director Forum
Michelle
5:15 – 6:16
Reception: Meet the AAR Treasurer Candidates
Heidi Quigley
Mary Roberts
Steve Redmond
FRIDAY
Session
Speaker
8:00 – 10:30
Coffee Service
8:30 – 9:45
Region 1 Caucus
(Yuma, Bullhead City/Mohave Valley, Lake Havasu, Kingman/Golden Valley)
Matias Rosales
8:30 – 9:45
Region 2 Caucus
(Phoenix, West Maricopa County Regional)
Bill Ashker
8:30 – 9:45
Region 3 Caucus
(White Mountain, Sedona/Verde Valley, Northern Arizona, Central Arizona, Prescott Area)
Clark Jones
8:30 – 9:45
Region 4 Caucus
(SouthEast Valley Regional, Western Pinal, Scottsdale Area)
Jay Schlum
8:30 – 9:45
Region 5 Caucus
(Tucson, Southeast Arizona, Santa Cruz County, Green Valley/Sahuarita, Douglas)
Cathy Urchell
9:30 – 4:30
Transaction Technology (approved for GRI credit)
Joeann Fossland
10:15– 12:30
Board of Directors
2016 Spring Convention
REGISTRATION:
Registration is Closed.
At-Door Full Convention Pass:
$189 (no lunch)
At-Door Single-Day Pass:
$89 (no lunch)
At this year's convention:
Broker Track
Technology Track
Business Building Track
Business Tools Track
Digital Marketing Track
2016  Spring Convention is Over! See you in 2017!
The Arizona Association of REALTORS® invites you to spend three days with 400+ career-minded REALTORS®. The 2016 AAR Spring Convention pairs Arizona real estate professionals with local and national experts that will help you elevate your business. Whether your goals involve increasing your business, increasing your network, managing risk or using tools more effectively – this is the place to be.
Click Here To See 2016 Schedule
AARtini Welcome Reception (Tuesday)
Cornhole Tournament: Grab your three favorite superhero REALTORS® to form your team.  Tournament proceeds benefit RAPAC.  This is a "Superhero Costume Theme" single elimination tournament and will take place during the AARtini Welcome Reception (Tuesday).  Contact Ashley at AAR Ashley@aaronline.com to register your team.  Team entry fee:  $80 or $20 per person.
Cocktails with Champions:  WCR invites you to join them, after the AARtini Reception Tuesday, for a fabulous evening of cocktails, BBQ buffet and Cocktails with Champions – industry professionals who will share their trade secrets in nuggets.  Enjoy an evening networking, sharing and silent auction.  Tickets $30  Check out some Champion videos: 
RAPAC Silent Auction:Back by popular demand, AAR and the 2016 RAPAC Trustees are hosting a silent auction on Wednesday (Noon-5:00) and Thursday (8:00 am – 2:40 pm).  Auction item drop off:  Wednesday, 8:00am – 10:00 am.  Auction item pick up:  4:00 pm – 5:00 pm
Networking Coffee Hour  (Wednesday and Thursday)  Start your morning off with coffee, danish and casual table discussion drawing on the collective experiences of your peers.  Want to know more about e-Sign vs. Docusign?  What is the best video-editing software? How to use the clause editor in Zipforms?  Open house strategies that work?  Getting started with Evernote?  Need help with something – we most likely have someone who has "been there, done that" that can help.
Reception (Wednesday) Sponsored by Region 3: Join us in the Eagles Nest for a relaxing cocktail courtesy of the associations in Region 3 (Central Arizona, Northern Arizona, Prescott Area, Sedona-Verde Valley and White Mountains).
Dinner (Wednesday)  After a long day of learning, this is the perfect time to relax, bond with your peers and enjoy a combination of food, music with DJ Smokey Smoke and fun.  Tickets:  $38
AAR "After p

AAR

ty" (Wednesday)  Your convention registration includes unlimited fun and excitement. Here, everyone is a Rock Star VIP and invited. Whether you are coming back from dinner downtown or having dinner with us earlier, this is a must attend MUSIC MANIA event. Sounds with DJ Smokey Smoke weaved throughout the night along with KAARoake and Lip Sync Battles. You will have plenty of chances to sing (and to avoid singing) and cheer on your talented peers. Club Host Paula Monthofer will keep the joint rockin! But wait, there's more….join us to find out.

Meet the AAR Treasurer Candidates Reception: (Thursday) Meet, in an informal setting, the candidates running for AAR Treasurer Thursday night.
Resources for Attendees
========================= End of Flickr Badge ========================
Five Do's and Five Don't's for New Agents
To view the contents of this post, you must be authenticated and have the required access level.