Home
»
STEPS TO GETTING YOUR REAL ESTATE LICENSE
Obtaining An Arizona Real Estate License
Salesperson's licenses are issued for a term of two (2) years. License renewal must occur on or before the last day of the month in which the license was issued. Renewals are for a two (2) year period.
The Process
---
Complete 90 hours of Real Estate Salesperson pre-licensing education at an approved Arizona real estate school and pass the examination at an ADRE-approved real estate school, college or university. Pre-licensing education must be completed in-classroom or online from an ADRE-approved Arizona real estate school.
For a list of ADRE-approved pre-licensing schools, click here.
---
Obtain a fingerprint Clearance Card (FCC) issued by the Arizona Department of Public Safety (DPS). The process for obtaining the Fingerprint Clearance Card may take as long as eight to ten weeks.
Click here to apply for a FCC
---
Disciplinary Actions Disclosure Form
Information and documentation relating to the applicant's background must be provided upon application for licensure. Date of birth and Social Security Number are required. Criminal convictions and background disclosure on the Disciplinary Actions Disclosure Form (LI-214/244) must be completed by all applicants, and depending on disclosures made, additional documents and information may be required.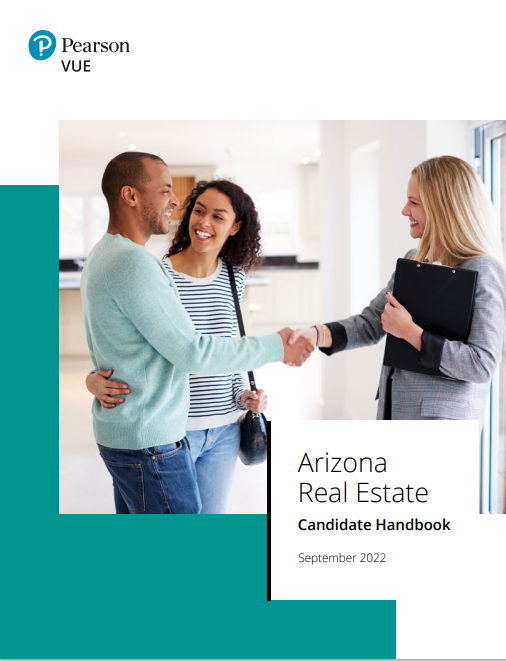 Download the Candidate Handbook here.
---
Prior to License Application, attendance at a 6-hour Contract Writing Class (including certificate) is required.
---
After completion of the pre-licensing course and passing the school's final examination, the school will issue a Pre-licensure Education Certificate as verification the pre-licensure education requirement has been met. You have one year after passing the exam to submit your application and license fee to the Arizona Department of Real Estate.