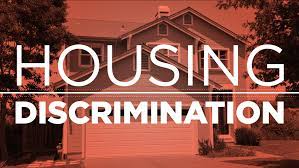 A real estate agent tries to persuade someone not to buy or rent a house in a certain neighborhood. This is called steering.

A landlord refuses to rent an apartment to a person with a mental disability.

A newspaper ad says that housing is available for White applicants.

A Black person answers a newspaper ad to rent an apartment. The landlord says the apartment has already been rented. It turns out the apartment was not rented. The landlord later rents the apartment to a White applicant who answers the same ad.

A landlord evicts a White tenant from her home because the tenant's Black friends visit her there.

A resident manager refuses to rent an apartment to a family with children, will only allow families with children to live in certain buildings or on certain floors, or charges higher security deposits for families with children.

A landlord checks the credit records of all Black and Hispanic applicants and uses small credit problems as an excuse to refuse to rent apartments to them. It turns out that the landlord does not always check White applicants' credit records or overlooks small credit problems in their records.

A property manager refuses to rent an apartment to a single woman but will rent the apartment to a single man.

A bank refuses to lend money to a buyer because the house is in a minority neighborhood. This is called redlining.

A rental manager charges minority tenants a larger security deposit, or higher rent, than White tenants.

A female tenant and her family are evicted from their apartment because the tenant refused the landlord's sexual advances.

A landlord refuses to rent an apartment to a blind woman because she has a guide dog.
---