Arizona REALTOR® Nationally Recognized for Commitment to Homeownership
The REALTORS® Political Action Committee (RPAC), a national bipartisan grassroots-based political advocacy organization, has added another name to its Hall of Fame.
Arizona REALTOR® Sue Cartun, CRS, GRI has been inducted into the RPAC Hall of Fame in recognition of her contribution and support. She joins the ranks of National Association of REALTORS® (NAR) Past President Vicki Cox Golder, Arizona Association of REALTORS® (AAR) Legislative Committee Member Doug Groppenbacher and AAR Past President John Gall.

"RPAC helps shape the future of our industry," said Cartun, a REALTOR® with Keller Williams Southern Arizona in Tucson. "I'm proud to be inducted into the Hall of Fame, and even more proud to have been a supporter since 1999."
The Hall of Fame recognizes dedicated members whose RPAC investments total an aggregate of at least $25,000. Members are inducted during annual legislative meetings in Washington, D.C., presented with a lapel pin and have their names inscribed on a commemorative plaque at the NAR building in Washington, D.C.
In 2002, 22 REALTORS® were inducted into the first RPAC Hall of Fame. Today, nearly 700 individuals belong to the RPAC Hall of Fame. You may contribute to RPAC too.
---
RPAC is a voluntary political action committee whose membership consists of REALTORS® and affiliates interested in actively and effectively protecting the real estate industry and the dream of homeownership by participating in government affairs at the local, state and federal levels. Read more about RPAC here.
RAPAC Special Events
To view the contents of this post, you must be authenticated and have the required access level.
The Five Ws of RAPAC
"RAPAC" may be a term you're already familiar with and understand its value to our industry. It may be a term you've heard mentioned at various REALTOR®-related events, but aren't too familiar with. Or, it may be that the word RAPAC incites complete and utter bewilderment for you. If you fall into the latter category, read on. This is the: who, what, where, when and why of RAPAC.
Let's first begin with a brief introduction. RAPAC stands for the REALTORS® of Arizona Political Action Committee. Today, virtually every special interest group in America has a PAC, and the REALTORS® of Arizona are no different. RAPAC is a nonprofit, unincorporated group that allows REALTOR® members to collectively and effectively participate in political affairs. RAPAC is not affiliated with a political party and is non-partisan in its support of candidates. Simply put, RAPAC is the best way to protect your business. Now let's dive in.
Who supports RAPAC?
RAPAC is made up of voluntary investments from REALTOR® members all across the state.
What does investing in RAPAC do for me?
Your investment in RAPAC safeguards your business and our industry as a whole. Arizona real estate faces many issues that need support from pro-business/pro-real estate lawmakers. These issues range from HOA reform, water rights, property taxes and preserving the rights of property owners to name a few. Here are some recent legislative wins that could not have happened without AAR members' investment in RAPAC.
Where does my investment in RAPAC go?
Your investment in RAPAC goes towards educating Arizona lawmakers on the issues that keep you up at night. Through your RAPAC dollars, AAR can support pro-real estate lawmakers and guarantee that no decision is made that will affect our industry, good or bad, until our voice is heard.
Investments can be made to your local association, directly to the Arizona Association of REALTORS®, and to the National Association of REALTORS®. The only acceptable way to contribute to RAPAC is by money drawn from personal funds.
When should I invest?
RAPAC investments are accepted at any time throughout the year. We do understand that for some contributing money to any sort of cause may not always be in your budget. One time to consider contributing is right after you've had a successful close. Or have one less Starbucks a week and at the end of the month you'll have enough money set aside to contribute. Even a minimum donation of $30 per member, per year can do so much. When all things are considered, $30 is a small investment for such a large return – protecting your business!
Most importantly, why should you invest in RAPAC?
The Arizona Association of REALTORS® and RAPAC want to help you make more money, keep more of what you make, reduce your liability and protect you from any undue burdens that will affect your business. Investing in RAPAC means protecting your professional rights.
In order to affect legislation, we must be proactive and support the best. With your minimum contribution of $30, we can raise thousands of dollars to be stronger than ever!
https://www.realtor.org/rpaconln.nsf/StartRPACContrib?OpenForm&Login
Contributions to RAPAC are voluntary and are used for political purposes. You may refuse to contribute without reprisal or otherwise affecting your membership rights. Seventy percent of each contribution will be sent to Arizona PAC for state and local activities. Contributions to National RPAC are charged against your limits under 2 U.S.C 441a. Contributions are not deductible for Federal income tax purposes.
RAPAC & Issues Mobilization
The REALTORS® of Arizona Political Action Committee (RAPAC) is a member-sponsored effort organized to financially support candidates running for local, state and federal office whose position on real estate regulation and a free-market business environment most closely represent the initiatives of the Arizona REALTORS®. RAPAC contributes to and channels resources into races that will have the most impact on the real estate industry. RAPAC is a voluntary, non-profit political action committee and operates independently of any political party.
RAPAC is a vital part of the Arizona REALTORS® Government Affairs program — a program that includes professional lobbying, legislative analysis, grassroots contacts, and long-term political relationships. RAPAC strives to educate city council members, legislators and members of congress about our industry and guarantees that no decision is made that will affect our industry, good or bad, until our voice is heard.

---
The RAPAC Investment Levels Pyramid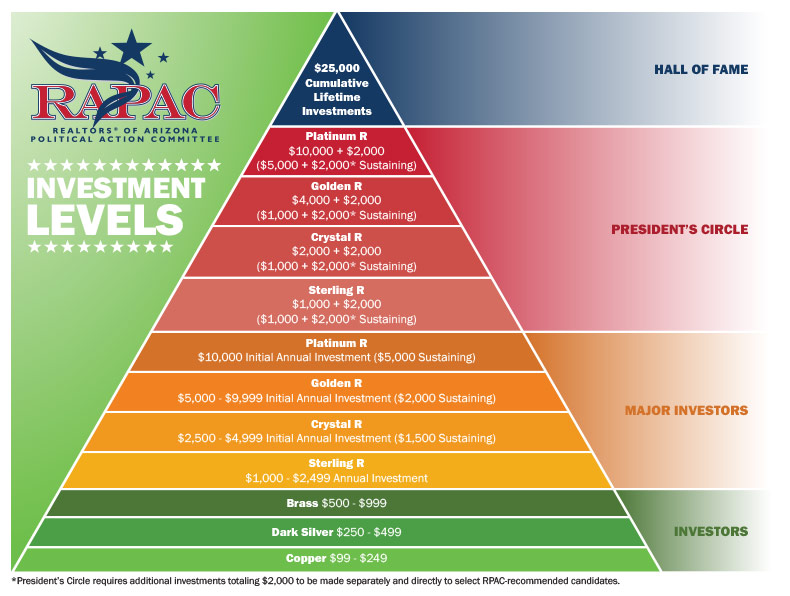 RAPAC Political Funds Request Forms
RAPAC Fundraising Materials
RAPAC Processing FAQ's
Did You Know?
RAPAC Articles
---
REALTORS® ISSUES MOBILIZATION
Do you have an issue in your community that needs funding support? Issues Mobilization is a tool to help support your community issues financially. The REALTORS® Issues Mobilization Committee (RIMC) reviews and approves funding requests from local associations to expend their own local issues mobilization reserve balances as well as requests to the state reserves of the Issues Mobilization fund. The RIMC is governed through by-laws and is comprised of REALTOR® members from various areas across the state.
Examples of Issues That Can be Funded Include:
Postcard Campaigns, Local Board Issues, Newspaper Ads, Forums, Educational Print Materials, or Coalition Participation Fees.
Issues Mobilization Request Forms