Disturbing Calls Made by Phony Real Estate Agent
An unidentified male has reportedly been calling real estate offices throughout the Valley representing himself falsely as a fellow agent, often going by the name "Steve." Once he has an agent on the phone, he begins asking inappropriate questions about other female agents in the office. The caller, in one particular instance, said that he knew an agent was working in a model home and he knew personal information about the agent.
If this person calls your office: 1) report the call to local police providing as much detail as possible; and 2) contact your broker and disseminate the information throughout your office and other outlets. In response to these incidents, law enforcement has suggested that agents not be alone when showing properties, that they partner up during open houses, and that they notify law enforcement when they are conducting an open house so that extra surveillance can be provided.
Sellers Opening Their Homes to Strangers
In the Bullhead City area, there have been reports of unaccompanied consumers knocking on doors at listed properties. Reportedly, these individuals identify themselves as interested buyers and falsely claim that they have been unable to contact the listing agent. They then ask to be let into the home, so that they can view the property. Please instruct your clients not to allow unaccompanied members of the public into their home without an agent present. The unknown stranger's intention may be to case the property for a later theft of personal items, or even to do the owner harm.
REALTOR® Safety Alert: Phoenix area REALTOR® receives explicit phone messages
A Phoenix REALTOR® reported returning a phone call to a man who pushed to see a property she had listed for sale, while at the same time inappropriately propositioning her. Prior to the return call, the man left an explicit voice message for the REALTOR®. The seller and police have been notified of the incident and we urge members to exercise caution.
If you are contacted by this individual, members are advised to notify their broker, local authorities, and avoid meeting him in person.
Agent Safety Alert Program (ASAP) FAQs
Q: What does ASAP mean?
A: ASAP is an acronym that stands for "Agent Safety Alert Program."
Q: What is ASAP?
A: ASAP is a text based alert program that was created as a means to notify Arizona REALTORS® of a possible safety threat.
Q: What is the criteria for an ASAP alert?
A: (1) The health, safety, or well-being of a REALTOR® or client is in imminent danger; and/or (2) Help is needed to locate a missing person, apprehend a suspect, and/or place other REALTORS® on notice of a possible threat.
Q: How does ASAP work?
A: Once it is determined that an incident meets ASAP criteria, members will receive a text alert. The text will be similar to an Amber or weather alert, but will only be sent once, unless there are extenuating circumstances that require a second text.
Q: What type of information will be included in the text alert?
A: In 160 characters or less, the text will describe the incident and the general area in which the incident occurred. The text will also contain a link that the receiver can click on for additional information.
Q: Do I need to sign up to receive an ASAP alert?
A: No. All REALTORS® will automatically be signed up to receive ASAP alerts.
Note: Please ensure your local association has your current cell phone number so that you may receive ASAP alerts.
Q: Can I opt out of receiving an ASAP alert?
A: Yes. REALTORS® may opt out of receiving future alerts by choosing one of the following options: (1) email abuse@eztexting.com; (2) reply to an ASAP alert with the text "opt-out," "unsubscribe," "remove," or "stop;" and (3) send a text message containing the word "stop" to the number 313131.
Q: How will I know if an ASAP alert is sent?
A: If you are located in the geographic area where an incident occurs, you will receive a text alert notifying you of the incident.
Q: How do I report an incident?
A: Incident reports can be submitted to AAR via phone or through the internet at https://www.aaronline.com/manage-risk/realtor-safety/asap-safety-report/. Regardless of whether a report is submitted to AAR, any safety issue should immediately be reported to local law enforcement.
Q: Will the reporting individual's name remain anonymous?
A: Yes. AAR will only release an individual's name if it is the name of a missing person.
Q: What if a reported incident does not meet ASAP criteria?
A: If an incident does not meet ASAP criteria for a text alert to be issued, that incident will still be posted on AAR's REALTOR® Safety webpage for members and the public to access.
Q: Will receiving an ASAP alert cost me any money?
A: If you have an unlimited texting plan, there will be no charge. If, however, you have a plan that charges for receiving texts, the charges will vary depending on the provider and plan chosen.
Q: Where can I go to get information about ASAP alerts?
A: Members that receive an alert will be able to immediately access a link to AAR's REALTOR® Safety webpage which will have more information. Members and the public alike may go to AAR's REALTOR® Safety webpage at any time to get information about current and prior alerts. The website is https://www.aaronline.com/manage-risk/realtor-safety/.
REALTOR® Safety Alert: Angry/Aggressive Client Shopping for Golf Properties
AAR has received reports that a white female in her mid-50s, with short curly blonde hair has been visiting real estate offices in Payson and Carefree making lowball offers on golf course properties in an attempt to gain access to the home. She is known to drive a white Mercedes SUV with Arizona plates, appears to be familiar with the properties and sometimes poses as the owner when seeking to gain entry. This individual is reported to become angry and aggressive when denied access and might be a threat. Although this has not been verified through contact with law enforcement agencies, we urge members to exercise caution.
Reported by 12News: MCSO looking for Queen Creek flasher
 William Pitts, 12 News2:37 p.m. MST August 14, 2015
The Maricopa County Sheriff's Office is investigating an alleged flasher in Queen Creek who exposed himself to a real estate agent.
It happened at the sales office at the Ocotillo Heights subdivision near Ocotillo and 223rd Street in Queen Creek. Real estate agent Laura Miner told 12 News she was stepping outside the office for a break when a man rounded the corner from behind a fence. She said he unzipped his pants and performed a solo sex act directed at her.
Miner said she didn't get a good look at the man because he was wearing sunglasses and a hooded sweatshirt pulled over his head.
An MCSO spokesman said there were no other witnesses because the subdivision is largely vacant. Miner was apparently the only one in the office at the time. She said she quickly ran back inside, locked the doors and called police.
An MCSO spokesman said the incident is similar to another reported nearby, but they don't believe the two are related.
Miner said she wanted to warn other real estate agents, only to find out there is no system in place to send out a warning. She said the Arizona Department of Real Estate has contact information for every licensed agent and it would be possible to create a database that would alert agents to suspicious people.
A Mesa real estate agent was attacked and groped at an open house in Gilbert in March. Police later arrested Michael Malcolm Workman, 47, in connection with the attack.
Safety tips for REALTORS® from Scottsdale PD
Original article at http://www.saaronline.com/news/2015/07/17/safety-tips-for-realtors-from-scottsdale-pd, July 17, 2015 by SAAR
This morning at our Pinnacle Peak REALTOR® Marketing Session (RMS) meeting, Officer Glenn from the City of Scottsdale Police Department shared some tips for staying safe. Whether you're meeting a client, showing homes, or sitting at an open house, REALTORS® should always be aware of their surroundings and never put themselves at risk to be a victim of theft, or worse.
Talking about REALTOR® Safety can be scary – but it's necessary. Here are a few tips from Officer Glenn on staying safe in different situations as a REALTOR®.
When you first meet with a new client:
1) Meet in a public place – Never, ever meet a client for the first time at the property. Meet in a public place – such as your office, Starbuck's, or even the Association headquarters. A new website – meetmeherefirst.com – can help you find locations that have signed up as "Open Door Partners" for REALTORS®. EDITOR'S NOTE: There is currently only one "Open Door Partner" in Arizona–please contact merchants in your area and encourage them to join.
2) Introduce them to people – Introducing someone to your office manager, broker or colleague is a deterrent for someone who has ill intentions.
3) Ask for multiple phone numbers – Get a work, cell and home phone number, if possible. Throughout your time working with the person, periodically call the different numbers. If one or two of the numbers they gave are "out of service" when you try calling, that's a bad sign.
It's important to keep all of this information about your client in one location, preferably that someone else would have access to in the event of an emergency. If something happens or your loved ones aren't able to get in touch with you, this information would be extremely valuable for the police to help track down you and the client you were supposed to be with at the time you went missing.
Officer Glenn also mentioned some "red flags" to be aware of, such as if your client is asking many personal questions about you. If a client asks you things like "what do you do on the weekends" or "where do you go to happy hour" – that could be a sign that their intentions are less than pure.
When you're showing property:
1) Make sure someone knows your itinerary – Set times with your spouse or colleague to check in during showings. Make sure someone knows your route, and what client you are with. Have a set plan for what to do if you don't check in at the assigned time, or don't return from your appointments when expected.
2) Have your client walk in front of you – Staying behind the person or even letting them walk through a room while you wait in the hallway can ward off potential attacks.
3) Be aware at vacant homes – If a door or window of a vacant property is ajar, DO NOT go inside. Instead, call the non-emergency police line and wait outside or in your car with the doors locked.
At open houses:
1) Course plan – Walk through the home and know where the exterior doors are. Have a few ideas in mind in case you get into a situation you need to escape. Keep your keys on you so you can get to your car and flee if necessary. It's better to have a plan and never need it, than to need a plan and not have one!
2) Make friends with the neighbors – In addition to being a good way to make new contacts, you'll have extra sets of eyes watching out for your safety.
3) Have someone with you – Always try to do an open house with a partner. Recruit a fellow REALTORS®, a new agent in your office, or an affiliate partner such as a lender.
Office Glenn also suggested other tips, such as keeping your purse in the trunk of your car and always making sure your cell phone is fully charged. Also, have your keys out and ready whenever you walk to your car from a home or business. In addition, Officer Glenn reinforced to always be aware of your surroundings and follow your intuition.
Hackers Perpetrate Wire Transfer Fraud Scams Across Arizona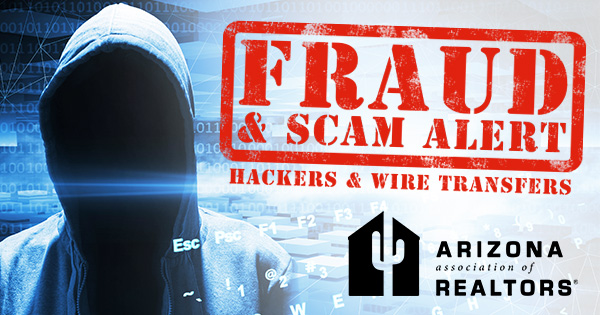 According to REALTORS® and title companies across the state, Arizona real estate transactions are once again being targeted by hackers perpetrating wire transfer fraud.
It is customary for parties in a real estate transaction to receive, and comply with, wire transfer instructions. Unfortunately, it has become increasingly common that those instructions were not generated by a legitimate party, and that the funds are being wired to a bank account controlled by an online hacker.
Although the scam is perpetrated in a variety of ways, it typically begins with the email account of a party to a pending real estate transaction being hacked. The hacker then identifies specific details regarding the transaction, such as sales price, the parties' names and contact information, identity of the lender, name of the escrow officer, close of escrow date, and escrow number. Upon ascertaining this information, the hacker begins directly emailing the buyer or lender making it appear as though the email was sent by the real estate agent or title company. These fraudulent emails contain instructions to wire the closing funds into a bank account controlled by the hacker. In one incident that recently occurred in Southern Arizona, the hacker went so far as to generate a bogus electronic signature authorizing the funds to be wired to an account belonging to the hacker. Once the money is wired as instructed, it is immediately withdrawn by the hacker and gone for good.
To combat this scheme, REALTORS® and their clients should remain vigilant and verify all emails that convey wire instructions for disbursal of funds from escrow. Fortunately, many title companies are now unwilling to accept an email from a customer containing wiring instructions without calling the customer to verify the information.
And while a myriad of technical precautions can be taken, such as the use of encrypted emails, perhaps the best advice comes via an alert issued by the Silicon Valley Association of REALTORS®, stating:
"Buyers and sellers should confirm all email wiring instructions directly with the escrow officer by calling the escrow officer on the telephone. In that conversation, the correct account number information should be repeated verbally before taking any steps to have the funds transferred."
If you or your client believe that you are being targeted in a scam of this nature, immediately notify the title company and do not hesitate to contact the authorities.
REALTOR® Safety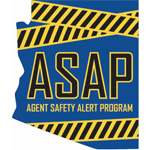 Agent Safety Alert Program (ASAP)
ASAP is a program to alert REALTORS® of critical safety issues. Members may submit reports of incidents they see or know about using the link below. A response team will evaluate the report and may take action, up to and including issuing a text alert to all affected members.
To ensure that your cell phone is in our system for alerts, please contact your local association or edit your own information at NAR's site. For details about the ASAP program, here is a list of FAQs.
---
Arizona REALTOR® Safety Alerts
---
Arizona REALTOR® Safety Videos & Webinar
---
Safety Articles
---
Additional Resources from NAR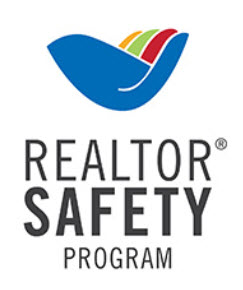 REALTOR® Safety Alert: Man claims to be Reflexologist
UPDATE April 17, 2015
A southeast Valley REALTOR® reported that a man claiming to be a reflexologist is once again inappropriately propositioning female REALTORS® in the valley. In addition to phone calls and texts, he is now asking agents to meet with him for lunch. If you are contacted by this person, call the police and provide information from email addresses and the number from which the texts are sent.
———————————-
The Arizona Association of REALTORS® has been advised by several female members that they have been inappropriately propositioned by an individual purportedly seeking to purchase property primarily in Scottsdale and North Phoenix. The man, who claims to be a reflexologist, initially contacts agents via phone and text message under the guise of purchasing a home. Rather than pursue the purchase of real property, the calls and texts become indecent at which point the man offers foot rubs and attempts to meet with the agent away from their office.
If contacted by this individual, members are advised to notify their broker, local authorities, and avoid meeting him in person. For more information on REALTOR® safety, go to: http://www.realtor.org/topics/realtor-safety/webinars.