Sellers Opening Their Homes to Strangers
In the Bullhead City area, there have been reports of unaccompanied consumers knocking on doors at listed properties. Reportedly, these individuals identify themselves as interested buyers and falsely claim that they have been unable to contact the listing agent. They then ask to be let into the home, so that they can view the property. Please instruct your clients not to allow unaccompanied members of the public into their home without an agent present. The unknown stranger's intention may be to case the property for a later theft of personal items, or even to do the owner harm.
Hackers Perpetrate Wire Transfer Fraud Scams Across Arizona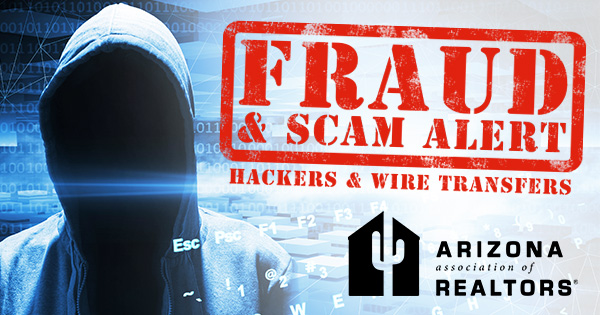 According to REALTORS® and title companies across the state, Arizona real estate transactions are once again being targeted by hackers perpetrating wire transfer fraud.
It is customary for parties in a real estate transaction to receive, and comply with, wire transfer instructions. Unfortunately, it has become increasingly common that those instructions were not generated by a legitimate party, and that the funds are being wired to a bank account controlled by an online hacker.
Although the scam is perpetrated in a variety of ways, it typically begins with the email account of a party to a pending real estate transaction being hacked. The hacker then identifies specific details regarding the transaction, such as sales price, the parties' names and contact information, identity of the lender, name of the escrow officer, close of escrow date, and escrow number. Upon ascertaining this information, the hacker begins directly emailing the buyer or lender making it appear as though the email was sent by the real estate agent or title company. These fraudulent emails contain instructions to wire the closing funds into a bank account controlled by the hacker. In one incident that recently occurred in Southern Arizona, the hacker went so far as to generate a bogus electronic signature authorizing the funds to be wired to an account belonging to the hacker. Once the money is wired as instructed, it is immediately withdrawn by the hacker and gone for good.
To combat this scheme, REALTORS® and their clients should remain vigilant and verify all emails that convey wire instructions for disbursal of funds from escrow. Fortunately, many title companies are now unwilling to accept an email from a customer containing wiring instructions without calling the customer to verify the information.
And while a myriad of technical precautions can be taken, such as the use of encrypted emails, perhaps the best advice comes via an alert issued by the Silicon Valley Association of REALTORS®, stating:
"Buyers and sellers should confirm all email wiring instructions directly with the escrow officer by calling the escrow officer on the telephone. In that conversation, the correct account number information should be repeated verbally before taking any steps to have the funds transferred."
If you or your client believe that you are being targeted in a scam of this nature, immediately notify the title company and do not hesitate to contact the authorities.
Patent Trolls: Scan Scam
NAR has received many reports from members who have received demand letters from a patent owner, NPHG Technology (or its Law Firm, Farney Daniels, P.C.), that purports its ownership of the process of sending a document via email from a printing or scanning device. The letters demand that companies (typically small to medium size) pay a licensing fee of between $900 to $1,200 per employee for the ability to scan and email documents.
NAR reports that members in at least six states have been targeted so far (IA, IL, IN, OH, VA, and NY). It's possible (and perhaps probable) that members in other states have also received these license fee demand letters as well.
To assist members who may receive a demand from this patent owner, NAR Legal Affairs department produced a brief, informational podcast of this issue which is available at: http://www.realtor.org/audio/legal-podcast-patent-infringement-letters.
If you receive a letter, be sure to let AAR General Counsel Scott Drucker know and he will provide you with guidance on how to proceed.