2017 Arizona REALTOR® Convention

Print Friendly

"Ready to enhance your real estate career?  This event will do just that … After 13 years in the real estate industry, the Arizona REALTOR® Convention gave me valuable nuggets that made a dramatic difference in my personal success.  I look forward to seeing YOU at the 2017 Arizona REALTOR® Convention." – Mandy Neat, 2017 Arizona REALTOR® Convention Chair
---
Click Here to Register to attend 2017 Arizona REALTOR® Convention
---
Click the buttons below for Additional Details:
---
Special activities you won't want to miss:
Cocktails With Champions (Tuesday, 7:00 pm – 9:00 pm):  Join WCR for a light buffet dinner and open bar and have the opportuniy to talk to 12 Industry Professionals like Bob Wasieko, Beth Adams, just to name a few, who will be sharing their trade secrets and nuggets. You will have an opportunity to place a bid for One on One with these Industry Leaders and amazing Silent Auction items. SPACE LIMITED.   Ticket Price:  $30
RAPAC Silent Auction:  With over 75 items this year you are likely to walk away with a great gift for your significant other or keep it for yourself because it's that good!
Tuesday: Give it the "Old College Try!" Tuesday night will be the 3rd Annual Cornhole Tournament College Style. Put on your favorite college gear and grab 3 of your classmates, your favorite fraternity brothers, college professor, or REALTORS and give it your best shot to win the annual cornhole tournament. This year we will have 4 games (8 teams) playing at once so it won't take as long as in years past… just like your 5 year planned graduation.
Let's Make a REAL Deal! (Wednesday) Join us for lunch and entertainment and possibly be chosen to be a contestant on the Let's Make a REAL Deal game show. For a $30 investment into RAPAC you will get 1 raffle ticket for your chance to play. For $100 you will get 5 raffle tickets for your chance to be drawn as a contestant. And for $1,000 investment into RAPAC you will be guaranteed to be a contestant in the game. Prizes ranging from $2,000 to trips and much more!
AAR "After Dark" (Wednesday, 8:00 pm – 10:00 pm):  Loosen up after dinner and enjoy an evening of fun, music, passion and camaraderie with your peers.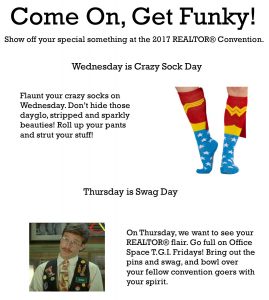 ---
Resources for Attendees
========================= End of Flickr Badge ========================
---
Leigh Brown is coming back to Convention and she wants you there too. Hear why.
Be there!
---
Evan Fuchs wants to help you grow your business. Hear about his "Making Agency Work for You" convention session Thursday, March 30 at 9AM.
We'll see you there!
---
Registered for the Convention yet? Mandy Neat, 2017 Arizona REALTOR® Convention Chair, extends you an invitation.
We want to see you there!
---
Wondering why you should attend this year's State Convention? 2017 AAR President, Paula Monthofer, shares her 2016 Convention wrap-up:
We look forward to seeing YOU March 28-31, 2017 in Prescott AZ!
Get updates by clicking "I'm Going" on the Convention's Facebook Event page.