Arizona Real Estate Terms & Conditions
Shipping
Local Orders:
Most internet orders will be processed and confirmed the same day.
Orders placed each week before 9:00am Thursday will be shipped on Friday.
Orders placed after 9:00am Thursday will be shipped the following Friday.
Single orders are shipped via USPS. Volume and bulk orders will be shipped via UPS. A physical address is required for shipment. We cannot ship to P.O. boxes.
We verify all credit cards before shipping. In some cases, this may delay stated delivery dates.
Expected Delivery Dates:
All dates are estimates and may vary.
Standard Ground: 3-7 business days after order processing
UPS shipping: 2-5 business days after order processing
Returns, Exchanges, and Backorders
Returns and Exchanges:
The book(s) may be returned for exchange or refund within 30 days after shipping.
Items must be new, unused and in the original package.
Items must include original receipt, invoice or packing slip.
Please contact Christina Smalls at (602) 248-7787 if you have any questions about our return policies.
Defective items are subject to our inspection before a refund or exchange is approved.
Return/Exchange Authorization:
Before you return an item to us, please send an email to christinasmalls@aaronline.com stating your reason for the return/exchange. We will reimburse you for your shipping costs when the returned item is received.
Back Orders:
A notice will be posted on our website order page if the book is on backorder. Orders will be suspended until the books are received from the printer.
Order Status and Returns
To check on the status of an order or return, please contact Christina Smalls at christinasmalls@aaronline.com  or call 602-248-7787 x463 Monday – Friday 8:00am – 4:30pm.
Arizona Real Estate: A Professional's Guide to Law and Practice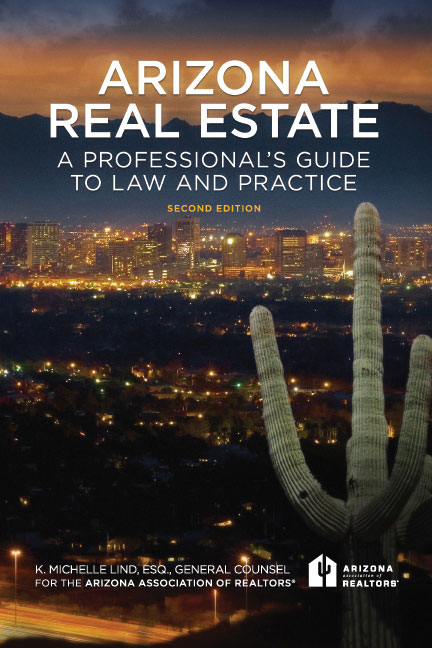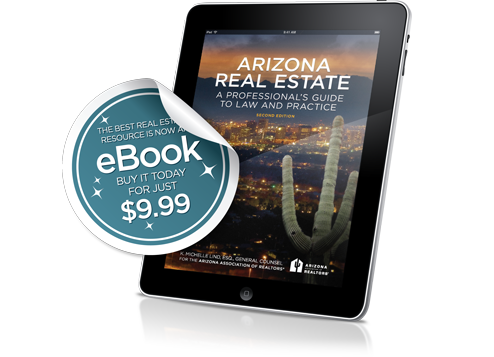 Written by AAR CEO K. Michelle Lind, Esq.
---
Ordering Methods
eBook Price: 9.99 each
Order eBook Now

Instructions for Download
Also available through:
Amazon (for Kindle)
iBooks (for iPad, iPhone, iPod)
Barnes and Noble (for Nook)
Or download to your desktop or laptop
Note: the ePub format can be opened on a desktop computer using an eReader, such as Adobe Digital Editions (free download).
Adobe Digital Editions – Windows
Adobe Digital Editions – Mac
The eBook is fully searchable:
Type in a word or phrase and the search box will bring up each occurrence and which page/pages it can be found on.
You can copy and paste information from the eBook into an email or document.
You can highlight and bookmark areas so that you can easily refer back to that section.
Watch videos about the eBook
---
A must read for every Arizona real estate broker and agent!
Get answers to the most common real estate questions in an easy to read reference for REALTORS®, other real estate practitioners and attorneys involved in the industry. The topics covered in this book include:
Arizona Department of Real Estate Licensing & Regulatory Authority, The Standard of Care & a Broker's Duties, Agency Relationships & a Broker's Duties, Broker Employment Agreements, Advertising & Marketing, Real Property Contracts, Interpreting the AAR Residential Resale Contract, Residential Contract Related Forms & Other Addenda, Short Sale Transactions, REO (Real Estate Owned) Transactions, New Home Subdivisions, Vacant Land Transactions, Commercial Transactions, Sale of Manufactured and Mobile Homes, Financing & Loan Defaults, Disclosure, Escrow & Title Issues, Due Diligence, Homeowners' Associations, Claims & Remedies, Fair Housing, RESPA, Antitrust, Leasing & Property Management, >Miscellaneous Real Estate Issues, Broker Risk Reduction, Officer or Director Liability
This guide includes references to real estate case law, statutes and rules. At the end of every chapter, you will find a list of "Key Points to Remember." For easy reference, the book is fully indexed.
For questions or help downloading the eBook please contact Christina Smalls at christinasmalls@aaronline.com.