Arizona REALTOR® Magazine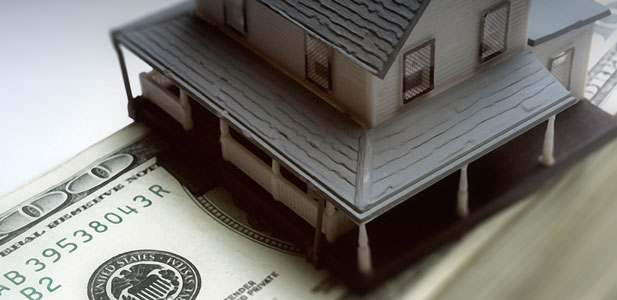 MEMBER ONLY CONTENT
With Independent Contractor Agreements being challenged in recent court cases in California and Massachusetts, AAR CEO Michelle Lind talks about Arizona's law and how it affects your business.
FEATURED STORIES

MEMBER ONLY CONTENT
The Residential Seller's Property Disclosure Statement has received a number of revisions (release effective this month). AAR General Counsel Scott Drucker explains the finer points
---

MEMBER ONLY CONTENT
These days referrals take many forms. With technology at our fingertips, real estate agents are receiving referrals from completely unknown entities with unintended consequences and unanticipated fees. Learn how to protect yourself from AAR Associate Counsel Nikki Salgat
---
Airport noise can be a nuisance. More importantly, if a property is located within a high noise contour or accident potential zone, it may affect the owner's ability to utilize the property as intended.
---
This legislative session, a decision was made that will have an effect on speculative or custom homebuilders come January 1, 2015.
---
Today, virtually every special interest group in America has a political action committee fighting for them. Arizona REALTORS® are no different. Get to know the who, what, where, when and why of the REALTORS® of Arizona Political Action Committee.
---
Financial advisors offer advice for Arizona real estate professionals planning for retirement.
---
AAR Updates
Help Shape Your Association: Become an AAR Officer
Flood Hazard Area Information Available
Renew zipForm® License by May 15
---
VOLUME 36   |   ISSUE 6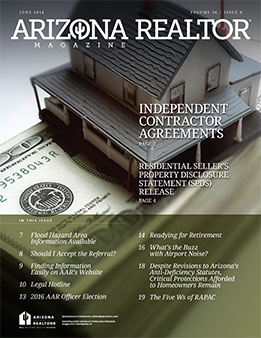 Don't get left off the mailing list!
Make sure to notify your local association with any address, phone number and email changes.
Interested in advertising in the Arizona REALTOR® Magazine?
---
Arizona REALTOR® Magazine
2014 Issues
May 2014 (issue cancelled)
---
Arizona REALTOR® Magazine
2013 Issues