Tech Marketplace
*********** START BLOCK ***********

MileIQ Automatic Mileage Detection
MileIQ remembers your drives so you don't have to. Automatic drive detection makes it easy to capture every mile you drive. Say goodbye to the headache of manually logging every trip. Goodbye to the heartache of leaving dollars on the table when you forget. Hello to the ease of automatic mileage tracking.  A swipe is all it takes mark your drives as business, personal, medical, charity or any custom category you wish. Log any additional details you need for reporting mileage expenses to your employer or deducting mileage on your tax return. MileIQ automatically calculates the value of your drives at the 2016 IRS standard mileage rate – it adds up FAST. You'll have your complete drive history stored securely in the cloud, making it easy to provide detailed mileage logs any time to your employer, your accountant and, yes, even the IRS if they should ever ask.
Automatic drive capture
Accurate & reliable tracking
Comprehensive mileage log
One-swipe drive classification
Standard and custom purposes
Bulk & automatic classification options
Try it for free, you get up to 40 drives each month. When you're ready to upgrade, use this button to receive a 25% discount:
*********** START BLOCK ***********

RoboForm® Password Management System
RoboForm® is a program that installs on your computer to securely manage all of your passwords. When you surf to a login page, RoboForm® recognizes the page and automatically fills in the password. Now, all you need to remember is one, master password that unlocks all the rest.
We recommend that you first try RoboForm® for free. Go to www.roboform.com and click the Download RoboForm® FREE button to get RoboForm® on your computer. What you'll get is a fully functioning password manager on multiple computers and mobile devices.
What you get in this free trial is RoboForm®:
Up to 10 logins
Free on mobile devices
Free on desktops and laptops
Free sync and backup
Free form filling and bookmark sync
Includes 24/7 email and live chat support
No ads, no credit card required
Works on Windows, Mac, iOS and Android
Once you've had a chance to try RoboForm®, we think you'll like it. So much so, we think you'll want to take advantage of a very special deal for AAR members; only $19.99 for three years of RoboForm® Everywhere.
Tech Marketplace
To view the contents of this post, you must be authenticated and have the required access level.
Make Sure to Use the Most Current Forms
To view the contents of this post, you must be authenticated and have the required access level.
Tech Helpline

During 2016, the Arizona Association of REALTORS® will begin a one year evaluation of the tech support benefit. Try it and let us know if you'd like to see it continued.
Contact Tech HelpLine:
phone: (866) 232-1791
online chat: http://chat.techhelpline.com
email: support@techhelpline.com
Hours:
Monday through Friday—9 am to 8 pm, Eastern Time
Saturday—9 am to 5 pm, Eastern Time
Sunday—closed
Is this really FREE?
No, but you've already paid for it in your AAR dues! This is a member benefit, brought to you at no additional cost.
Is this unlimited?
Yes.
What's covered?
Computer repair, laptop repair, and PC repair
Smart phones and tablets
Virus removal and virus protection
Email help and internet problems assistance
Software applications and software repair
Hardware problem repair
Printer help, scanner repair, monitor problem repair
Data recovery services
Network problem repair
Spyware removal
and much more… for details, go to: http://www.techhelpline.com/computer-support/
What's not covered?
MLS support—Contact your MLS with any questions or problems.
AAR eSign and zipForm® Plus—Continue to call AAR Business Services, (480) 304-8930 | Toll Free: (866) 833-7357 | support@aaronline.com
Tech Helpline's friendly, expert computer analysts are U.S. based and comprise a team of the most highly qualified technical support professionals in the tech support industry. Tech Helpline tech support includes:
No limits on the number of calls or on the length of time per call
Support available Mon. thru Fri. from 6 a.m. to 5 p.m. Mountain Time and Sat. 6 a.m. to 2 p.m. Mountain Time
Experienced, reliable, professional and courteous assistance
Assistance in English or Spanish
Analysts available via live technical support or online chat
Installing the Tech Helpline Widget allows you to easily reach tech support
test
MLS Connect & TRID Forms
To view the contents of this post, you must be authenticated and have the required access level.
EVERNOTE REPLAY
In case you missed the Evernote webinar, here is the archived version.
---
EVERNOTE ARCHIVE  
---
August 4, 2014  |  Webinar #1
Replay: Evernote: A Broad Overview
---
August 11, 2014  |  Webinar #2
Replay: Evernote: Getting Started
---
August 18, 2014  |  Webinar #3
Evernote: Account Structure
---
UPCOMING EVERNOTE WEBINAR SCHEDULE
---
 August 25, 2014  |  Webinar #4
Advanced Evernote for Real Estate
---
System Requirements
(computer device, internet, speakers)
PC-based Attendees:

Required: Windows® 8, 7, Vista, XP or 2003 Server
 

Mac®-based Attendees:

Required: Mac OS® X 10.6 or newer
 

Mobile Attendees:

Required: iPhone®, iPad®, Android™ phone or Android tablet
AAR Renews eSign Agreement; Offers eSignature Capability to Members at No Additional Cost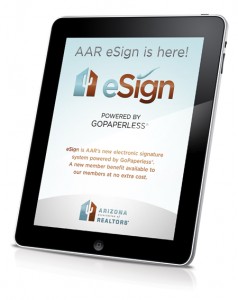 This morning, the Arizona Association of REALTORS® (AAR) and GoPaperless, the creator of electronic software product eSign, announced that AAR has signed on to offer eSign as a member benefit for an additional three years.
AAR  has been providing its members with unlimited electronic signing as a member benefit since 2012. In addition to offering this continued member benefit, the AAR interface, powered by GoPaperless, will include several new features such as the eMail2eSign™, digital certificate signing for tamper-evident seal, self-reliant, electronically-signed documents and knowledge-based authentication for added security methods.
"The Arizona Association of REALTORS® strives to ensure that our members are the best prepared in the industry; to do so adequately we offer business tools that meet the ever-evolving needs of today's consumer," said K. Michelle Lind, Esq., AAR chief executive officer. "By continuing our agreement with GoPaperless, AAR is able to provide our members with a secure, reliable tool for processing eSignatures and meeting the needs of today's real estate agent on-the-go."
"We are excited to continue and strengthen our partnership and services to the Arizona Association of REALTORS®, one of our valued enterprise clients" said Prabakar Mahalingam, GoPaperless chief operating officer. "The adoption rate within the membership has been impressive and we are continuing to see a daily increase in the reliance of electronic signatures to facilitate the real estate transaction process."
To get started:
To begin using AAR eSign you'll need to first login to your AAR eSign account. You'll need your email address that is on file with your local association as your AAR eSign Username and your NRDS number as your Password. Once you've successfully logged in, you'll be prompted to create a new password.
Your next step is to download the Printer Driver.
But before you do, be sure to watch the training videos or attend one of the live training webinars listed here.
The Arizona Association of REALTORS® offers efficient tools to our members to help them grow their business, view the entire suite of business tools available to AAR members here.
SureClose® phase-out; zipForm® and eSign see new enhancements
To view the contents of this post, you must be authenticated and have the required access level.
Business Services Update
To view the contents of this post, you must be authenticated and have the required access level.