Tech Marketplace
To view the contents of this page, you must be authenticated and have the required access level.
Make Sure to Use the Most Current Forms
To view the contents of this post, you must be authenticated and have the required access level.
Tech Helpline

In 2016, the Arizona Association of REALTORS® began a one-year evaluation of this tech support benefit. Try it and let us know if you'd like to see it continued.
Contact Tech HelpLine:
phone: (866) 232-1791
online chat: http://chat.techhelpline.com
email: support@techhelpline.com
Hours:
Monday through Friday—9 am to 8 pm, Eastern Time
Saturday—9 am to 5 pm, Eastern Time
Sunday—closed
Is this really FREE?
No, but you've already paid for it in your AAR dues! This is a member benefit, brought to you at no additional cost.
Is this unlimited?
Yes.
What's covered?
Computer repair, laptop repair, and PC repair
Smart phones and tablets
Virus removal and virus protection
Email help and internet problems assistance
Software applications and software repair
Hardware problem repair
Printer help, scanner repair, monitor problem repair
Data recovery services
Network problem repair
Spyware removal
and much more… for details, go to: http://www.techhelpline.com/computer-support/
What's not covered?
MLS support—Contact your MLS with any questions or problems.
AAR eSign and zipForm® Plus—Continue to call AAR Business Services, (480) 304-8930 | Toll Free: (866) 833-7357 | support@aaronline.com
Tech Helpline's friendly, expert computer analysts are U.S. based and comprise a team of the most highly qualified technical support professionals in the tech support industry. Tech Helpline tech support includes:
No limits on the number of calls or on the length of time per call
Support available Mon. thru Fri. from 6 a.m. to 5 p.m. Mountain Time and Sat. 6 a.m. to 2 p.m. Mountain Time
Experienced, reliable, professional and courteous assistance
Assistance in English or Spanish
Analysts available via live technical support or online chat
Installing the Tech Helpline Widget allows you to easily reach tech support
test
MLS Connect & TRID Forms
To view the contents of this post, you must be authenticated and have the required access level.
EVERNOTE REPLAY
In case you missed the Evernote webinar, here is the archived version.
---
EVERNOTE ARCHIVE  
---
August 4, 2014  |  Webinar #1
Replay: Evernote: A Broad Overview
---
August 11, 2014  |  Webinar #2
Replay: Evernote: Getting Started
---
August 18, 2014  |  Webinar #3
Evernote: Account Structure
---
UPCOMING EVERNOTE WEBINAR SCHEDULE
---
 August 25, 2014  |  Webinar #4
Advanced Evernote for Real Estate
---
System Requirements
(computer device, internet, speakers)
PC-based Attendees:

Required: Windows® 8, 7, Vista, XP or 2003 Server
 

Mac®-based Attendees:

Required: Mac OS® X 10.6 or newer
 

Mobile Attendees:

Required: iPhone®, iPad®, Android™ phone or Android tablet
AAR Renews eSign Agreement; Offers eSignature Capability to Members at No Additional Cost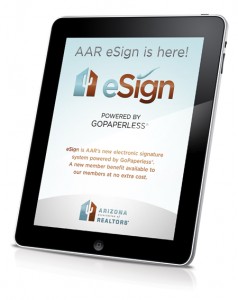 This morning, the Arizona Association of REALTORS® (AAR) and GoPaperless, the creator of electronic software product eSign, announced that AAR has signed on to offer eSign as a member benefit for an additional three years.
AAR  has been providing its members with unlimited electronic signing as a member benefit since 2012. In addition to offering this continued member benefit, the AAR interface, powered by GoPaperless, will include several new features such as the eMail2eSign™, digital certificate signing for tamper-evident seal, self-reliant, electronically-signed documents and knowledge-based authentication for added security methods.
"The Arizona Association of REALTORS® strives to ensure that our members are the best prepared in the industry; to do so adequately we offer business tools that meet the ever-evolving needs of today's consumer," said K. Michelle Lind, Esq., AAR chief executive officer. "By continuing our agreement with GoPaperless, AAR is able to provide our members with a secure, reliable tool for processing eSignatures and meeting the needs of today's real estate agent on-the-go."
"We are excited to continue and strengthen our partnership and services to the Arizona Association of REALTORS®, one of our valued enterprise clients" said Prabakar Mahalingam, GoPaperless chief operating officer. "The adoption rate within the membership has been impressive and we are continuing to see a daily increase in the reliance of electronic signatures to facilitate the real estate transaction process."
To get started:
To begin using AAR eSign you'll need to first login to your AAR eSign account. You'll need your email address that is on file with your local association as your AAR eSign Username and your NRDS number as your Password. Once you've successfully logged in, you'll be prompted to create a new password.
Your next step is to download the Printer Driver.
But before you do, be sure to watch the training videos or attend one of the live training webinars listed here.
The Arizona Association of REALTORS® offers efficient tools to our members to help them grow their business, view the entire suite of business tools available to AAR members here.
SureClose® phase-out; zipForm® and eSign see new enhancements
To view the contents of this post, you must be authenticated and have the required access level.
Business Services Update
To view the contents of this post, you must be authenticated and have the required access level.
Four Tips for eSign & zipForm® Users
[ratings]
Dena Roberts, AAR business application specialist, presented at ARMLS' Technopalooza on April 17 and came back with some great tips for AAR members who use AAR eSign and zipForm®.
Here are four tips that might make your next session move a lot smoother:
1.       What's the best way to get zipForm® to work on an iPad?
iPad, tablet and phone users should use the zipForm® Mobile program.  Unfortunately, zipForm® Mobile came out after our last contract renewal and is not an AAR member benefit.  The cost is $12.95 per year and provides excellent access to forms from mobile devices.
2.       What are two ways to create a session in AAR eSign?
Roberts said, "The best way to create a session is to use the eSign print driver function to print forms from zipForms into eSign. This saves you time by not having to upload each document independently and it also automatically adds the signing locations to the forms.
"Or you can log into your eSign account and upload your documents manually. After you've done that, you apply a template that does the same thing that the print driver does and puts all the signing locations in the document for you."
Keep in mind, when you have a locked .pdf document that you need to have electronically signed, you will need to either use the eSign print driver, or recreate the document into a new .pdf by printing and re-scanning.
3.      Don't forget to update your zipForm® templates
Roberts says that zipForm® is great because "it allows users to create templates for different types of transactions like short sales or foreclosures." But she cautions that templates are just like file folders and have to be refreshed when new forms are updated in zipForm®. A good practice is to do so at least once a year and when you are alerted about updates to your zipForm libraries. Also, the eSign print driver uses the QR scan codes in the bottom right corner of the form to automatically place the signing locations on the form when sending your documents to eSign. You want to make sure your forms have the latest version of this code as well. For directions on how to update templates call AAR Business Services Department or search on zipForm®.
4.       AAR eSign signing emails not being delivered to clients
Some clients with a heightened email filter (or AOL accounts) have reported an inability to receive emails from AAR eSign.  When a client calls to say they haven't received the transmission first ask them to check their SPAM and JUNK folders. If it's still missing you have two options:
Have your clients add eSign to their safe senders list. For instructions on how to do so, email: support@aaronline.com.
Re-send the signing invitation to yourself from eSign and forward it to your clients.
Get Help from AAR
As a benefit to members, AAR hosts free webinars every week that teach users how to use AAR eSign and zipForm®. We also have a live class once a month. To see the schedule, click here.
For more help with AAR eSign and zipForm®, visit: www.aaronline.com/efficient-business-tools.