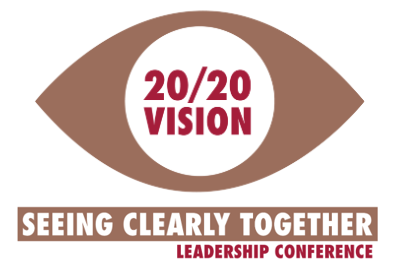 Arizona REALTORS® recently wrapped up its annual Leadership Conference, 20/20 Vision, Seeing Clearly Together to appoint 2020 state and regional association officers and recognize members for outstanding leadership, community contributions and professional achievements.
Kicking off with "The Hugs Guy" Ken Nwadike gave an exhilarating speech inspiring attendees to "Become the Leader people are Searching For."
Following Ken was Karel Murray whose message of Credibility, Commitment and Common Sense resonated with more than 200 REALTORS® from around the state.
President-Elect Mary Roberts outlined her 2020 Vision for Arizona REALTORS® with a motivating message of seeking to become the G.O.A.T. (Greatest of All Time)
Before afternoon breakout sessions, speaker Colin Mullane spoke about the opportunity to shed light on the positives in the industry, and how to dispel the myths of what others think REALTORS® do.
After being honored for his own service, 2019 President D. Patrick Lewis presented the inaugural Excellence in Education Award to Holly Mabery, and the Community Service Awards to Barbara Hengl as well as the Yuma Association of REALTORS®.
Arizona REALTORS® Foundation for Housing & Community Outreach awarded Challenge Grants to:
Northern Arizona Association of Realtors® who will be improving space at the local Boys & Girls Club.
Prescott Area Association of Realtors®who will be beautifying an alley on Whiskey Row.
Scottsdale Realtors® will be enhancing a walking path in Cave Creek to include plants and public art pieces.
WeMAR will be installing food pantries and picnic benches at ten local churches.
Yuma Association of Realtors® will be converting a large empty lot into two dog parks and a livestock holding pen to benefit the humane society of Yuma.
The Installation Dinner was highlighted with the swearing in of 2020 Officers, including Arizona REALTORS® 2020 President Mary Roberts
She will serve with 2020 President-elect Jan Leighton, Vice President Gary Nelson and Treasurer Eric Gibbs.
Arizona REALTORS® presented the 2019 Distinguished Service Award to Paula Serven of Coldwell Banker Residential Brokerage. This award recognizes a member who has tirelessly provided meaningful service to the association, while having a positive impact on association members. Serven has been a REALTOR® for more than 25 years, filling multiple leadership roles including 2016 president of Arizona REALTORS® and 2010 president of the Scottsdale Area Association. She has also served on the Board of Directors for both the Arizona and National Associations as well as numerous committees. Most notably, Serven acts as a state representative on the National Association's Political Action Committee (RPAC) Participation Council.
The Tyler Strout Vision Award recognizes a real estate practitioner who elevates the profile of REALTORS® in the community and embodies the association's vision of the best prepared real estate practitioner with the highest standards. This award was given to Lisa Paffrath, broker and owner of Better Homes and Gardens Real Estate Grand View North in Flagstaff. With more than 15 years of real estate experience in Arizona, Paffrath has served the community through multiple leadership roles. She was 2017 president of the Northern Arizona Association of REALTORS® and is the current chair of the Arizona REALTORS® risk management and legislative committees. Paffrath is also a 2019 leadership academy representative of the National Association's RPAC Major Investor Council.
---