Home
»
Community Outreach Awards
Once a year, Arizona REALTORS® honor one REALTOR® and one REALTOR® Association for improving the world around them through community service.
COMING SOON
2021 Community Outreach Nomination Form – REALTOR®
2021 Community Outreach Nomination Form – Association/MLS
---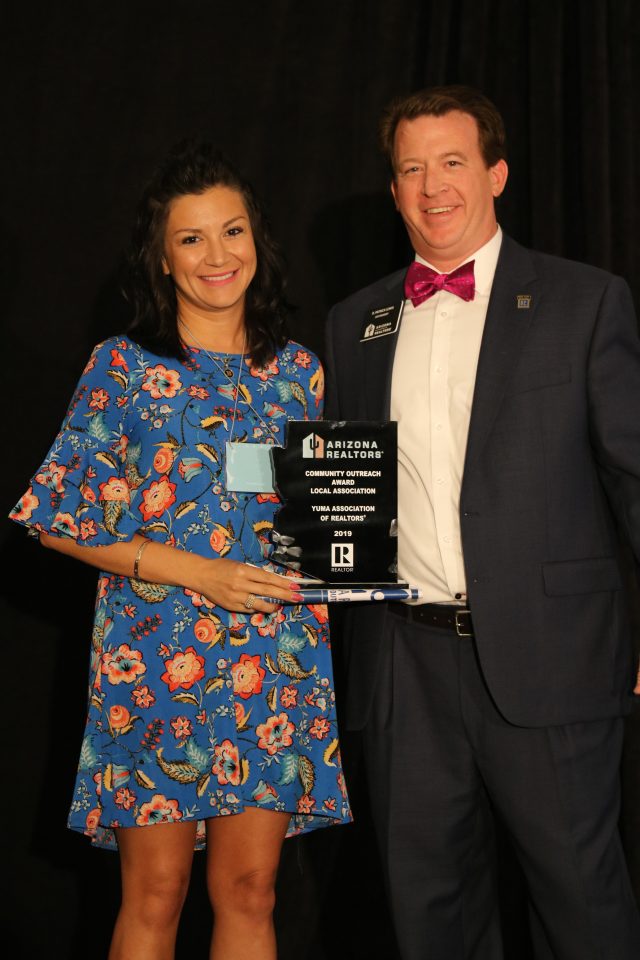 2019 Awards
Barbara Hengl does most of her volunteer outreach through the Yuma rotary. Due to her heavy involvement with the rotary, Barbara has been able to raise $40,000 in scholarships to local high school student for a four-year ride at ASU, procure an in-ground pool donation, donate over 24,500 bottles of water to crossroads mission, volunteer a minimum of 300 hours annually to the rotary, donate 2 acres of personal property to love tree farm whose group grows produce to donate to the food bank and crossroads and help beautify a downtown Yuma area by commissioning a mural.
---
Association Award – Yuma Association of REALTORS®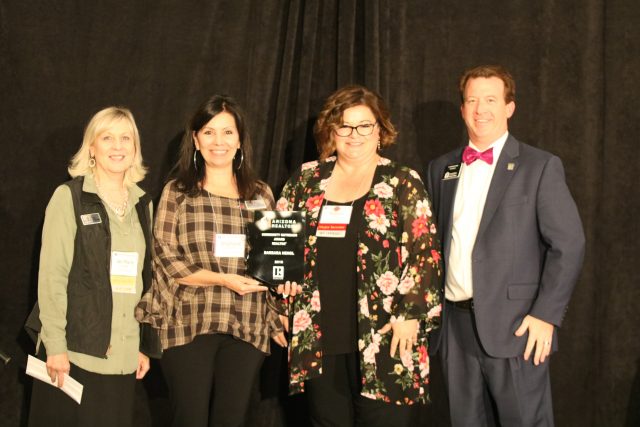 The Yuma Association of REALTORS® created a chain challenge. The chain challenge is an effort to showcase the community outreach of the Yuma realtor family and link those efforts together. In short, a real estate office challenge another real estate office to complete a community outreach effort. The challenged office must identify a charity and complete an event in support of that charity within 2 to 3 weeks of the challenge. Some examples of the challenges that have been completed due to the chain challenge are:
Provided food to the needy at the Yuma community food bank
Provided cuddle kits which included socks, coloring books, stuffed animals to kids in the hospital
Provided therapeutic horse rides through saddles of joy
Provided supplies to needy local veterans around town through right turn veterans
Provided shelter, adoption and spay/neuter services for homeless or abused animals with the humane society of Yuma
---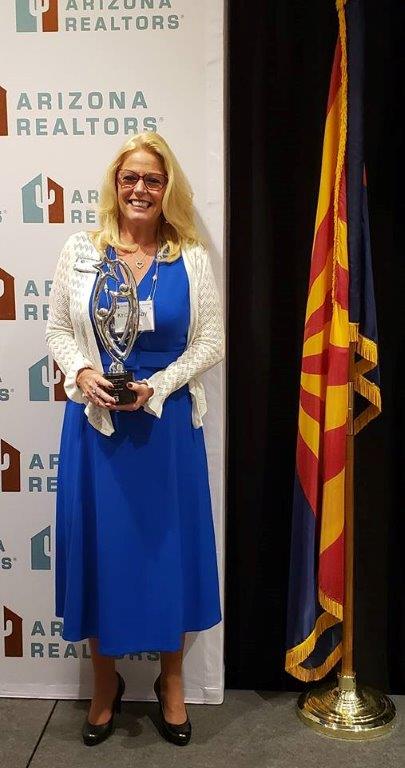 2018 Awards
Kristie Kay Cook has been an active volunteer for Arizona Crisis Team (ACT) in Yavapai county for two years. ACT provides emotional, practical and resource assistance to citizens who have been impacted by a severe crisis. Frequently called upon by emergency services to act as a victim advocate, Kristie helps people manage traumatic events and difficult decisions for community members during their most desperate of times.
---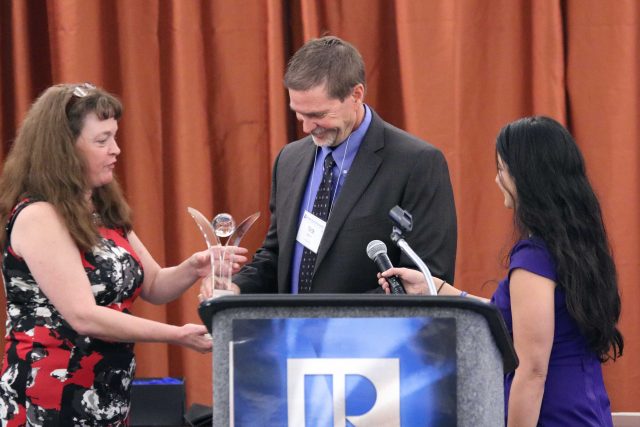 Association Award: Sedona Verde Valley Association of REALTORS®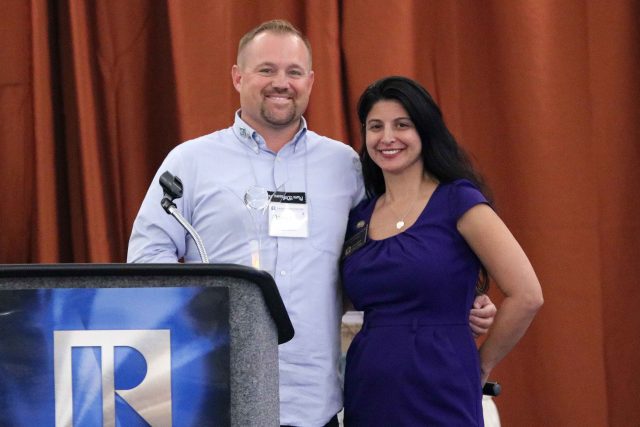 Arizona REALTORS® 2017 President Paula Monthofer presents the Community Outreach Local Association Award to James Adams, who accepted on behalf of the Sedona Verde Valley Association of REALTORS® for the ongoing work its members are doing at the Verde Valley Military Service Park.
---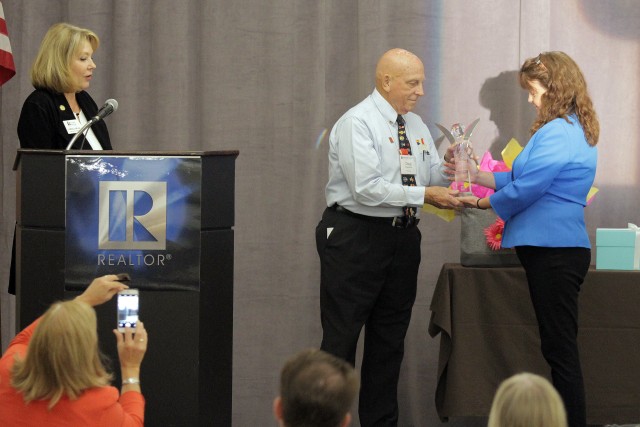 2016 Awards
Arizona REALTORS® CEO Michelle Lind (left) announces Doug Groppenbacher as recipient of the Community Outreach Individual Award as presented by Director of Association Relations Monica Schulik. Groppenbacher was honored for delivering sports equipment, medical and school supplies to the Casa Franciscana Outreach in Guaymas, Mexico.
Association Award: SouthEast Valley Regional Association of REALTORS®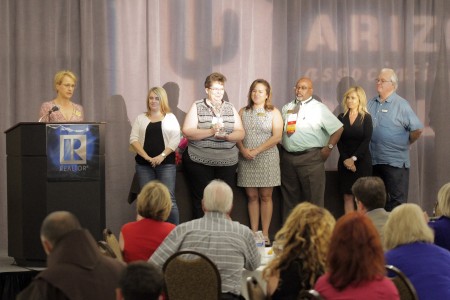 SEVRAR won the Community Outreach Association Award for battling homelessness by working together to remodel a home for House of Refuge. Representing its 2016 Leadership Program Class are (l. to r.) Cathy Swann, Tricia McKenna, Liz Hill, Stephanie Dow, Thomas Moore, Jackie Nedin and Bruce Weber.
---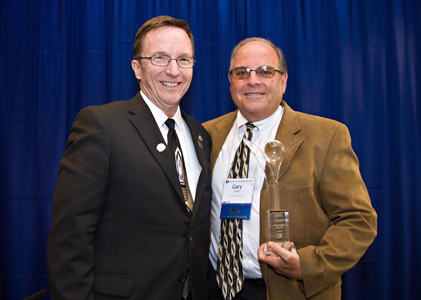 2015 Awards
AAR 2015 President Jim Sexton (left) honors REALTOR® Gary Cordell (right) in the individual category for his lasting impact on his community. Cordell's campaign for sustainable water resources in Payson and service on the Board of Directors for the Mogollon Health Alliance were just two of his many accomplishments.
Association Award: Lake Havasu Association of REALTORS®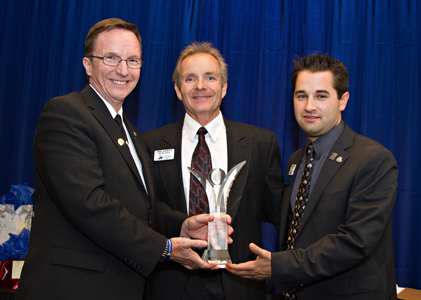 AAR 2015 President Jim Sexton honors Phil Annett (center, LHAR REALTOR® Olympics Chair) and Aaron Pfeifer (right, LHAR 2015 President) on behalf of the Lake Havasu Association of REALTORS® (LHAR). LHAR was recognized for its annual REALTOR® Olympics event which builds camaraderie between area real estate agencies and raises funds for local charities.