Home
»
Community Outreach Awards
Once a year, Arizona REALTORS® honor one REALTOR® and one REALTOR® Association for improving the world around them through community service.
2022 Community Outreach Nomination Form – REALTOR®
2022 Community Outreach Nomination Form – Association/MLS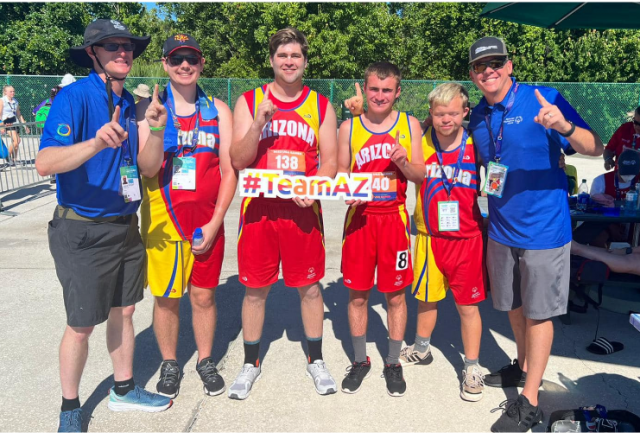 2022 Awards
The recipient of the 2022 Community Outreach Award for a REALTOR® member is Travis Joralmon. Travis is an agent with Realty One Group Mountain Desert and a member of the Northern Arizona Association of REALTORS®. He is a dedicated volunteer for Special Olympics Arizona and has been for more than twenty years.
Travis began volunteering with the Special Olympics when he was in 8th grade.
Over the years he continued to take on more responsibilities to assist young men and women whose lives are impacted by disabilities. Travis serves as a coach, unified partner, member of the Area Development Committee, and local booster. Not only does he coach the track & field and softball teams but he also organizes fundraisers with local businesses and venues.
This year, Travis served as a coach during the USA Special Olympics Summer Games and seven of his athletes brought home a combined 32 medals and a lot of fond memories. Travis also secured a new venue for the Special Olympics' annual Bare Aspen Wine & Beer tasting at the Peaks Senior Living Community in Flagstaff which raised over $30,000.
Thank you, Travis, for your steadfast dedication to Special Olympics Arizona. You have impacted many lives during your twenty years of service. Congratulations!
Association Award – West & Southeast REALTORS® of the Valley (WeSERV)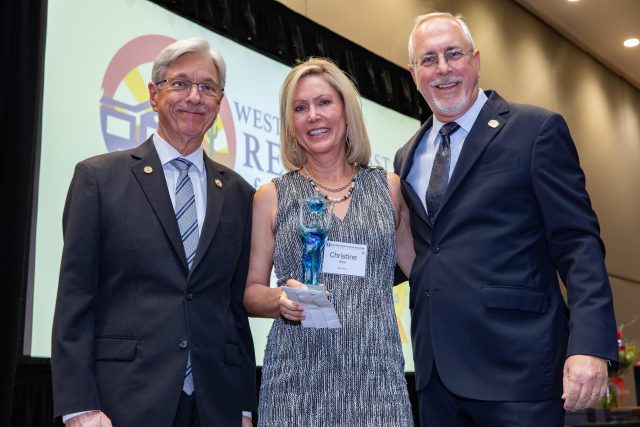 This year's recipient for the Community Outreach Award for local association/MLS is the West & Southeast REALTORS® of the Valley (WeSERV), for their Secure Lock Box Program.
The Secure Lock Box Program allows emergency personnel or family of a senior or disabled person to enter a home in the event of an emergency. In 2022 alone, WeSERV's chapter-wide Community Involvement & Outreach Committee delivered a total of 315 lock boxes to participating local government departments.
Upon delivery, local fire and police department volunteers assisted in placing the mechanical lock boxes on the homes of members of the community. Currently, the Secure Lock Box Program covers local residents in Mesa, Chandler, Tempe, Casa Grande, Sierra Vista, Arizona City, Superstition and Goodyear.
Thank you, WeSERV, for setting such an amazing example of how REALTORS® make a positive impact in their communities and keep residents safe. Keep up the great work!
---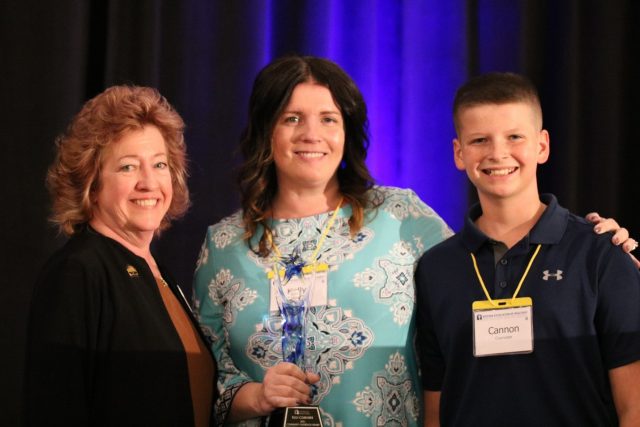 2021 Awards
Kelly Courvisier is a REALTOR® with Homesmart and has been licensed since 2002. She is a member of the West & Southeast REALTORS® of the Valley.
Kelly is a passionate advocate for juvenile diabetes research foundation or JRDF In 2019, Kelly's then 9-year-old son, Cannon, was diagnosed with type 1 diabetes. Since that time, Kelly and Cannon have dedicated countless hours on fundraising efforts and meeting with newly diagnosed families.
JRDF is leading the fight against type 1 diabetes by funding research, advocating for policies that accelerate access to new therapies and providing a support network for millions of people around the world impacted by type 1 diabetes.
Kelly and her family had to adapt to a completely different lifestyle due to Cannon's diagnosis. Kelly quickly knew that she wanted to do what she could to raise funds to help find a cure. Kelly and Cannon also wanted to help families with newly diagnosed children learn how to adapt to a new lifestyle just as they had to.
Cannon is currently serving as a youth brand ambassador for JDRF and Kelly supports him in that role. Kelly also goes out of her way to recognize community partners that have contributed financial support to JDRF. Kelly and Cannon regularly visit establishments to personally thank them.
Thank you Kelly for your dedication and passionate advocacy for JDRF!
Association Award – Northern Arizona Association of REALTORS®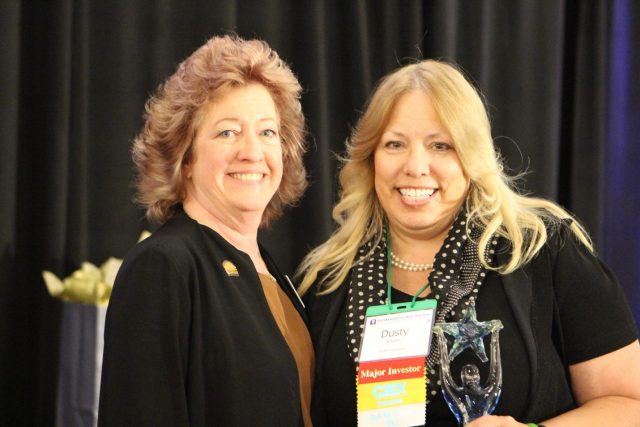 The 2021 Local Association/MLS recipient is the Northern Arizona Association of REALTORS® for their charity work at the Flagstaff Family Food Center
The Flagstaff Food Center serves hot meals, provides chidren's literacy programs and distributes emergency food boxes to Flagstaff's food insecure neighbors. For the past five years, Northern Arizona Association of REALTOR® members have volunteered monthly to help prepare and serve dinners and clean up the kitchen after dinner service. REALTORS® were also instrumental in a fundraiser held early this year to help the center purchase a new refrigerated truck.
Northern Arizona REALTORS® rallied their troops to respond to community needs during the record flooding flagstaff has experienced this year. Realtors filled sandbags, cleaned debris, and donated $5,000 to the Arizona community foundation.
Thank you, Northern Arizona Association of REALTORS® for setting such an amazing example of how REALTORS® make such a positive impact in their communities. We are so proud of you all.
---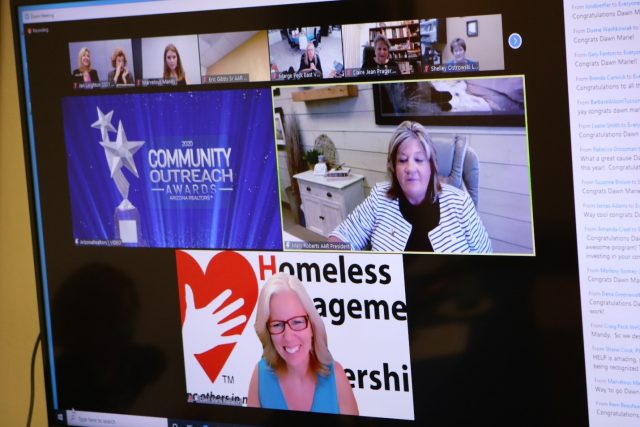 2020 Awards
Dawn Marie Rapaport. Dawn Marie is an agent with West USA Realty and a member of the PHOENIX REALTORS. She is a passionate advocate for our homeless community. In 2008, Dawn Marie formed HELP – the Homeless Engaging Lift Partnership.
The mission of the partnership is to change the cycle of homelessness through our children & provide immediate aid and comfort; advance education for those who have found themselves homeless; promote awareness, and create action in our community. Dawn Marie and her partnership have been able to meet and exceed that mission by:
Organizing the Helpsnackz program which provides snacks to students experiencing homeless identified through school districts' homeless liaisons.
When schools closed, the Helpsnackz program pivoted to include help for whole families since school lunches would no longer be available
Coordinating donations for and assembling of over 800 back packs to be donated to homeless veterans
Speaking at networking and social events to promote and raise funds for the partnership
recruiting members into the elite 100 which are corporate sponsorships of $100/month
Volunteering countless hours serving on the board of directors for the partnership
Dawn Marie has gone above and beyond to reach out the Arizona's homeless communities to determine their needs and work with donors to meet those needs. We are very proud of you Dawn Marie!
Association Award – West & Southeast REALTORS® of the Valley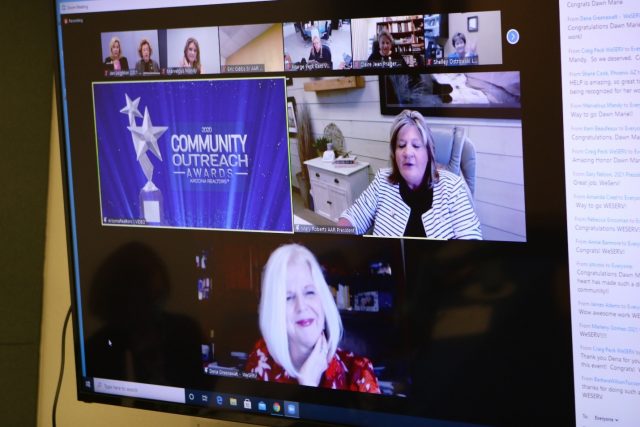 This year's recipient is the West & Southeast REALTORS® of the Valley or WeSERV for their charity work raising funds and collecting donations for the Arizona Food Bank Network
The Arizona Food Bank is a private non-profit serving five regional food banks and a network of nearly 1,200 food pantries. The Arizona Food Bank was instrumental in the development of advocacy efforts that have brought out beneficial state and federal legislation for member food banks and the citizens they serve.
WeSERV has contributed to the Arizona Food Bank by:
Promoting a virtual food drive by email and social media
Promoting a membership challenge to raise $5,000 for the food bank in June 2020. This goal was exceeded and over $15,490 was donated to the food bank
This donation allowed the food bank to feed over 2,200 Arizona citizens and, the donation link for the Arizona Food Bank is still live on WeSERV's website
---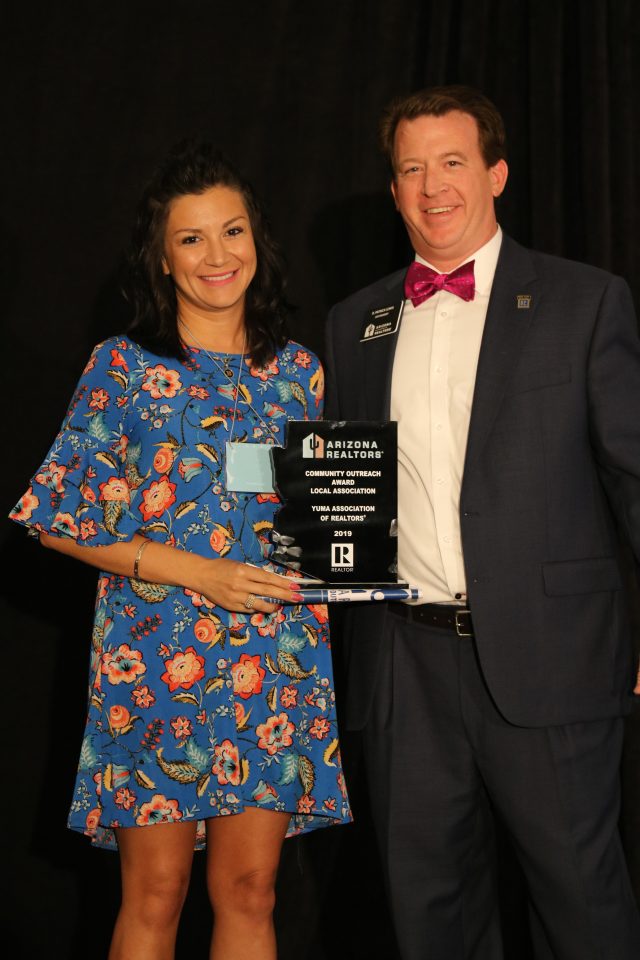 2019 Awards
Barbara Hengl does most of her volunteer outreach through the Yuma rotary. Due to her heavy involvement with the rotary, Barbara has been able to raise $40,000 in scholarships to local high school student for a four-year ride at ASU, procure an in-ground pool donation, donate over 24,500 bottles of water to crossroads mission, volunteer a minimum of 300 hours annually to the rotary, donate 2 acres of personal property to love tree farm whose group grows produce to donate to the food bank and crossroads and help beautify a downtown Yuma area by commissioning a mural.
Association Award – Yuma Association of REALTORS®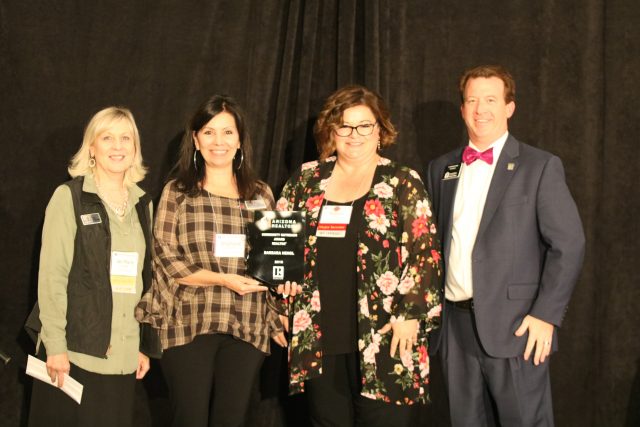 The Yuma Association of REALTORS® created a chain challenge. The chain challenge is an effort to showcase the community outreach of the Yuma realtor family and link those efforts together. In short, a real estate office challenge another real estate office to complete a community outreach effort. The challenged office must identify a charity and complete an event in support of that charity within 2 to 3 weeks of the challenge. Some examples of the challenges that have been completed due to the chain challenge are:
Provided food to the needy at the Yuma community food bank
Provided cuddle kits which included socks, coloring books, stuffed animals to kids in the hospital
Provided therapeutic horse rides through saddles of joy
Provided supplies to needy local veterans around town through right turn veterans
Provided shelter, adoption and spay/neuter services for homeless or abused animals with the humane society of Yuma
---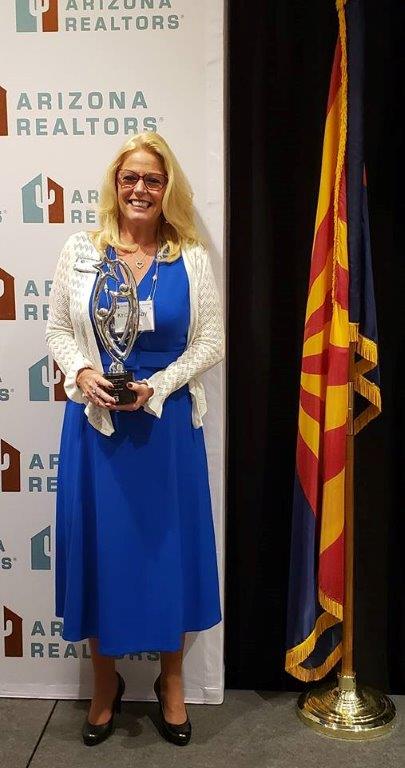 2018 Awards
Kristie Kay Cook has been an active volunteer for Arizona Crisis Team (ACT) in Yavapai county for two years. ACT provides emotional, practical and resource assistance to citizens who have been impacted by a severe crisis. Frequently called upon by emergency services to act as a victim advocate, Kristie helps people manage traumatic events and difficult decisions for community members during their most desperate of times.
---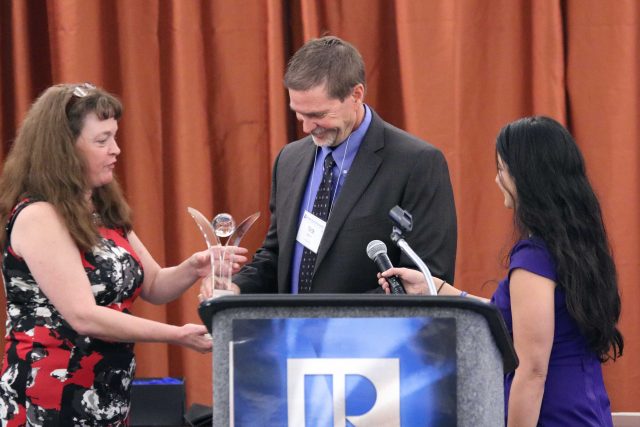 Association Award: Sedona Verde Valley Association of REALTORS®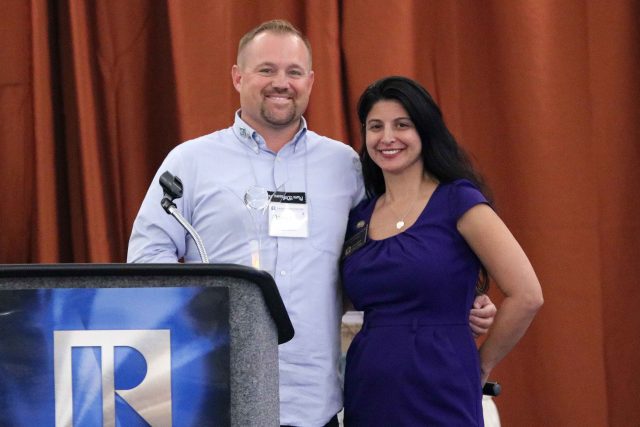 Arizona REALTORS® 2017 President Paula Monthofer presents the Community Outreach Local Association Award to James Adams, who accepted on behalf of the Sedona Verde Valley Association of REALTORS® for the ongoing work its members are doing at the Verde Valley Military Service Park.
---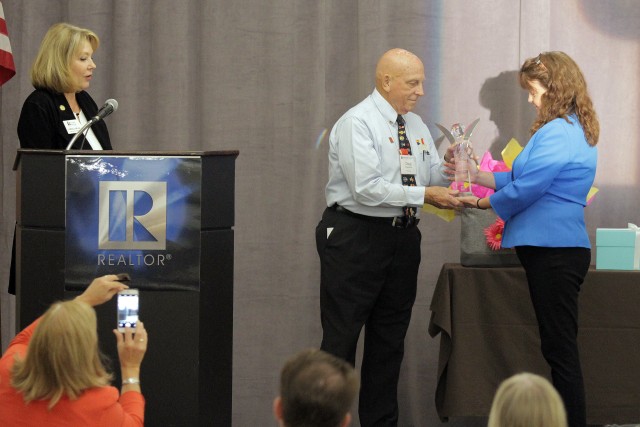 2016 Awards
Arizona REALTORS® CEO Michelle Lind (left) announces Doug Groppenbacher as recipient of the Community Outreach Individual Award as presented by Director of Association Relations Monica Schulik. Groppenbacher was honored for delivering sports equipment, medical and school supplies to the Casa Franciscana Outreach in Guaymas, Mexico.
Association Award: SouthEast Valley Regional Association of REALTORS®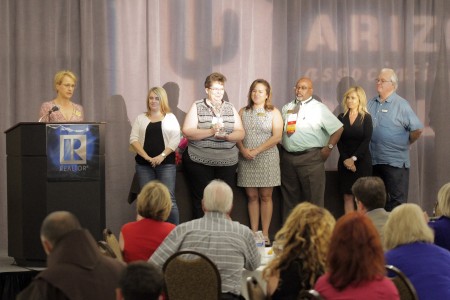 SEVRAR won the Community Outreach Association Award for battling homelessness by working together to remodel a home for House of Refuge. Representing its 2016 Leadership Program Class are (l. to r.) Cathy Swann, Tricia McKenna, Liz Hill, Stephanie Dow, Thomas Moore, Jackie Nedin and Bruce Weber.
---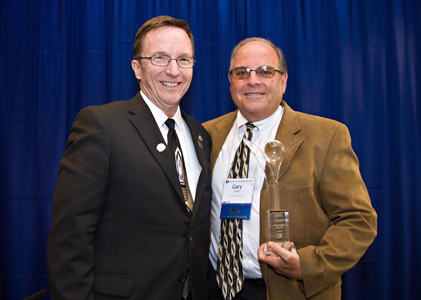 2015 Awards
AAR 2015 President Jim Sexton (left) honors REALTOR® Gary Cordell (right) in the individual category for his lasting impact on his community. Cordell's campaign for sustainable water resources in Payson and service on the Board of Directors for the Mogollon Health Alliance were just two of his many accomplishments.
Association Award: Lake Havasu Association of REALTORS®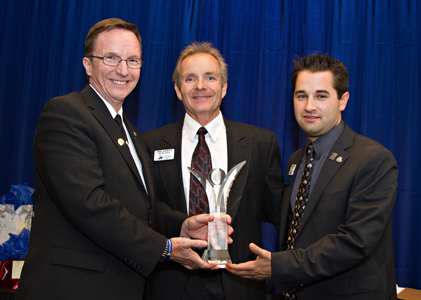 AAR 2015 President Jim Sexton honors Phil Annett (center, LHAR REALTOR® Olympics Chair) and Aaron Pfeifer (right, LHAR 2015 President) on behalf of the Lake Havasu Association of REALTORS® (LHAR). LHAR was recognized for its annual REALTOR® Olympics event which builds camaraderie between area real estate agencies and raises funds for local charities.