RAPAC & Issues Mobilization

Print Friendly
The REALTORS® of Arizona Political Action Committee (RAPAC) is a member-sponsored effort organized to financially support candidates running for local, state and federal office whose position on real estate regulation and a free-market business environment most closely represent the initiatives of the Arizona REALTORS®. RAPAC contributes to and channels resources into races that will have the most impact on the real estate industry. RAPAC is a voluntary, non-profit political action committee and operates independently of any political party.
RAPAC is a vital part of the Arizona REALTORS® Government Affairs program — a program that includes professional lobbying, legislative analysis, grassroots contacts, and long-term political relationships. RAPAC strives to educate city council members, legislators and members of congress about our industry and guarantees that no decision is made that will affect our industry, good or bad, until our voice is heard.

---
The RAPAC Investment Levels Pyramid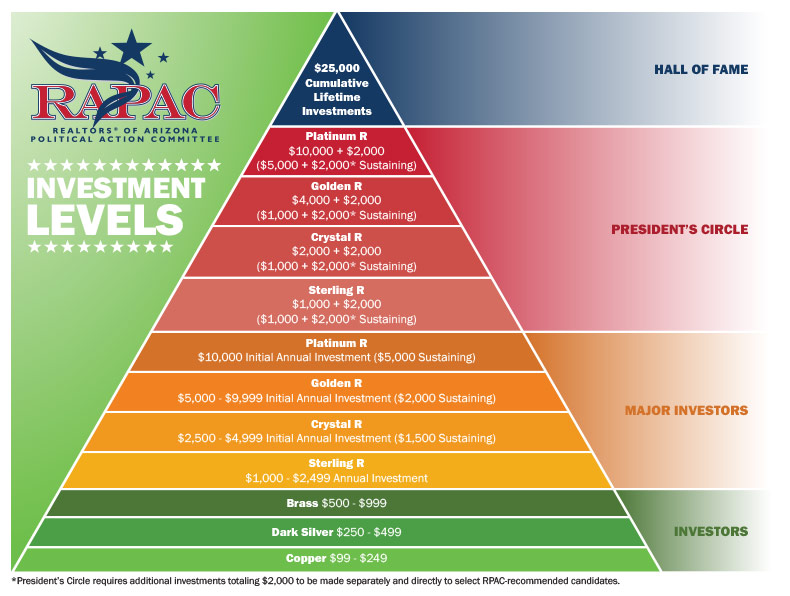 RAPAC Political Funds Request Forms
RAPAC Fundraising Materials
RAPAC Processing FAQ's
Did You Know?
RAPAC Articles
---
REALTORS® ISSUES MOBILIZATION
Do you have an issue in your community that needs funding support? Issues Mobilization is a tool to help support your community issues financially. The REALTORS® Issues Mobilization Committee (RIMC) reviews and approves funding requests from local associations to expend their own local issues mobilization reserve balances as well as requests to the state reserves of the Issues Mobilization fund. The RIMC is governed through by-laws and is comprised of REALTOR® members from various areas across the state.
Examples of Issues That Can be Funded Include:
Postcard Campaigns, Local Board Issues, Newspaper Ads, Forums, Educational Print Materials, or Coalition Participation Fees.
Issues Mobilization Request Forms