New Member Benefit from AAR: zipForm® Mobile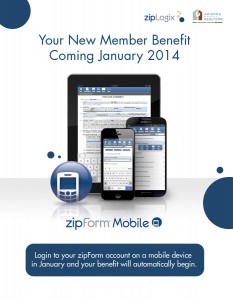 The Arizona Association of REALTORS® is pleased to announce that it has negotiated its contract renewal with zipLogix for another three years beginning January 1, 2014. An exciting aspect to the new contract is the addition of zipForm® Mobile as an AAR member benefit.
zipForm® Mobile allows iPad, Android tablet and smartphone users the ability to access their forms from the mobile platform of their choice. In the past, zipForm® Mobile has been available at a nominal annual cost; after January 1, it becomes an AAR member benefit. Tablet or smartphone users will simply login to their zipForm® account and Mobile will automatically start up. Members who purchased zipForm® Mobile between October 1 and December 31, 2013 will be eligible for prorated refunds. If you have any questions about the new zipForm® Mobile, or any of the other zipForm® products, please call AAR Business Services support at (866) 833-7357 or email to support@aaronline.com.