Property Management:  Certified Residential Property Manager (CRPM)
This program is dedicated to property management offering classes that can be used for real estate license renewal. This program was developed and designed to hone  knowledge and skills in topics that relate to the day to day business of a property manager. The curriculum was developed in concert with property management attorneys and long time property manager practitioners.  (this certification is not an NAR program)
The Property Management Bootcamp either the basic or advanced course is a required course for everyone.  Property Managers  with less than 2 years of property management experience are required to take the basic bootcamp (Will the Real Property Manager Please Stand Up).  Property Managers with more than 2 years experience can take either the basic or the advanced bootcamp.
To earn the certification, students must complete all the required curriculum within three years of the first course taken.  The first official CRPM course was offered in August 2015.
Required Curriculum includes:
Topics covered in this program include:  property management bootcamp, accounting, contracts, agency, fair housing, agency, ethics, legal, disclosure, plus one elective course.  All classes are approved for c/e credit and 3 hours in length with the exception of the 6 hour Property Management Bootcamps.  Courses can be taken in any order.
CRPM Requirements & Last Class Form
Certification criteria:
Successful completion of the course requirements within three years of taking your first course (CRPM certification rollout was in August, 2015)
Complete and submit the CRPM Completion Form to AAR after your last class
Hold active membership in either NAR, NARPM, IREM, AMA
Click here to access the CRPM FAQs
Re-Certification:  Attend a free webinar annually.  Webinar will be emailed once a year and must be viewed prior to the date listed in the renewal email. There are no certification or recertification dues.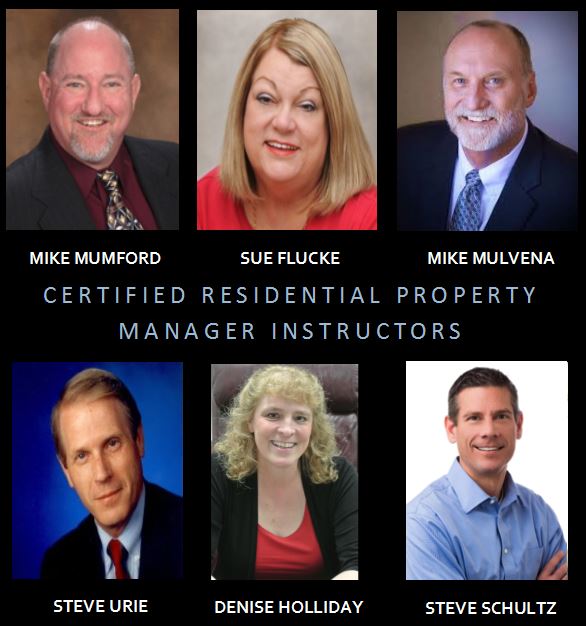 CRPM Instructors:  Mike Mumford, Sue Flucke,  Mike Mulvena, Steve Urie, Denise Holliday and Steve Schultz.
Complete List of Approved Courses:  (Please refer to this list of classes to verify the class you took counts toward the CRPM certification)
Accounting (choose 1)
Approved Instructors
Property Management Trust Accounting
Mike Mumford
Advanced Property Management Trust Accounting
Mike Mumford
Trust Accounting:  Show Me the Money
Sue Flucke/Mike Mulvena

Code of Ethics (choose 1)
NARPM Code of Ethics
Mike Mumford
Property Management & the NAR Code of Ethics
Sue Flucke/Mike Mulvena

Landlord & Tenant Act (choose 1)
Arizona Landlord Tenant Act Part 1
Denise Holliday
Case Studies in ARLTA
Denise Holliday
Unlocking the Mysteries of ARLTA
Denise Holliday
Lanlords and Tenants Playing Fair
Denise Holliday
Risk Reduction for Property Managers
Steve Schultz
Top 10 Risk Issues in Property Management
Denise Holliday

Fair Housing  (choose 1)
Accidental Fair Housing Violations
Denise Holliday
Fair Housing for Property Managers
Sue Flucke

Disclosure  (choose 1)
Property Manager's Duty to Disclose
Denise Holliday
Property Management bootcamp – The Rules
Sue Flucke/Mike Mulvena
AAR's Residential Lease Owner's Property Disclosure Statement
Denise Holliday

Contract Law (choose 1)
Ins and Outs of the AAR Forms and Do I Have to Use Them?
AAR Property Management Agreement Contract
The Anatomy of the AAR Property Management Agreement
Sue Flucke/Mike Mulvena
The Anatomy of the AAR Lease Agreement
Sue Flucke
Overview of the AAR Property Management Forms
Sue Flucke
Property Management Bootcamp – The Risks
Sue Flucke/Mike Mulvena
Property Management: – AAR Forms & Legal Issues
Leasing for Single Family Homes
Steve Schultz
Name That Form – Property Management
Denise Holliday

Agency  (choose 1)
Agency in Property Management
Sue Flucke

Electives (choose 1)
Do It Right or Get the Heck out of Property Mgmt
Sue Flucke
3 P's of Broker Audits: Panic, Process & Procedures
Sue Flucke
How to Evict a Tenant Legally and Practical Applications
Denise Holliday
Intro to Property Management
Steve Schultz
Understanding Arizona's Medical Marijuana Law
Denise Holliday
Legal Hotline Issues & Trends in Property Management
Jesi Wolnik/Rick Mack
Landlord Tenant Relations: Maintenance & Repairs
Denise Holliday/Sue Flucke/Mike Mulvena

Bootcamp (choose 1)
Will the Real Property Manager Please Stand Up?
Sue Flucke/Mike Mulvena/Denise Holliday
Advanced Property Management Bootcamp
Sue Flucke/Mike Mulvena/Denise Holliday
rCRMS: Leasing Essentials
Sue Flucke/Denise Holliday
CRPM Class Calendar Through AAR:

 
Denise Holliday, Steve Schultz, Steve Urie and Mike Mulvena offer classes outside of AAR's Education Outreach Program – contact them directly to schedule a course with them.   Registration flyers/details for classes scheduled through AAR can be found on the AAR calendar 30 days prior to the class  http://www.aaronline.com/calendar/
Upcoming Classes:
National Association of Residential Property Managers (NARPM):
---
CRPM Logos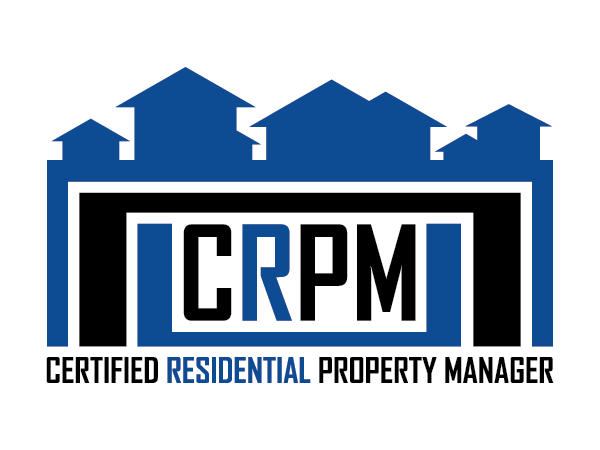 Download Logos