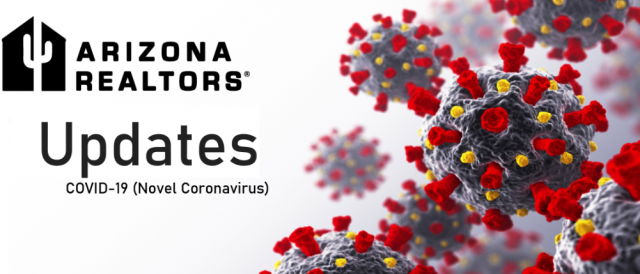 Are you aware of all the resources and information made available via the Arizona REALTORS® dedicated COVID-19 webpage found at https://www.aaronline.com/covid-19/? If you have not yet taken the time to peruse the page and share the information with your colleagues, there's no time like the present.
The page is primarily broken up into three sections. The first section contains information our Association has produced for the benefit of its members. For example, it contains an article explaining what Governor Ducey's Stay-At-Home Executive Order means for Arizona REALTORS®, as well as a flyer agents can share with their clients to show them the steps Arizona REALTORS® are taking to keep them safe. It also contains educational videos such as the webinar attorney Denise Holiday recently conducted titled "Taking Care of Your Property Management Business During COVID-19."
The second section contains resources and guidance from NAR. Did you know that NAR has developed a free Covid-19 hotline that all REALTORS® can use to help them navigate the financial and business challenges presented by the pandemic? The number is 1-800-874-6500. The Arizona REALTORS® COVID-19 webpage also explains that NAR is providing two months of free TeleHealth access to all REALTORS®.
The third section directs REALTORS® to a number of helpful state and federal resources. This encompasses the most up-to-date information on the Coronavirus Aid, Relief, and Economic Security (CARES) Act which allocated almost $350 billion to help small businesses keep workers employed. Included in this is information on the Paycheck Protection Program (PPP) for loans to small businesses struggling to meet payroll and other capital needs. Governor Ducey's Executive Orders can be found on this page, along with information published by Arizona Department of Real Estate.
The Arizona REALTORS® COVID-19 webpage is being updated on a daily basis so stay in touch and continue to check the site for new and updated information.
---