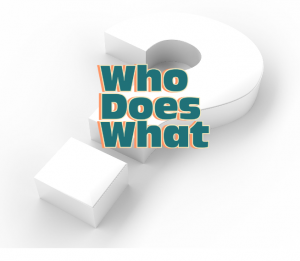 It is easy to confuse what each entity does for you and who you need to call for information unless you deal directly and consistently with them. This article will discuss the basics and hopefully end the confusion for you.
Arizona Department of Real Estate (ADRE)
The ADRE is the state agency charged with protecting the public's interest through licensure and regulation of the real estate profession. In other words, the ADRE protects the public by regulating real estate licensees.
The ADRE is where you go for your real estate license and any matters related to your licensure. These matters include: (1) renewing your license; (2) continuing education requirements; (3) changing personal information; and (4) changing brokers.
For more information, visit the ADRE website here.
Arizona Association of REALTORS® (Arizona REALTORS®)
The Arizona REALTORS® is a membership organization.
The Arizona REALTORS® is a professional trade association you can join once you become licensed with the ADRE. By becoming a member of the Arizona REALTORS® state association, you obtain REALTOR® status and subscribe to the National Association of  REALTORS® Code of Ethics.
To become an Arizona REALTOR®, you typically join through a local association. Once you become a member of the local association, you automatically become a member of the state association and the National Association of REALTORS®.
Membership with the state association includes many benefits. Some of those benefits are (1) access to the Arizona REALTOR® Voice which is a weekly e-newsletter that contains articles and resources to assist members with their day-to-day business; (2) access to standard transactional real estate forms; (3) unlimited Tech Helpline service; and (4) representation with legislators and regulators to protect private property rights and your real estate business.
For more information, visit the Arizona REALTORS® website here or call (602) 248-7787.
Multiple Listing Service (MLS)
The MLS is a listing service for properties and cooperative agreements between agents.
An MLS is a private database that offers cooperation and compensation by listing brokers to other real estate brokers. In other words, it is the facility used by listing brokers to offer compensation to other brokers for producing a buyer. An MLS benefits sellers by increasing exposure to sellers' properties. An  MLS additionally benefits buyers by helping them obtain information about current MLS listed properties while working with their broker.
Once you become a member of an MLS, you can contact the MLS with matters relating to (1) data integrity – information regarding properties listed on the MLS; (2) lockboxes and keys; (3) CBS codes; and (4) internet data exchange (IDX).
Currently, there are ten (10) MLSs in Arizona, some of which are regional. For more information, contact your local MLS or your local association for its contact information.
Your Brokerage
A brokerage is the "house" that agents work from. Every brokerage offers different benefits to assist you with your business. Choosing a brokerage depends on services you would like provided.
Your broker may assist you with: (1) business services; (2) promoting properties; (3) handling a transaction and any issues that may arise; and (4) providing education and/or mentoring programs.
Syndicators
Promoting properties requires more than displaying a sign in the front yard. With a property owner's permission, it can include displaying the property on the MLS or other sources such as realtor.com or Zillow which is generally accomplished by way of syndication.
Syndication is a means by which brokers can authorize distribution of their listing data to third-party consumer sites. Syndication can occur in many ways. The MLS may sponsor syndication which means the MLS has partnered with an entity that offers syndication services. A brokerage may have a separate syndication service that can be utilized by its franchisees. Or a brokerage may choose to syndicate without the help of the MLS. Ultimately, the decision is up to the broker to choose if it wants to syndicate and how to syndicate. If you have questions about syndication, reach out to your broker.
If a broker is considering syndication, it should consider what type of exposure the syndication provides. Will the syndication be beneficial? Will the syndicated listings be true and accurate? Will the syndication comply with state laws? Will the broker be required to claim listings to get leads? Does the syndication fit the client's advertising strategy?
The goal of the Arizona REALTORS® state association is to make sure its members are the best prepared real estate practitioners with the highest standards, and we are here to help. When in doubt, give us a call and we will point you in the right direction.
---