Slow demand continues to keep Maricopa County real estate in a buyer's market, with the Cromford Market Index holding around 84. Stories of lower-than-normal demand are coming in from other parts of the state as well. This month, we look for clues about reasons for low demand in NAR's 2014 Home Buyer and Seller Generational Trends. U.S. consumers in their mid-30s and younger historically make up the largest group of first-time home buyers; consumers in their 40s and 50s tend to be repeat buyers. But, lately these two groups have been shying away from homeownership. In a weak jobs market, strapped with hefty financial loans, some Gen X and Gen Y buyers simply can't afford to buy.
According to NAR's generational study, 56 percent of Gen Y homebuyers (under 34 years) stated that student loans delayed saving for their purchase. Forty-six percent of Gen X (age 34-54 years) cited large credit card debt as the barrier to saving.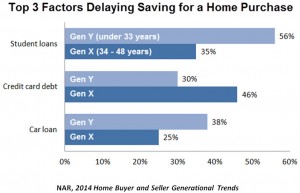 To give you an indication of how serious student loan and credit card debt is in the U.S., the New York Federal Reserve recently released these figures for outstanding U.S. consumer debt for Q4 2013: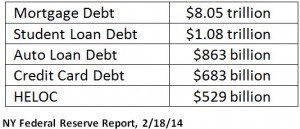 While debt has been growing, real income has been dropping—major declines can be seen across all age groups under age 65 since the late 90s. With higher down payment requirements, the ability to save has impacted first-time homebuyers and also repeat homebuyers. To add to their woes, many repeat homebuyers must contend with having homes underwater. According to NAR's study, one in five Gen X had a previous home that was financially underwater and they couldn't sell when they wanted to. This all supports what numerous analysts are saying: the combination of debt, flat wages and low credit scores are impacting demand for housing.
While this sounds a little pessimistic, it's not all doom and gloom. Affordability remains positive at 122.8, meaning a U.S. family with median income buying a median-priced home has 122.8 percent of the income needed. After rising quickly in 2011, home prices have been fairly flat for nearly a year as have mortgage rates. Affordability for first-time homebuyers is a dozen points lower but still above 100.
In addition, the "desire to own a home of my own" is especially strong among Gen Y. In fact, 49 percent gave that as their primary reason for buying a home. That said, it's important to note that desiring a home is different from taking necessary steps to buy one—NAR's study only considers those who made the commitment, not those on the sidelines.  Of those who have purchased a home, 91 percent of Gen Ys purchased their home through a real estate agent, slightly more than buyers as a whole. Gen Y tends to be very satisfied with their agent with 88 percent valuing their agent's honesty and integrity and 88 percent valuing their agent's knowledge of the process.
Debt and low credit scores seem to be negative influences on home purchase among Gen Y and Gen X.  While flat or declining real income is a concern, stable home prices and mortgage rates are positive influences.
Sources/additional reading:
NAR, 2014 Home Buyer and Seller Generational Trends.
Doug Short, Real Income Decreases
NAR, Monthly Housing Affordability Index
---