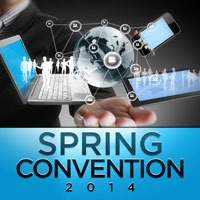 There's something to be said for savvy REALTORS®. You know the type. You walk into an agent's office and he's having a conversation via Skype with his digital assistant about the latest bill to pass the legislature and ways to improve the website's SEO, all while adding new listings to facebook and pulling up contract documents on his fancy new iPad. Your head starts spinning and you ask: What's his secret?
On behalf of the AAR Spring Convention committee, I'd like to invite you to find out Secrets of the Savvy REALTOR®at our upcoming convention, April 15-18 at the Prescott Resort. This year, the cool pines of Prescott will lend themselves nicely to our white-hot line-up of local and national speakers. We'll also be featuring eight continuing education (C/E) courses that range from Legal Issues to Agency, Commissioner's Standards to Fair Housing. A full list of C/E is available here.
In addition to C/E, AAR will also be playing host to an impressive list of panelists and presenters including:
No. 1 REALTOR® ranked by The Wall Street Journal, Carin Nguyen;
The Good Life Team's Garry Wise;
Legal experts Rick Mack, Scott Drucker and Lisa Robinson;
NAR Director of Digital Engagement Nobu Hata;
Technology presentations from 2014 AAR President Evan Fuchs, Joeann Fossland, Bill Risser and more!
What's the best kept secret of the AAR Spring Convention? I'd have to say the networking opportunities. Nowhere else can you build your referral network and have so much fun doing it. This year, the Women's Council of REALTORS® will hold several meetings, a luncheon and a reception. We're also bringing back REALTOR® Karaoke on Wednesday night and a "Meet the Candidates" reception on Thursday evening.
A full-convention pass costs $179 and one-day passes are also available for $79. For more information, visit www.aaronline.com/springconvention. For updates and information on giveaways, follow the hashtag #AARCONV on Twitter and Facebook.
---