Agent's Credentials Being Used Fraudulently
According to a former Arizona licensee, his real estate license identity has been stolen and is now being used to perpetrate fraudulent scams. The agent reporting this information severed his Arizona real estate license fewer than 30-days ago and relocated to another state. But just days ago, while living out-of-state, he received a brief email from an Arizona agent thanking him for showing a property listing. The email went on to state, "Did you happen to take the key with you? It has gone missing."
In June 2012, in a related matter, AAR posted an alert on its Scams and Frauds webpage entitled "Agent's Credentials Being Used Fraudulently in Conjunction with Burglaries".
Reporting licensee impersonation to the police is appropriate in instances of this nature and the Phoenix Police Department's Crime Stop number is (602) 262-6151.
Sellers Opening Their Homes to Strangers
In the Bullhead City area, there have been reports of unaccompanied consumers knocking on doors at listed properties. Reportedly, these individuals identify themselves as interested buyers and falsely claim that they have been unable to contact the listing agent. They then ask to be let into the home, so that they can view the property. Please instruct your clients not to allow unaccompanied members of the public into their home without an agent present. The unknown stranger's intention may be to case the property for a later theft of personal items, or even to do the owner harm.
Hackers Perpetrate Wire Transfer Fraud Scams Across Arizona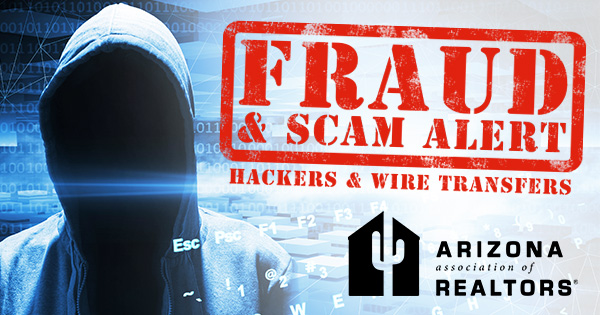 According to REALTORS® and title companies across the state, Arizona real estate transactions are once again being targeted by hackers perpetrating wire transfer fraud.
It is customary for parties in a real estate transaction to receive, and comply with, wire transfer instructions. Unfortunately, it has become increasingly common that those instructions were not generated by a legitimate party, and that the funds are being wired to a bank account controlled by an online hacker.
Although the scam is perpetrated in a variety of ways, it typically begins with the email account of a party to a pending real estate transaction being hacked. The hacker then identifies specific details regarding the transaction, such as sales price, the parties' names and contact information, identity of the lender, name of the escrow officer, close of escrow date, and escrow number. Upon ascertaining this information, the hacker begins directly emailing the buyer or lender making it appear as though the email was sent by the real estate agent or title company. These fraudulent emails contain instructions to wire the closing funds into a bank account controlled by the hacker. In one incident that recently occurred in Southern Arizona, the hacker went so far as to generate a bogus electronic signature authorizing the funds to be wired to an account belonging to the hacker. Once the money is wired as instructed, it is immediately withdrawn by the hacker and gone for good.
To combat this scheme, REALTORS® and their clients should remain vigilant and verify all emails that convey wire instructions for disbursal of funds from escrow. Fortunately, many title companies are now unwilling to accept an email from a customer containing wiring instructions without calling the customer to verify the information.
And while a myriad of technical precautions can be taken, such as the use of encrypted emails, perhaps the best advice comes via an alert issued by the Silicon Valley Association of REALTORS®, stating:
"Buyers and sellers should confirm all email wiring instructions directly with the escrow officer by calling the escrow officer on the telephone. In that conversation, the correct account number information should be repeated verbally before taking any steps to have the funds transferred."
If you or your client believe that you are being targeted in a scam of this nature, immediately notify the title company and do not hesitate to contact the authorities.
Using Google Alerts to Stop Rental Scams
Despite repeated warnings from authorities and increased media coverage about rental scams and the scraping of on-line real estate listings, many consumers continue to fall victim. Because it's free, CraigsList is perhaps the most common on-line platform used to perpetrate these scams. However, there are easy to implement techniques Arizona REALTORS® can use to protect themselves and their listings. This article will examine one of those techniques – the use of Google alerts.
While rental scams come in many forms, the most common version involves a scenario in which the perpetrator takes legitimate listing information and posts it on websites such as CraigsList. The listing information, including photos and a property description, is used by the pretend owner to list the property for rent. Rather than identify the phone number of the listing agent, the scam artist lists their own phone number and instructs prospective tenants to contact them directly. Ultimately, the perpetrator of the scam collects a deposit from unsuspecting would-be tenants who learn too late that their money has been taken by someone with no connection to the property. In some extreme cases, the individual pretending to be the owner breaks into an abandoned home, sometimes even changing the locks, and proceeds to show the home to interested tenants.
An effective tool to stop your listings from becoming the subject of a rental scam is to set up a Google alert for every property you have listed for sale. By way of this alert, you can be quickly notified if your listing has been added to a website without your permission. It's also a good way to know where your listings are legitimately appearing on the internet.
To utilize Google alert, the first step is to log onto www.google.com/alerts. Once on the webpage, you simply type into the search box the address of the property you want to monitor. Next, click on the "show options" tab and the following dropdown box will appear: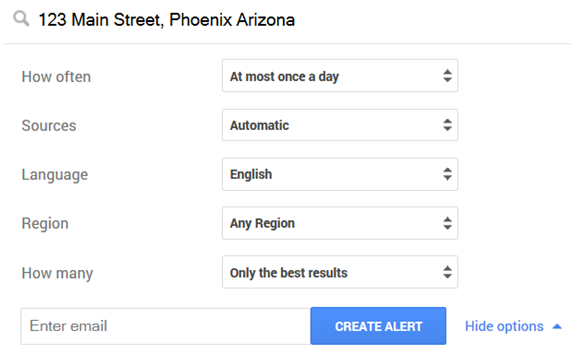 Use this box to first choose how often you wish to receive search results regarding the property you identified: (1) as it happens; (2) at most once a day; or (3) at most once a week. After selecting your preferred language and identifying your region as the United States, it is best to identify that you wish to receive "all results," as opposed to "only the best results."
Finally, you may want to ensure that Google alerts focus on a specific website, such as CraigsList. To do this, you will need to add your desired search directive immediately following the property address, separated by a colon punctuation mark. For example, if the property is located in Phoenix, following the address, you will type in "phoenix.craigslist.org." Your search box will therefore look as follows:


Note that there are no spaces in the search directive following the property address. Finally, you will receive an email from Google asking you to confirm or cancel your request. Once you confirm the request, you will begin receiving your alerts.
There are many legitimate rental ads on CraigsList and the company does its best to warn people about rental scams. Nonetheless, prospective tenants continue to fall prey. It is for this reason that REALTORS® should exercise diligence in monitoring where and why their listings appear on the internet.
Google Users Beware of Scam
For REALTORS® who use the Google products Google Drive and Google Docs, there is a new scam to be aware of. According to Symantec.com, "The scam uses a simple subject of "Documents" and urges the recipient to view an important document on Google Docs by clicking on the included link." The users are then sent to a fake Google page to enter their username and password. Symantic reports that "The fake page is actually hosted on Google's servers and is served over SSL, making the page even more convincing. The scammers have simply created a folder inside a Google Drive account, marked it as public, uploaded a file there, and then used Google Drive's preview feature to get a publicly-accessible URL to include in their messages."
AAR members have reported receiving the following email related to this phishing scam:
Subject line: Document

Hello,

I've shared a document with you, it's not an attachment – is stored online.  To open this document just view GOOGLEDOC and sign in with your email to see the document.

Thanks
If you feel that you've fallen victim to this scam, it is recommended you change your account password immediately. Refraining from opening links from unfamiliar email addresses could also help you protect yourself from scams such as these.
More information can be found here.
Patent Trolls: Scan Scam
NAR has received many reports from members who have received demand letters from a patent owner, NPHG Technology (or its Law Firm, Farney Daniels, P.C.), that purports its ownership of the process of sending a document via email from a printing or scanning device. The letters demand that companies (typically small to medium size) pay a licensing fee of between $900 to $1,200 per employee for the ability to scan and email documents.
NAR reports that members in at least six states have been targeted so far (IA, IL, IN, OH, VA, and NY). It's possible (and perhaps probable) that members in other states have also received these license fee demand letters as well.
To assist members who may receive a demand from this patent owner, NAR Legal Affairs department produced a brief, informational podcast of this issue which is available at: http://www.realtor.org/audio/legal-podcast-patent-infringement-letters.
If you receive a letter, be sure to let AAR General Counsel Scott Drucker know and he will provide you with guidance on how to proceed.
Report Internet Crimes and Scams to IC3
If you believe you are the victim of an internet scam, there is a great resource available to you for reporting this criminal activity. The Internet Crime Complaint Center, known as IC3, represents a collaborative effort between the Federal Bureau of Investigation (FBI) and the National White Collar Crime Center (NWC3). The IC3 assists consumers by serving as s a means to receive internet related criminal complaints and to research, develop, and refer the criminal complaints to applicable federal, state, local, or international law enforcement and/or regulatory agencies.
IC3 accepts online internet crime complaints from either the actual victim or from a knowledgeable third party. Download this flyer for more information on internet scams and frauds.
If you or someone you know desires to report an internet crime or scam to IC3, the webpage for filing a complaint can be found at http://www.ic3.gov/complaint/default.aspx.
Tucson REALTOR® Asked for REO Kickback
Armando Granillo, a former Fannie Mae employee, was indicted in March 2013, by a grand jury on allegations of taking kick-backs related to his role as a Real Estate Owned Foreclosure Specialist. Granillo's position at the Irvine, California. Fannie Mae office was to review applications submitted by real estate brokers who wanted to list Fannie Mae foreclosure properties. In that capacity, Granillo had the authority to approve sale offers presented by the brokers.
In this particular case, Granillo asked a broker from Tucson to pay a 20 percent kickback on commission received  for listings, at which point the broker alerted federal law enforcement officials. The broker then began assisting law enforcement in the investigation.  In a recorded meeting between Granillo and the broker, Granillo stated the arrangement was a "natural part of business." In the same meeting, Granillo made arrangements to receive an $11,200 payment from the broker.
If convicted, Granillo's charges could result in a statutory maximum penalty of 20 years in federal prison.
Note: An indictment contains allegations that a defendant has committed a crime.  Every defendant is presumed to be innocent until and unless proven guilty in court.
The entire article may be reviewed at:  http://www.justice.gov/usao/cac/Pressroom/2013/044.html
Scams & Frauds
To view the contents of this page, you must be authenticated and have the required access level.
Scams & Frauds
The information contained on this page is intended to bring possible scams or fraudulent activity to AAR members' attention in an effort to help you reduce your risk. Brokers should be alert to these scams and report them if discovered.  For information on filing a complaint, see the "Resources Links" sidebar.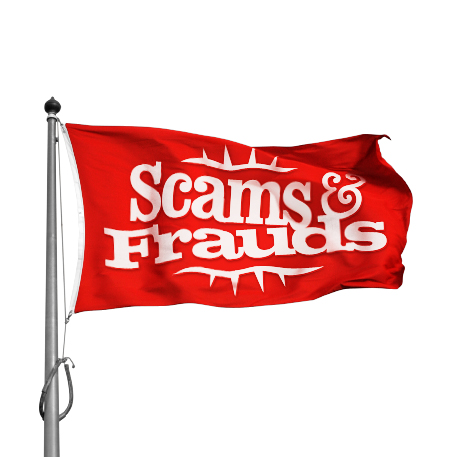 If you are aware of a possible scam to
include on this page, please send the information
to us at
scamalert@aaronline.com
.
RESOURCE LINKS
State Scams/Frauds
Agent's Credentials Being Used Fraudulently in Conjunction with Burglaries
June 2012
Email Scam: Out-of-Town Buyer
Scammer Found Listing & Agent on REALTOR.com
Counsel Highlights Two Scams Reported in the Region
Out-of-State or Out-of-Country Transactions; Fraudulent Foreign Timeshares
Robbery Attempt on Listing's Appliances
Agent reports that items of value in listing have been target of thieves.
Robbery During Showing Appointment Window
A home was robbed during a noon to 2:00pm showing appointment timeframe. It is unclear if the showing and robbery are related.
Beware – REALTOR® Identity Theft
A valley REALTOR® has reported someone posing as a REALTOR® to gain access to a property for the purpose of stealing items from a home.
A Foreign Buyer Transferring Funds to US
Agents continue to get inquires from alleged buyers outside the country with requests to purchase a property that often appear, in the words of one agent, "too good to be true."
Mortgage Lawsuit Scam Hits Arizona
Notice from Arizona Department of Real Estate – August 23, 2011
Attorney General Tom Horne issued a warning to consumers to be wary of any notices or advertisements that claim to offer homeowners facing foreclosure "complete forgiveness of the loan" or other monetary relief if they join a class-action lawsuit. Such ploys are likely a pretext to collect illegal up-front fees for foreclosure assistance.
5 Real Estate Scams You Need to Know About
Arizona REALTOR® Magazine – October 2010

National Scams/Frauds
Payments to Entities, Asset Dumping & More
"Fraud Insights" – Fidelity National Financial – Volume 7 – Issue 8 – August 2012
U.S. Attorney Charges 11 for Mortgage Fraud, One for Attempted Murder
DSNews.com – July 20, 2012
Third-Party Short Sale Negotiator Misrepresents Closings Costs on HUD-1 Statement
"Fraud Insights" – Fidelity National Financial – Volume 7 – Issue 7 – July 2012
REALTOR® Guilty of Conspiracy to Commit Fraud in Connection with Short Sale Transaction
July 2012
4 Ways to ID Borrower-Assistance Scammers
NAR Daily Real Estate News – January 13, 2012
Fake Short Pay Letters Plague the Industry
"Fraud Insights" – Fidelity National Financial – Volume 6 – Issue 10 – October 2011
Scammers Use Vacant Homes as Bait
KTNV-13 News (Las Vegas) – October 7, 2011

Two Men Face Charges on Duping Home Owners
San Bernardino Sun – August 30, 2011
---
More Details on Scam/Fraud Alerts
————————————————-
REALTOR® GUILTY OF CONSPIRACY TO COMMIT FRAUD IN CONNECTION WITH SHORT SALE TRANSACTION
July 2012
The importance of this case is that there have been few, if any, convictions of real estate agents based solely on a short sale transaction. In this instance, the REALTOR® was a California licensee who pleaded guilty to conspiracy to commit real estate fraud in two separate short sale transactions. What did the REALTOR® do ? He was accused of exceeding the compensation limitation placed on him within the listing agreements for the short sales. The listing agreements held him to compensation not to exceed 7% of sales price. The agent had the buyers pay an additional amount of money as a short sale negotiation fee, which he concealed and did not disclose to the lenders or sellers. The REALTOR® lost his license, served jail time and was ordered to pay restitution of approximately $25,000. He was also given three years probation. View the complete California DRE news release.
————————————————–
AGENT'S CREDENTIALS BEING USED FRAUDULENTLY IN CONJUNCTION WITH BURGLARIES
June 2012
The Arizona Department of Real Estate was notified by the Phoenix Police Department that a burglar is using an agent's information to set up appointments at properties and then burglarizing the property. The agent whose information has been compromised is Chris Buckley. The police report that the suspect has struck twice, once in Phoenix and once in Gilbert. REALTORS® are asked to confirm showings with Chris Buckley before giving out lockbox codes. If it is determined the showing is not actually being set up by Buckley, the agent should contact the Phoenix Police Department's Crime Stop at 602 262-6151. They will assist the agent reporting to get in touch with the proper police department, if needed.
————————————————–
March 2012
Email scams continue to circulate in Arizona. One of our members reports that she received an email request whereby the scammer found her name on REALTOR.com.  The party contacted her regarding a property she had listed for sale and said he wanted to purchase it. He said that he was out of the country and requested a referral to a local attorney to handle his affairs and disburse funds to escrow once some liquidation occurred. The agent asked a local attorney to contact the party. The attorney sent an email, which was redirected to another individual. That individual said they had no knowledge of the other party and indicated that they were not trying to purchase property in the U.S.
————————————————–
COUNSEL HIGHLIGHTS TWO SCAMS REPORTED IN THE REGION
March 2012
At the Rocky Mountain Regional Conference, legal counsel discussed two new scams reported in the region. The first involves an out-of-state or out-of-country buyer who contacts an agent to make a cash offer for property.  The buyer sends a cashier or certified check for earnest money or down payment.  Shortly thereafter, the buyer comes up with excuse to have the agent or title company refund him/her the money.  Thereafter, it is discovered that the cashier or certified check is fake. The second involves fraudulent timeshares in foreign countries.  The buyer is instructed to deposit fund into a title/escrow company that does not exist.  (Note:  A list of title insurers in Arizona may be found at:www.id.state.az.us/consumerautohome.html.)
————————————————–
ROBBERY ATTEMPT ON LISTING'S APPLIANCES
Submitted by a Phoenix REALTOR® – November 2011
An agent in Phoenix reports that twice when listing properties in the last year, he has included photos of items of value, such as appliances and TVs, and then had criminals attempt to steal the items. The latest incident occurred in Goodyear. Luckily, the criminal was scared away by a neighbor, but the appliances were already moved to the garage when the police arrived.
————————————————–
ROBBERY DURING SHOWING APPOINTMENT WINDOW
Private listing remarks said: "call lister, call occupant" and provided the occupant's phone number.
Occupant received a call, and a showing was arranged between noon and 2:00pm. This suggests that the caller had MLS access. The owners vacated the home between noon and 2:00pm. They thought the front door was locked; however when they returned, it was unlocked. While the lockbox was not used, the home was robbed of cash and jewelry during the noon to 2:00pm timeframe. Some of the jewelry was in an unusual, difficult-to-find place. Nothing else was disturbed, and no large items were taken. The home was left completely clean. The telephone call came from a 'throw-away' cell phone.
While there is no way to know for certain if this had to do with the call the owners received, it seems worth passing along as the home was robbed during the time of the planned showing.
The listing has been changed to remove owner/occupant telephone numbers, and showings will be by appointment only.
————————————————–
BEWARE – REALTOR® IDENTITY THEFT
A valley REALTOR® has reported someone posing as a REALTOR® to gain access to a property for the purpose of stealing items from a home.
The Arizona Association of REALTORS® (AAR) was notified in August 2011 that an individual, posing as a specific REALTOR® phoned a listing office and was given an access code to a mechanical lockbox for entry into the property. Once the impostor gained access, they removed items from the home. A police report has been submitted.
AAR is offering this information to our members as it appears to be a "scam" that affects both a REALTOR®, whose identity was used for access to a property, and the public, whose property was stolen.
————————————————–
A FOREIGN BUYER TRANSFERRING FUNDS TO U.S.
Submitted by Jerome King, Designated Broker, Long Realty Company – Tucson, Arizona
Agents continue to get inquiries from alleged buyers outside the country with requests to purchase a property. The inquiries often appear, in the words of one agent, "too good to be true." The alleged buyer often requests the name and email address of an attorney. Please do not provide the name/email of an attorney without that attorney's expressed permission and understanding. This seems to be a gambit these guys like to use to appear to be legitimate.
James Robertson, Jr., an experienced commercial agent, has helped me understand what information is needed to present to a possible international buyer and what we should require before we begin working on such a buyer's behalf.
James explains that there are important federal laws to observe, and this buyer is probably in no position to perform. For example, JP Morgan Chase, China Bank in LA, Deutsche Bank, Barkley's Bank and others have international cash transfer departments.
You should first refer this buyer to one of these institutions to have the currency transferred and converted to US currency. The bank will do the federal notifications and prepare it for transfer to the escrow company when instructed. If there are any taxes due or disclosures needed, the banking institution will do this as part of their fee, which is usually 2 to 5%. There may be a waiting period for seasoning of the funds, which may take as long as 90 days, depending upon what country it is coming from and how much cash is in the transaction.
Some banks were requiring the transferring entity to buy a liability policy on the transfer, covering the banks loss margin, if any, and fraud. This could be as much as 500 basis points.
Bottom line: Only do international deals if you really know what you are doing and always verify that hard funds are in a legitimate escrow account before you start to work with an international buyer. A scammer will disappear when you insist on this process of transferring funds first.