---
Scottsdale developer to build upscale senior living center in East Valley
Groundbreaking for the project expected in September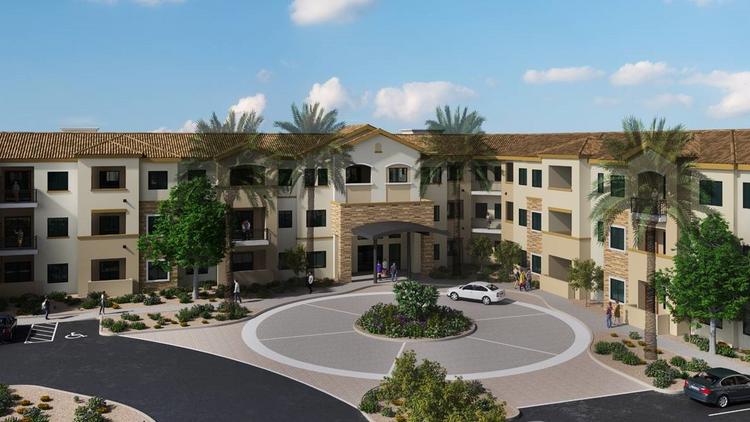 By Angela Gonzales – Senior Reporter, Phoenix Business Journal
Scottsdale-based Cadence Living is planning its fourth senior living community in the Valley, with another $100 million in projects still on the drawing board.
In partnership with San Diego-based Global Senior Housing, Cadence Living plans to build the 191-unit Cadence at Ocotillo on 7.7 acres at 100 W. Queen Creek Ave., Chandler. It will employ between 80 and 110 employees, with 50 to 60 full-time positions.
Work on Cadence at Ocotillo is expected to start in September, with total development costs expected around $46 million, said Rob Leinbach, a principal at Cadence Living. Chandler-based Whitneybell Perry is architect and Drive Development Partners is construction manager.
The private-pay campus will offer independent living, assisted living and memory care, but won't offer skilled nursing, Leinbach said.
"We build communities where it allows our retirees to age in place," he said. "It will be amenity and hospitality driven — a really nice hotel style. I think companies like ourselves are hospitality driven, so we're focused on the experience and we're focused on the amenities and activities and the lifestyle. Skilled nursing is more like hospital services."
In fact the Cadence name in the company was chosen to reflect a rhythm.
"We wanted all our communities to have a rhythm — to be alive and active," said Leinbach, who co-founded Cadence Living with Eric Gruber in December 2016.
"It just reflects the fact that the boomers are moving into the age in which we are building communities for," Leinbach said. "We're making them more vibrant and more young."
Upscale amenities will include restaurant-style dining, casual bistro dining, walking paths, raised garden beds, a dtheater, art studio, swimming pool and fitness center. Activities will focus on intellectual, artistic and entertainment programming.
Units will range from 447 square feet for a studio to 1,180 for a two-bedroom apartment. All will have full kitchens, washer and dryer, walk-in showers and a 24-hour emergency line. Residents also will have access to on-site 24-hour medical services and Cadence's Red Carpet Concierge services.
Construction of this senior living facility follows three other centers recently opened or under construction:
Inspira Arrowhead, 20240 N. 78th Ave., Glendale, opened on March 28, built in partnership with PB Bell Cos. and MT Builders;
Acoya Mesa, 6502 E. Brown Road, Mesa, will open this summer;
Acoya Scottsdale at Troon broke ground in November, in partnership with Ryan Cos., and is expected to open in fall 2020.
Total development costs for these four projects combined exceeds $200 million, with financing from an undisclosed equity partner and commercial bank lender.
"Our capital partners don't want to be included in the press," Leinbach said.
Plans call for investing another $100 million in additional projects nationally, he said.
"We're committed to our corporate growth in the state of Arizona — that's important," he said. "We are a national company but our headquarters is here in Scottsdale. I would say we're looking forward to expanding our national footprint with our corporate base here in Scottsdale."
Employing more than 400 people, Cadence Living currently has 12 communities totaling 1,467 units in Arizona, California, Colorado, Georgia and Tennessee.
---