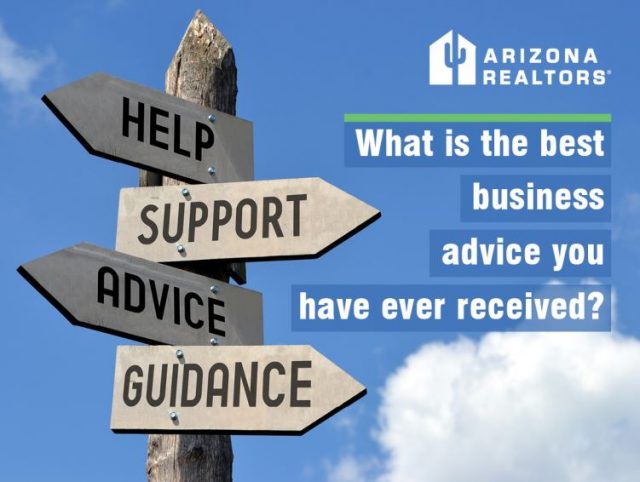 While advice is far more fun to give than receive, Arizona REALTORS® are known for their desire to serve as mentors and share their experiences with fellow real estate practitioners. Recently we asked what the best advice our members have received and we're sharing a few of the responses below.
The randomly selected winner of a $100 gift card out of the submissions we received is Butch Leiber! Congrats!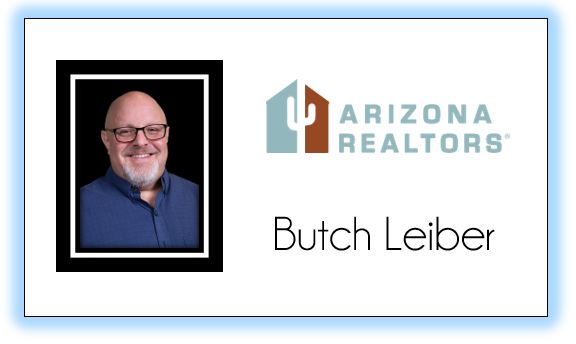 ---
The easiest way to get great at something is to do it as many times as possible. Find a resource, learn the skill and PRACTICE. Repetition is the mother of excellence. -MJ Cordova
The best advice I ever received was at a seminar early in my career. Just take one nugget from a seminar that you can use today. The one nugget I took form that seminar was "don't look for properties in the MLS first, but prospect for what your buyer is looking for."
Be involved! Attending meetings and classes and serving the Association benefits you and your clients through the knowledge and interaction you experience.
Find a GREAT Mentor who can teach and guide you with the real aspects of this business. It can make the difference between success and failure!
Do not calculate your commission or count on it being your money until you get the call from title that the file has recorded.
From a Vietnam veteran who served as a Green Beret, When you're behind enemy lines and the odds are stacked against you every decision is life or death. What we deal with are easy decisions and we just do what's right.
Always remind yourself and your client that no one has ever lost money in the real estate deal they didn't do. Always keep the interest of your client a priority!
Stay in touch with clients/customers-don't let them think you've deserted them. Be honest work hard and referrals will come back to me and many repute sales/ extended family will use me and it works. 47 years in business and still working.
Get up! Dress up! And show up!
Don't give up, just keep going and be consistently working your business every day.
Best advice: Treat every transaction as if it is the only one you ever received, as a top priority.
Own your business. Don't let your business own you.
MY Frist Broker, Lee McNary at Century 21 Northwest, Glendale, AZ said: Urgency, a client has now made the move to seek a Realtor, the one that understands the urgency of the client and responds right away is the Realtor selected, I have followed his advice for over 23 years and is true to me.
The best advice by far is as a new agent to partner with a really good and seasoned agent and pay that person for in-depth mentoring and that this would possibly position me in about a year where I might be in four to five years if I was to try to learn on my own.
The best advice I received was to find a Mentor that would help me along with my career. It was the best advice because it helped me, in the beginning, to navigate all of the increases within the business as well as make great relationships with other agents. Since that time of becoming successful, I now pass it on by being a Mentor to agents as well as teach.
Always check with lender first to see what buyer qualifies for. Buyers are not always correct in their amount.
Best advice I ever got was to ignore the nay-sayers. Especially ignore the people that say, "That will never work in this market." If you see someone in another market or in another state that is knocking 'em dead with a program, service or system…steal that idea, make it your own and go kill it!
To pay myself first and keep my business income separate from my personal income.
I just want to say thank you for all your support to the Property Management professionals. Most boards completely ignore this segment of the real estate market and during these especially difficult times, you have gone above and beyond to educate us with the Property Management Forums. I want to give a special shout-out to Denise Holliday ~ Sue Flucke ~ Tatiana McDowell ~ Kimberly Franzen for keeping us in the know and as up-to-date as possible in an ever-shifting rental market. I truly appreciate the recorded links being sent as well, I am able to share those with co-workers who were not able to attend the online forum. Thanks, much for a job well done!
As a new agent I was inundated with all kinds of offers to "improve my business" My broker at that time told me I needed to practice "Red light, Green light" With every call, email and businesses proposition that requested money I needed to put them through the "red light green light test" Can I afford it? no – it's a red light Red light. If I can afford it and it will be a great improvement to my business = Green light. How much will it improve my business? not much = red light. and it goes on and on. Stopped me from foolish spending on products that would have drained my bank account while the broker offered many of the progarms at no cost. Still use it today after 18 years of being an agent!
My Father was self employed his whole life and at an early age I was able to go to work with him(actually no choice had to go). He would tell me the key to enjoying and prospering in your business was, "to take care of your customers"! I have made that my goal, I need my clients to feel comfortable in their decisions and to take care of their needs. In doing this I have had a long and successful career in Real Estate.
Don't trust the last listing. Research.
Know your weaknesses. Hire to your weaknesses. Do not spend any more time than is absolutely necessary in your weaknesses. Conversely, know your strengths and play to your strengths. This is how you achieve maximum results.
Focus on the client; not the money!
---
---