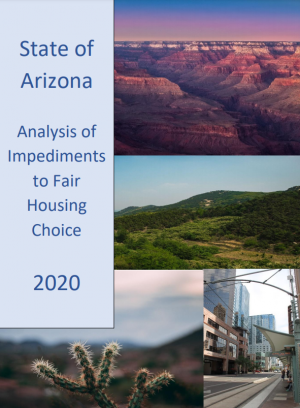 Every five years, the Arizona Department of Housing (ADOH) researches and writes an Analysis of Impediments to Fair Housing Choice for submission to the U.S. Department of Housing and Urban Development (HUD). This document identifies the barriers to Fair Housing throughout the State as well as actions ADOH will undertake to reduce or eliminate the identified barriers. Completion of the Analysis of Impediments is also part of the State of Arizona's requirement to affirmatively further Fair Housing in order to receive funding from the HUD Office of Community Planning and Development.

The State of Arizona's most recent Analysis of Impediments to Fair Housing Choice was published in 2020 and reflects the State's commitment to providing quality affordable housing opportunities for low- and moderate-income individuals and families regardless of race, color, religion, sex, national origin, familial status, or disability.
Unfortunately, despite this commitment, a statewide survey, interviews with industry stakeholders, fair housing testing, as well as complaint and inquiry data all reveal that housing discrimination still occurs throughout Arizona.
The HUD Fair Housing and Equal Opportunity Office reported 968 complaints in Arizona and 66 complaints in the Balance of the State[1] between January 1, 2015 and July 18, 2019. Two-thirds of complaints (67%) were on the basis of disability. Familial status was a basis for 12% of complaints, and race or national origin were the basis in 6% of complaints. One in five complaints included retaliation (punishing or otherwise striking out against someone for filing a complaint).
Drilling down further, the issues leading to Fair Housing complaints revealed that 26% involved failure to make a reasonable accommodation; 16% involved discrimination in terms/conditions/privileges relating to rental property; 14% involved discriminatory terms, conditions, privileges, or services and facilities; and 11% involved discriminatory refusal to rent.
HUD's records show that 66 Fair Housing complaints were closed between January 1, 2015 and July 18, 2019. Of these complaints, 27% were successfully conciliated or settled and an additional 9% were withdrawn with resolution, meaning that the parties reached an agreement pursuant to which the defendant provided appropriate relief. One half of complaints were found to have no cause.
As part of the Analysis of Impediments, surveys were conducted that further shed light on the prevalence and types of housing discrimination existing in Arizona. 87% of survey respondents believed that housing discrimination is occurring or likely occurring in their local area, with the belief that it primarily takes the following forms:
Refusing, discouraging, or charging more to rent an apartment or buy a home; and
Discrimination based on disability, including refusal to make a reasonable accommodation.
However, of those surveyed, 25% stated that even if they encountered or learned of housing discrimination, they would not know what to do or who to report it to.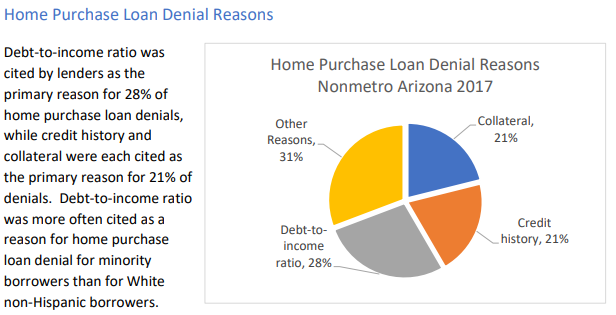 Discrimination in lending was also revealed with minority applicants more likely to have their home purchase loan denied due to high debt-to-income ratio, and their refinancing loan denied due to work history than were White non-Hispanic borrowers. Research also pointed to aggressive high-cost lending in minority markets, which can increase a borrower's exposure to more expensive loans, decrease potential wealth accumulation, and increase the risk of future foreclosure. It was also determined that the rate of loan denial for female home purchase applicants was 1.3 times that of male applicants.
While all of these statistics are insightful, perhaps most important is that the results of the Analysis of Impediments are used to develop a Fair Housing Action Plan with measurable objectives to mitigate future housing discrimination and its effects.
---
Specific Steps and Entire Analysis
AZ-2020-Analysis-of-Impediments-to-Fair-Housing-Choice_0

---
[1] Balance of State data includes areas that receive direct Community Development Block Grant funding from HUD, often referred to as "entitlement communities" and "urban counties."
---
This article is of a general nature and reflects only the opinion of the author at the time it was drafted. It is not intended as definitive legal advice, and you should not act upon it without seeking independent legal counsel
Scott Drucker
A licensed Arizona attorney, Scott is General Counsel & Assistant CEO for the Arizona REALTORS® serving as the primary legal advisor to the association.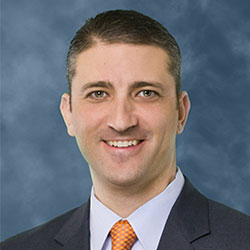 ---