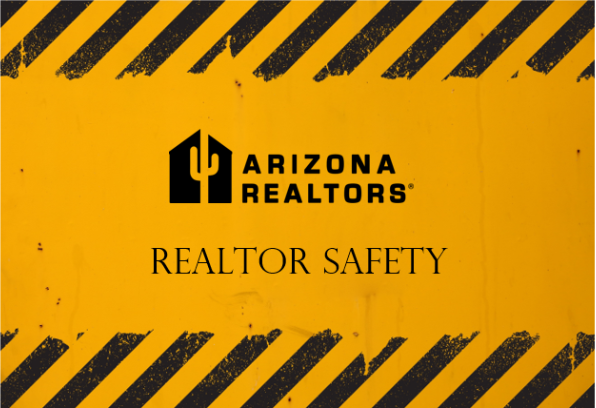 ---
REALTOR® Safety Month Featured Video
---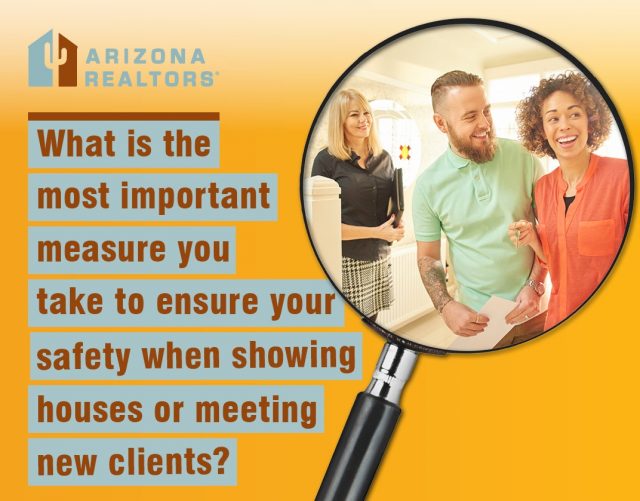 It's REALTOR® Safety Month and we asked you to share the precautions you take to protect yourself and clients with Arizona's real estate community.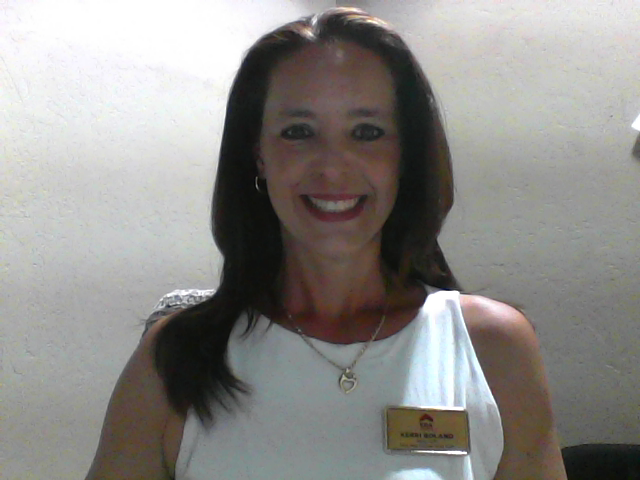 While we received dozens of great tips and ideas we can only randomly select one winner and this survey's recipient of a $100 gift card goes to: Kerri Boland of Yuma!
Sample Submissions
Teach all of our agents to meet all new individuals either at the office or at a public place. Avoids the situations of just meeting at the property and allows for a discussion of realistic expectations and a chance to have a real conversation first with the client. If not possible; always let someone know your schedule and have a process in place to alert others if the need arises.
When possible I take someone with me. I also will tell someone where I'm going, what time and who I'm meeting and their contact information.
When I have not met someone that would like to look at homes I asked them to text me a photo ID as a broker requirement prior to meeting the first time. I also try to meet them at the office and copy their ID and I always let someone know where I am going.
When meeting a new client, I do a background check. When showing a house, I coordinate with the listing agent to be sure all secure protocols are followed during the showing.
Two ways: 1. My husband accompanies me and observes my clients especially on the first showing. 2. I take pictures of the car and license and send to a predetermined agent or my husband. Chek in before I go in the house with the buyer and when I am finished. Also keep the supra app showing time open with the alert button available.
Let someone else know and pay attention.
I meet new clients at my office first so I can get to know them and assure that I am comfortable taking them around to look at properties. If there is any questionable "off" feelings, I am always prepared to come up with a reason to postpone showings a day or two. I take no chances.
I am a new agent so at this time I am doing alot of Open Houses for other agents. When I am at a house I always keep the door locked and have everyone knock or ring the doorbell, then I lock the door so no one else comes in and I always have my cellphone with me and my car keys and I always stay in the main room so that I am not alone with them.
Meeting at a home to show, I reassure clients by properly wearing a mask and as we share the home, I carefully wipe down any areas that were touched by clients. Protecting our sellers home and continue to disinfect as needed is very important. When meeting clients I like to meet at an open area provided by a local coffee shop. Our initial meeting I am masked and do not shake hands but I do extend my elbow-LOL 🙂 Meetings are get to know each other and I am very careful to respect my clients and appreciate their space. Must always be care to apply due diligent to every opportunity when meeting with clients- can never be too careful…
I NEVER go alone to meet a potential client or client. Even when meeting in a public place I have someone with me, as well as let someone else know where we will be and when we should be expected back.
My company provides a program called FOREWARN – this has been a great benefit to us REALTORS. My husband also visits every open house I hold – he always knows where I am because he puts my signs out!! I place Facebook video notices on my page when doing open houses. Great advertising and a great way for my team to know where I am.
Always have a friend with you while you're sitting an open house, showing, or meeting new clients.
Have someone with me, close by. Have all doors open and stay close to an outdoor area. Have cell phone in hand at all times.
I am always cautious and aware of my surroundings. I bring a family member or friend along with me in the car if at all possible. They wait and watch for me and our safety!
When showing homes I always lock the main door behind me after we enter, IF it's an established client. If it is a male client I don't know well, I will leave the door unlocked. Been doing this for 25+ years and about 20 years ago this safety measure paid off big time. It was 7AM and I was meeting a female client at a HUD home in a good neighborhood. Locked the door after we entered, a few minutes later, we saw thru the window, two men come up to the front door and try to enter. When they realized it was locked, they jumped the side gate and tried the Arcadia door. By then, I was on my cell calling the police and I screamed at them that the cops were on their way. They scrambled and jumped the back fence. Scariest morning! My client wasn't deterred and we wrote an offer on my car hood, which was accepted. She still lives there to this day 🙂
I feel the most important measure to take is what I consider the 1st step. Having an open dialog with your client. Talking to them about what is going on in the "New Normal", providing them with all the available information starting with Covid -19 precautions, what the seller expectations are for viewing the home's. To be respectful of other's and there concerns whether it is a buyer or seller. Ultimately trying to please all parties involved so we can do our job and do it safe.
first they have to be pre approved by a lender. I will not meet up with anyone before I get the pre qual and personally speak with the lender. If they say they are cash paying clients they have to send me proof of funds. I now ask for a copy of their drivers licence and submit it to my husband who is also a realtor. I let him know the address along with the names of the clients I am showing the property to.
I make sure that I make sure either someone in my office or a family member knows who I am meeting and where. If possible, I try to not go alone to the first meeting and to make it either at my office during business hours or at a very public place. I also make sure I have verified the client contact info as much as possible.
Have them meet you at office and show ID, also take their own car. Also get pre-qualified and bring letter from loan officer so you are not showing homes they cannot qualify to buy.
I bought a BEAM Authentic wearable nametag which allows me to add custom images and GIFs. It also has an emergency button I can push if I ever feel threatened which will text my emergency contacts: www.beamauthentic.com.
I ask all new clients to meet me at the office the first time. I make sure they are pre-qualified before I show them any houses and I get a copy of their ID before we go.
Ask questions to prequalify and get a feel before meeting anyone. I would also take another agent with me on any new buyer if any doubt !
I always meet with new clients at the office first. If they do not wish to then my suspicion levels send up red flags. I also let my wife know which MLS listing #'s that I will be showing and approximate times of each showing. I text her after each showing so if something happens she will have an idea where I am at. Since I have law enforcement background I also carry a concealed weapon and have CCW permit. Sad that I have to do that but with events going on in todays world It just makes me cautious. Never go on showings or do open houses without someone knowing where you are at.
We meet at the office when others agents are in the office. The office gets a notification that I will be will new clients and they look out for me.
Agent Safety Alert Program (ASAP)
ASAP is a program to alert REALTORS® of critical safety issues. Members may submit reports of incidents they see or know about using the link below. A response team will evaluate the report and may take action, up to and including issuing a text alert to all affected members.
To ensure that your cell phone is in our system for alerts, please contact your local association or edit your own information at NAR's site. For details about the ASAP program, here is a list of FAQs.
---
Arizona REALTOR® Safety Alerts
---
Arizona REALTOR® Safety Videos & Webinar
---