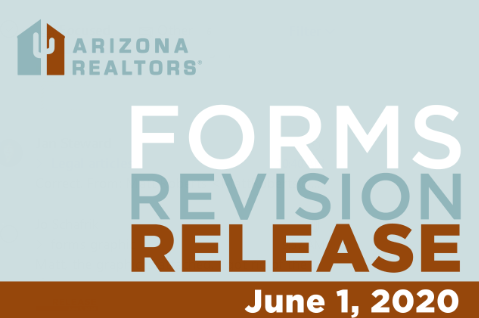 On June 1, 2020, the following forms will be revised and released for use by members via all Arizona REALTORS® forms provider platforms.
Counter Offer: This form has been revised at lines 19-20. More specifically, the header on line 19 has been changed from "Time of acceptance" to "Terms of Acceptance" so that it mirrors the verbiage used in Section 8o of the Residential Resale Real Estate Purchase Contract. Additionally, the verbiage on line 19 currently states that the Counter Offer should be "delivered pursuant to Section 8m of the Contract." Instead of merely referencing Section 8m, for the sake of clarity the form has been revised to state that the Counter Offer should be "delivered in person, by mail, facsimile or electronically." Redline version here.
H.O.A. Condominium / Planned Community Addendum (HOA): The intended use of this form is for: (i) sellers to disclose on page one those costs associated with the H.O.A. that are payable at close of escrow; and (ii) buyers to identify on page three their offer as to which party pays which fees. However, sellers have been improperly completing page three before providing the form to the buyers. To curb this behavior, the following revisions have been made: (i) line four now instructs the seller to complete the information on "page 1"; and (ii) line 70 now states: "NOTE: Lines 73-80 TO ONLY BE COMPLETED BY BUYER AND NOT SELLER!" Redline version here.
Note: No line numbers were harmed in the making of these revisions. In other words, even if an HOA were to identify their fees via an outdated HOA Addendum, the line numbers on both versions will still match.
Buyer's Inspection and Seller's Response (BINSR): Additional blank lines have been added under the "Items disapproved" heading and the "Seller's Response" heading.
The additional lines were added to the BINSR to allow buyers and sellers additional room to address items disapproved and to help resolve an on-going issue with how the BINSR is populated when using TransactionDesk. With this change, the Arizona REALTORS® can authorize TransactionDesk to wrap the text in the BINSR's multi-line fields without worrying that the text may become so small that it is unreadable. 
---