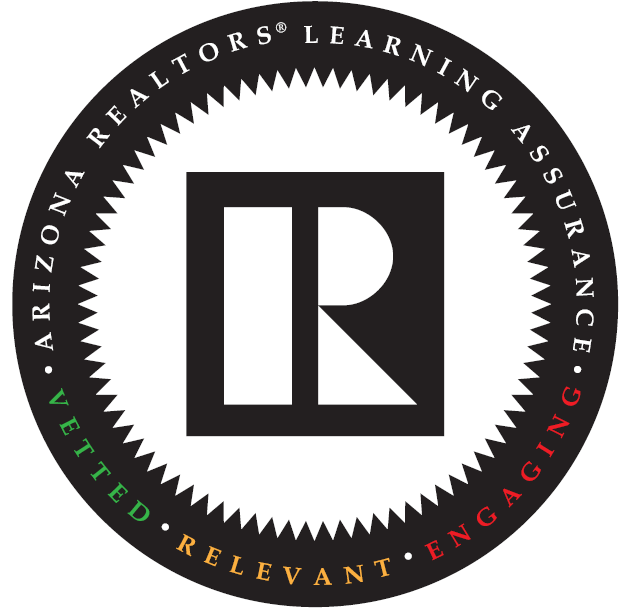 ---
The Arizona REALTORS® Professional and Business Development Committee feels strongly that our members should be confident that the classes they attend will provide accurate and relevant information taught by experienced instructors.
To assist you, a Learning Assurance Seal has been developed to help give you peace-of-mind when selecting your real estate education courses. It's your time and your money, shouldn't you walk out of class with ideas, tips, solutions or information you didn't have?
We want to show you that we are focused on quality and relevancy that will make an impact on your business practices and success. Education should not just be about getting the renewal credit at the end of class.
Vetted Instructors
A few years ago, Arizona REALTORS® adopted eleven core instructor standards that are utilized when identifying instructors for our education programs. We only select instructors with exceptional teaching skills AND practical in-the-field subject experience.

Our instructors are experienced practitioners, who must demonstrate subject matter expertise from in-the-trenches experience. They must have practical experience enabling them to translate the content to application and to apply appropriate teaching methods that promote the transfer of knowledge.
Relevant Information
We are focused on providing high-level content while delivering accurate and relevant information that is pertinent to our members' business. Our curriculum is reviewed annually to ensure marketplace relevancy and our goal is to present current information that equips students with problem-solving tactics and business-building strategies.
Engaging Delivery
Course curriculum should be informative, engaging and should include a variety of activities that enhance skill and encourage student participation. Our coursework is logical, easy to understand, and serves as a valuable reference for students during and after class. The student outline works in conjunction with the instructor's presentation to enhance and reinforce learning.

Arizona REALTORS® are the best prepared real estate practitioners with the highest standards, so why should you expect anything less from your education?
This Seal represents our commitment to offer education that elevates our members' minds, experience, and business. Our hope is that when you see the Seal, you see "quality."
Look for the Learning Assurance Seal on Arizona REALTORS® class promotional material. For more information, please contact Brittni Matt at BrittniMatt@aaronline.com.
---