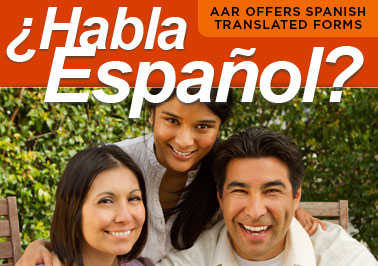 Can your clients read the title of this article? If so, they may be interested to know that Arizona REALTORS® has translated its most often used forms and advisories into Spanish.
Arizona is a diverse state, home to individuals of many different nationalities. Among those is a large Hispanic population. While many Spanish speakers are multilingual, some are more comfortable reading and reviewing complex transaction documents in Spanish.
For this reason, Arizona REALTORS® publishes on its website in Spanish 28 commonly used forms, along with a list of key real estate terms. Additionally, the association's website publishes in Spanish the following Advisories: (i) Buyer Advisory; (ii) Short Sale Seller Advisory; (iii) Tenant Advisory; (iv) Lease Owner's Advisory; and (v) Wire Fraud Advisory.
These translated forms are not to be used as transaction documents to be signed, only as companion translations to Arizona REALTORS® forms. For more information on Arizona REALTORS®' Spanish translations and to view the translated forms, go to https://www.aaronline.com/spanish/.
---