What two factors would contribute to a boom in new home construction in Arizona? According to Greg Burger of RL Brown, market intelligence and reporting firm in Arizona, it's two things: job growth and population growth. In September 2013, Moody's Analytics projected that Arizona's job growth rate would be one of our nation's fastest at three percent annually over the next five years. Arizona's population is also reaching all time highs. According to the latest estimates for the U.S. Census Bureau, Arizona's population growth raked eighth nationwide, rising by 1.33 percent. In actual numbers, Arizona's population growth ranks even higher at No. 6 with its addition of 86,000 residents, the report said.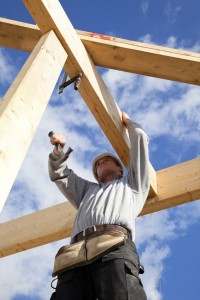 With Arizona's relatively low taxes, great weather and job growth, there's no reason residents shouldn't flock to the Grand Canyon State. So, will this be the year for a new home construction boom? Probably not. But, that doesn't mean that new construction homes should be at the back of your mind.
"In 2006, there were very little REOs (bank-owned properties). But, those REALTORS® that positioned themselves to better understand the REO transaction, were poised to capitalize on a new market that emerged in 2008," said Tom Ruff, real estate market analyst with Information Market. Ruff compares the opportunities that were present during those days to the new home market in the near future. He said, "With the predicted rise in population growth in the next two to five years, a housing shortage will follow; and the only solution is to have new single family homes for sale."
Becoming better positioned to strike when the iron is hot will take patience, a dash of networking and a fair amount of watchful analysis. Burger suggests that REALTORS® keep an eye on a few variables to know when it's time to focus more on new home construction similar to the new construction homes hampton va that you can find all over the new development projects marketing campains. He says REALTORS® should know that, "New home permits define the areas where people are building now and will be a good predictor for 'up and coming' communities." Burger also thinks that REALTORS® need to have a good grasp on lot inventories and the specs, price ranges and amenities available from each builder.
"Right now, we're under-building," said Ruff. "Millennials aren't ready to buy a home or can't qualify with the new FHA limits, and boomerang buyers are still waiting to improve their credit scores and get back on their feet." But, Ruff adds that investors are pulling back, and inventory is beginning to tighten. "The key to positioning yourself correctly is to start building relationships with home builders now. When the market is slow is the best time to form these relationships."
The other sage advice that Burger offers is to "re-train yourself as a buyer representative." Both men think that new home construction could be a booming market within the next two to five years, but with Arizona's fast-paced market, it's better to be prepared than left out.
Additional Resources
According to the National Association of Home Builders, a new single family home creates 3.05 jobs and generates $89,216 in taxes.
RL Brown offers a new home search product in Flex MLS that tracks every home purchase in Maricopa and Pinal Counties. It also provides a new home lead generation tool for $14.95 a month. For more information, visit www.rlbrownreports.com
Upcoming Courses
Upcoming Accredited Buyer's Representative Courses:
Wednesday, February 5th, 2014 – Thursday, February 6th, 2014
Bullhead City/Mohave Valley Association
---