Construction Loans and the "Utilization" Requirement of A.R.S. § 33-814(G)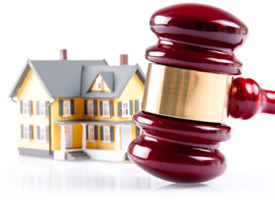 Arizona's anti-deficiency statute applicable to the non-judicial foreclosure, or trustee's sale, of deeds of trust contains the following elements: (1) the property must be 2.5 acres or less; and (2) it must be "limited to and utilized for" a single-family or duplex residential dwelling. See A.R.S. § 33-814(G). As such, most practitioners have long believed that a residential dwelling must be completed and utilized in some fashion in order for the statute to apply. For construction loans and recently completed residences, some advocated the use of a sleeping bag and a one-night stay to satisfy the "utilized for" element of the statute. Thanks to a recent decision from Division One of the Court of Appeals, that is no longer necessary.
In M&I Marshall & Isley Bank v. Mueller, ___ P.3d ___, WL 6778743 (App. 2011), the court held that an unfinished property may qualify for anti-deficiency protection, provided that the borrower intended to utilize it as a residential dwelling once complete. There, the borrowers obtained a construction loan for $444,000.00 secured by a deed of trust to construct a single-family home on vacant property. Several months into the project, the borrowers discovered delays and deficient work by the contractor, which prompted their demand for advancements of loan proceeds to correct the deficiencies. When the lender refused, the borrowers abandoned the unfinished property and the lender foreclosed by way of trustee's sale.
Following the non-judicial foreclosure, the lender brought suit against the borrowers, contending that the anti-deficiency protection afforded by A.R.S. § 33-814(G) does not apply to unfinished properties that have never been "utilized for" a residential dwelling. Distinguishing Mid Kansas Fed. Sav. & Loan of Wichita v. Dynamic Dev. Corp., 167 Ariz. 122, 804 P.2d 1310 (1991), wherein the Arizona Supreme Court held that statute did not apply to multiple residences under construction by a developer for eventual resale, the Mueller court focused on the borrowers' intent. Unlike the developer in Mid Kansas, who never intended to personally reside in the properties, the borrowers in Mueller intended to occupy the property following completion. The court also emphasized the legislative intent behind the anti-deficiency statutes and its consumer-protection underpinnings. The primary purpose of the statute, according to the court, is to protect "homeowners" as opposed to commercial developers as in Mid Kansas.
The immediate impact of this decision may be somewhat limited. Mueller simply expands anti-deficiency protection following non-judicial foreclosure to that relatively limited group of borrowers who obtained construction loans for primary residences but did not finish construction or otherwise utilize the property. On the other hand, the court's willingness to extend anti-deficiency protection—arguably in contravention of the plain language of the statute—suggests that further expansion may be on the horizon.
---