Property Management Update – New Forms & Bootcamp Coming Up

AAR 2012 President-Elect Sue Flucke, featured in the video above, is a member of the Property Management Forms Workgroup under the Risk Management Committee.  The workgroup, chaired by Lisa Suarez, is developing six new property management forms. Pending approval by the Risk Management and Executive Committees, these forms will be available in August:
Notice of Intention to Terminate Lease Agreement Due to Non-Payment of Rent (5-Day)
Notice to Terminate Lease Agreement Due to Material Noncompliance Affecting Health & Safety (5-Day)
Notice to Terminate Lease Agreement Due to Material Noncompliance (10-Day)
Notice to Immediately Terminate Lease Agreement Due to Material & Irreparable Noncompliance
Application for Occupancy
Move-In/Move-Out Condition Checklist
Property Management Bootcamp
Friday, June 22 | 8:30am – 4:30pm
Chandler Real Estate Training Center | 4050 S. Arizona Avenue | Chandler
Sue Flucke will be one of several property management experts teaching during the Property Management Bootcamp in Chandler in June. Whether you are an active property manager or have found yourself becoming an "accidental property manager," we encourage you to attend this event. The course covers:
Financial accountability – keeping accurate accounts and providing itemized records for landlords and tenants
Managing service orders – tracking services for completion and assigning invoices to the correct properties
Landlord/Tenant Act – knowing it inside and out, understanding the rights of both landlords and tenants
E&O insurance – understanding coverage at the brokerage level for property management services
and much more!
$79 (includes lunch)
3-contract law/3-disclosure
Register Online | Class Flyer
---
ARBI—What It Is and Why It Is Important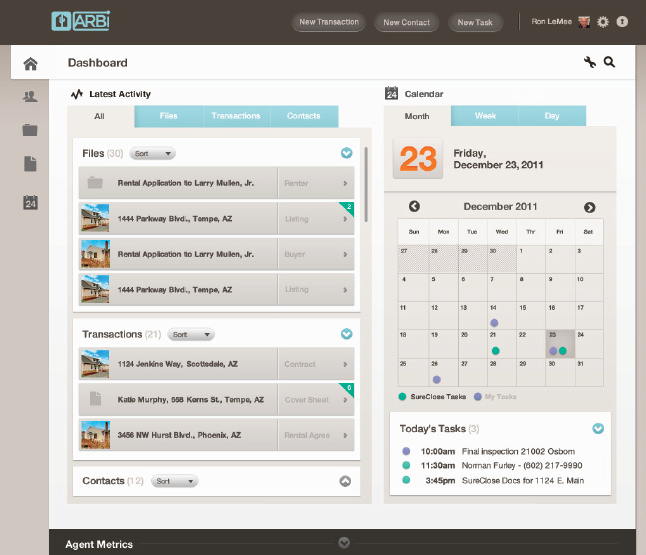 ARBI is the Arizona REALTOR® Business Interface.  ARBI is being created to unify and integrate members' use of MLS, AAR TM, AAR eSign and zipForm® systems.  Simply put, ARBI will be the dashboard members log in to when they want to see the status of their transactions and business in progress in one clean user interface.By Ron LaMee, AAR Senior VP – Information Services
The last major milestone we reported for ARBI was in late December 2011, when the interface design was completed by Cynergy Systems under the direction of the ARBI Workgroup.  In less than two months, AAR's new Application Development Department was created, a senior programmer hired, and development framework set up.  Coding began February 21, 2012.  By late April 2012, working screen elements were in place and search started for ARBI's second developer.   The second developer began work May 14.
The ARBI development team is Ron LaMee, SVP Information Services and Project Manager;  Robert Allen, Lead Application Developer; and Predrag Milosavljevic, Application and Database Developer.  We will keep members updated on major milestones as they occur.
This post was originally published on AAR's blog on Tuesday, May 22.
Short Sale Information on the Blog
Despite the improving market, short sales are likely to be with us for awhile. AAR helps keep you informed about changes in the short sale process with timely posts on our blog.  View a list of posts under the short sale category.
One recent post highlighted short sale resources available to you through AAR. These include the Legal Hotline Q&As on short sales, short sale forms, an FAQ on short sales and commissions from AAR General Counsel Michelle Lind, and the second edition of Lind's book Arizona Real Estate, which features new sections on short sale and REO transactions.
Arizona REALTOR® Jackie Briggs Named to NAR's 30 Under 30
AAR congratulates member Jackie Briggs, ABR, CRS, rCRMS on being named one of the National Association of REALTORS® 30 Under 30. In this video, Jackie shares a part of her story, including why she once said she'd never be a REALTOR®.

This video was originally published on AAR's blog on Wednesday, May 23. View more AAR-related videos on our YouTube channel.
---
rCRMS: Disclosure & Due Diligence


Monday, August 6 | WEMAR
$99 | Register Online
Class Flyer
Explore your disclosure obligations and the due diligence responsibilities of the parties in a real estate transaction. In this video, attorney and instructor Rick Mack explains why you don't want to miss this class:
Instructors: Attorney Rick Mack & REALTOR® Frank Dickens
C/E: 6-disclosure
---
Resort & Second-Home Markets (RSPS) Courses Scheduled In Lakeside & Phoenix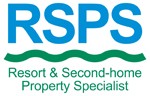 Tuesday, June 12 | Lakeside | Class Flyer
OR
Thursday, June 14 | AAR Classroom (Phoenix) | Class Flyer
$79 (includes lunch) |Register Online
Be a part of this exciting opportunity to learn about the resort area and second-home specialty. This one-day course focuses on the essentials of assisting customers in tourist-driven areas. You'll learn to:
– Develop a second-home clientele
– Identify real estate niches in your market
– Understand 1031 exchanges and how to use them in your marketing
– Recognize how the market shift has impacted luxury & second-home buyers
This is one of the core requirements for NAR's RSPS certification and fulfills the elective course for the ABR designation.
Trainer: Holly Mabery, ABR, GRI
C/E: 6-general
---
BPOR Course: The Agent's Role in Property Valuation

Thursday, June 14 | Yuma Association of REALTORS®
OR
Friday, June 22 | Prescott Area Association of REALTORS®
OR
Friday, July 20 | Northern Arizona Association of REALTORS®
OR
Tuesday, September 25 | Santa Cruz County Board of REALTORS®
$79 (includes lunch) | Register Online
Class Flyer
This one-day course from NAR provides students with the resources and knowledge to reduce their risk and increase their opportunities. Students will learn about the multiple uses of BPOs, how to evaluate and minimize the risk of the valuation process, ways to identify and use effective tools, and methods for filtering and selecting comparables in order to create professional and accurate BPOs. This class counts towards NAR's new certification, BPOR (BPO Resource).
Instructor: Frank Dickens
CE: 6-legal issues
---
---