Home
»
COVID-19 Arizona REALTORS® Relief Hotline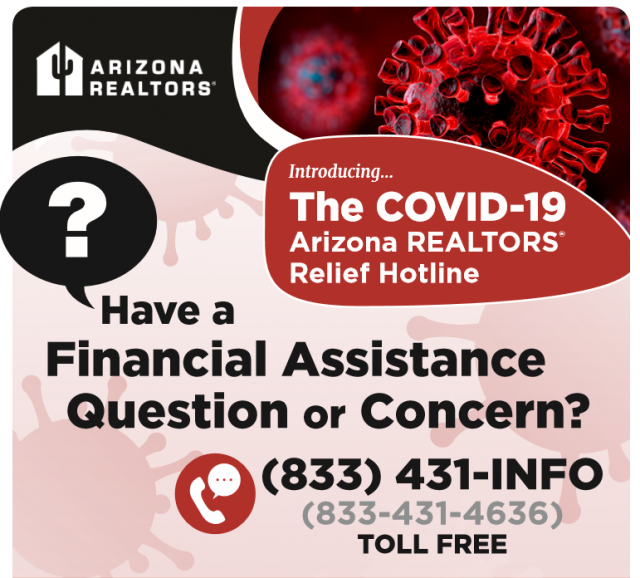 The COVID-19 pandemic has posed unique financial challenges to REALTORS® all across Arizona. In response, the Arizona REALTORS® is pleased to provide a NEW free member benefit titled the COVID-19 Arizona REALTORS® Relief Hotline.
The Relief Hotline, which will be staffed by attorneys at the law firm Manning & Kass LLP, will be available to provide all members with help navigating and applying for financial assistance programs during the COVID-19 pandemic, ranging from small business loans to unemployment benefits.
*Calls handled through the Relief Hotline do not result in an attorney-client relationship.
---
How does it work?
Have your National REALTORS® Database System (NRDS) number ready when you call since the Relief Hotline is available only to active Arizona REALTORS®. If you don't know your NRDS number, you can contact Arizona REALTORS® Business Services Support at (480) 304-8930, (866) 833-7357 or via email to support@aaronline.com.
Once connected, calls for an attorney will be placed in a queue in the order they are received. Provided that your question pertains to personal financial issues caused by the recent pandemic, the attorney you speak with will be able to offer assistance.
Questions addressing unrelated topics and issues will not be answered and transactional questions should be directed to your broker/manager, who has access to the Arizona REALTORS® Legal Hotline.
How and when can I call the Relief Hotline?
The toll-free phone number for the Relief Hotline is (833) 431-INFO (4636) and it will operate Monday through Friday, 9:30 a.m. to Noon, and 2:00 p.m. to 4:30 p.m. (except holidays).
Can I submit an email or ask for written guidance?
Because the Relief Hotline services Arizona's 50,000+ REALTORS®, resulting in a very heavy volume of inquiries, information will only be received and conveyed verbally over the phone.
Will the Relief Hotline Attorney file paperwork on my behalf?
No. The attorneys on the Relief Hotline will offer advice and guidance, while answering questions you may have. Filing paperwork is outside the scope of the Relief Hotline.
Can I use the Relief Hotline law firm as my own attorney?
You are not prohibited from independently engaging the law firm as your attorney. However, any attorney-client relationship can only be established outside the Relief Hotline and must be initiated by the member through the law firm's phone number. Calls handled through the Relief Hotline do not result in an attorney-client relationship.