Broker University

Print Friendly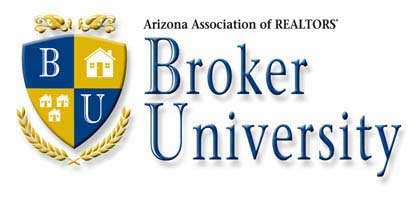 Broker University was created under the Professional Development Committee to assist in developing programs and services for Brokers and Brokerages to enhance their business success.
At least once a year, Broker University hosts a Broker/Manager Risk Management Seminar which highlights industry trends, hot topics, current legal and risk management issues, and an opportunity for networking with other brokers. ADRE required Broker Management Clinics are also offered. And, there is an ongoing effort to make sure that essential information and tools are available to all brokers. My Broker Coach program within Broker University was created to assist brokers and individuals interested in becoming a broker understand what is required to operate a successful brokerage.
The goal of Broker University is to make sure that Brokers are informed, and aware of programs, products, and resources that are available to them to help them improve their skills and achieve their goals.
If you are……
Thinking about opening your own office or becoming a self employed broker,
or someone who has taken on a management position,
or a broker or manager who want to hone their skills and knowledge….
My Broker Coach has been developed to help you understand the systems that need to be put into place, including business planning, budget development and profitability, policies and procedures, forms, filing systems, office management, technology, staffing, business, models, types of insurance needed and the ADRE requirements and rules. It consists of online education segments, homework assignments/activities and the availability of individual coaches/mentors assigned to each chapter to give you tips and feedback.
Each online education segment is only thirty to forty minutes long (the home work will take some extra time) and can be completed at your own pace. You can log into:
https://www.lectlearn.com/products/lectlearn/registration/2/menu_group.aspx?o=0804
to sign up – or get in touch with us for more information
---
2015 Broker Summit
TBD
---
Resources