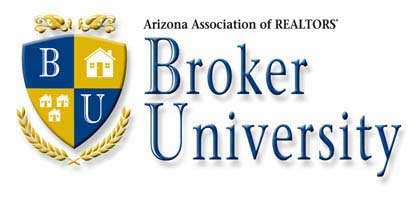 Broker University was created as an umbrella under the Professional Development Committee to provide educational programs and resources for Brokers and Brokerages to enhance their business success.
Typically once a year, Broker University hosts a Broker/Manager Risk Management Seminar which highlights industry trends, hot topics, current legal and risk management issues and an opportunity for networking with other brokers.
ADRE required Broker Management Clinics are also offered at a minimum of twice a year.
The goal of the Broker University umbrella is to make sure that Brokers are informed and aware of programs, products, and resources that are available to them to help them improve their skills and achieve their goals.
If you are……
Thinking about opening your own office or becoming a self-employed broker,
or someone who has taken on a management position,
or a broker or manager who wants to hone their skills and knowledge….
---
Virtual Broker To Broker Forum
This episode features 𝑺𝒆𝒓𝒆𝒏𝒂 𝑱𝒐𝒏𝒆𝒔, from Serene Living Arizona, 𝑴𝒊𝒄𝒉𝒆𝒍𝒍𝒆 𝑳𝒊𝒏𝒅, CEO of Arizona REALTORS®, 𝑳𝒐𝒖𝒊𝒔 𝑫𝒆𝒍𝒕𝒐𝒓𝒓𝒆 from ADRE and 𝑳𝒊𝒔𝒂 𝑹𝒐𝒃𝒊𝒏𝒔𝒐𝒏 of Pinnacle Insurance Consultants.
---
Resources