Has Dodd Frank Moved My Cheese?
To view the contents of this post, you must be authenticated and have the required access level.
Dynamics in Housing Demand: A Look at Gen X and Gen Y Buyers
Slow demand continues to keep Maricopa County real estate in a buyer's market, with the Cromford Market Index holding around 84. Stories of lower-than-normal demand are coming in from other parts of the state as well. This month, we look for clues about reasons for low demand in NAR's 2014 Home Buyer and Seller Generational Trends. U.S. consumers in their mid-30s and younger historically make up the largest group of first-time home buyers; consumers in their 40s and 50s tend to be repeat buyers. But, lately these two groups have been shying away from homeownership. In a weak jobs market, strapped with hefty financial loans, some Gen X and Gen Y buyers simply can't afford to buy.
According to NAR's generational study, 56 percent of Gen Y homebuyers (under 34 years) stated that student loans delayed saving for their purchase. Forty-six percent of Gen X (age 34-54 years) cited large credit card debt as the barrier to saving.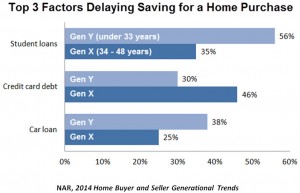 To give you an indication of how serious student loan and credit card debt is in the U.S., the New York Federal Reserve recently released these figures for outstanding U.S. consumer debt for Q4 2013: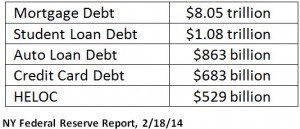 While debt has been growing, real income has been dropping—major declines can be seen across all age groups under age 65 since the late 90s. With higher down payment requirements, the ability to save has impacted first-time homebuyers and also repeat homebuyers. To add to their woes, many repeat homebuyers must contend with having homes underwater. According to NAR's study, one in five Gen X had a previous home that was financially underwater and they couldn't sell when they wanted to. This all supports what numerous analysts are saying: the combination of debt, flat wages and low credit scores are impacting demand for housing.
While this sounds a little pessimistic, it's not all doom and gloom. Affordability remains positive at 122.8, meaning a U.S. family with median income buying a median-priced home has 122.8 percent of the income needed. After rising quickly in 2011, home prices have been fairly flat for nearly a year as have mortgage rates. Affordability for first-time homebuyers is a dozen points lower but still above 100.
In addition, the "desire to own a home of my own" is especially strong among Gen Y. In fact, 49 percent gave that as their primary reason for buying a home. That said, it's important to note that desiring a home is different from taking necessary steps to buy one—NAR's study only considers those who made the commitment, not those on the sidelines.  Of those who have purchased a home, 91 percent of Gen Ys purchased their home through a real estate agent, slightly more than buyers as a whole. Gen Y tends to be very satisfied with their agent with 88 percent valuing their agent's honesty and integrity and 88 percent valuing their agent's knowledge of the process.
Debt and low credit scores seem to be negative influences on home purchase among Gen Y and Gen X.  While flat or declining real income is a concern, stable home prices and mortgage rates are positive influences.
Sources/additional reading:
NAR, 2014 Home Buyer and Seller Generational Trends.
Doug Short, Real Income Decreases
NAR, Monthly Housing Affordability Index
Remembering James "Jim" Brodie
James "Jim" Brodie, 84, of Green Valley, died Tuesday, March 11, 2014.
Jim, also known as "Sarge", was an active member of the REALTOR® family, joining in 1991. In 1999, Jim served as the AAR president – the same year that AAR CEO Michelle Lind joined the association as general counsel. He was a master jeweler and handcrafted thousands of RAPAC pins over the years.
Jim is survived by his wife and business partner, Sandy Brodie. A memorial is planned for later this year.
Dave Hollingsworth, who served as AAR president in 2000, said, "I, after being 'gently' prodded by Sarge, agreed to follow him from our two years of service as RVPs through the chairs at AAR. His vision was clear then, and even more so today, that the members in Arizona deserved to have the leadership of AAR come to them at least annually to ask how we could better improve the state association. Address their local association needs and listen to their requests to improve their individual businesses. We all learned volumes from Jim Brodie, and he will be sorely missed."
John Foltz, who preceded Jim in 1998 as president of AAR said, "Jim Brodie had a way of grounding all of us in the absolute patriotism of supporting home ownership. His service to our country was carried directly over to his service to the homeowners and REALTORS® he touched.  Simplicity and honor in ideas that made a contribution to us all and to me, personally."
AAR Senior Vice President of Research and Member Value Ron LaMee said, "Jim initiated the use of customized, Arizona RAPAC pins to reward donors at various levels. His efforts put a new emphasis and energy in RAPAC that continues today. He was also dedicated to improving agents' skills and frequently taught classes in Green Valley and Tucson."
Craig Sanford, a long-time friend, said, "Jim taught me that the value of leadership was not only what you did today but what you did today for tomorrow."
AAR Manager, Risk Management Jan Steward said, "The year Jim was president of AAR, I was President of Northern Arizona Association of REALTORS®. Early in his presidency, Jim came by to visit with me and needless to say, I was very impressed that he was visiting local associations throughout Arizona. Jim said he was reaching out to AAR's members to see how leadership could better improve the state association. In addition to Jim's questions the day we met, he presented me with my RAPAC pin, which he created himself, and an authentic Indian Head penny.  Jim gave me the penny and told a story about his friend who had cancer. His friend went to the reservation and asked to have the pennies blessed. Jim was given the pennies by his friend to pass-on to others, to help them as well. To this day, I still have the Indian Head penny and RAPAC pin Jim presented me with as well as my memories of an impressive AAR leader."
---
Major AAR Accomplishments During Jim Brodie's Presidency
• Purchased and moved into 28,000 square foot headquarters
• Added full-time lobbyist, Governmental Programs Director and General Counsel (attorney) positions.
• Attained the highest membership total ever: 22,948
• Increased participation in the pressXpress™ (400 document fax-on-demand service) by 26 percent
• Partnered with the Mortgage Lenders Association and the Arizona Escrow Association for successful "Partners In Profit" conference.
• REALTORS® of Arizona Political Action Committee (RAPAC) raised highest-ever total contributions of $79,340.
• Developed and implemented REALTORS of Arizona Legislative Link (RALLi™) through the Association's web site (AARonline.com).
• Developed and implemented a local lobbying training program called "Silver Bullet Session"
• Developed and made available a Buyer/Seller Inspection Form through the standard forms inventory.
• The Association had legislative successes by: 1) defeating a bill that would have expanded new ordinance and regulatory authority governing land transactions in unincorporated areas; 2) supported bill that granted licensing exemptions for corporations selling their own property and closes any window for non-licensed marketplace activity; 3) passed statute change to protect registered professionals (including real estate licensees) from claims related to expert testimony; 4) passed provision that closed a loop that would allow buyer or renter to rescind transaction if certain exempted disclosures were not made; 5) making several changes to "Slumlord" Bill to make passage more palatable for real estate community.
• Developed first online, email-based education course (AAR Contract).
• Partnered with Timeless Technology to offer hands-on computer training programs through local associations.
• Coordinated 74 Graduate REALTORS® Institute modules statewide with 211 members receiving their GRI designation and 569 new members entering the program.
Feel free to share your memories of Jim in the comments below.
The REALTOR® Commitment to a Market Free of Discrimination
Reviewed May 2016
Over 100 years ago, in furtherance of its commitment to business integrity and fair dealing, the National Association of Realtors® (NAR) adopted its Code of Ethics. The Code of Ethics defines, guides, and regulates the professional conduct of Realtors® and demonstrates REALTORS'® level of commitment, emphasis on education and dedication to their profession. The Arizona Association of REALTORS® (AAR) is responsible for enforcing the Code of Ethics.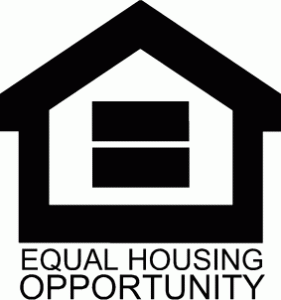 Among the core principles of the code is a promise to provide equal professional service to all clients and customers. Article 10 of the Code of Ethics therefore prohibits Realtors® from discriminating practices and requires that equal professional services be provided to all individuals as part of a Realtor's® commitment to fair housing.
Because NAR firmly believes in equal opportunities in housing, in November 2010, NAR's Board of Directors passed an amendment to  Article 10 of the Code of Ethics prohibiting members from discriminating on the basis of sexual orientation. While the inclusion of sexual orientation was intended to be all-encompassing, NAR ultimately decided to add "gender identity" as a definitional clarification. Effective January 2014, Article 10 of the Code of Ethics therefore reads as follows:
Realtors® shall not deny equal professional services to any person for reasons of race, color, religion, sex, handicap, familial status, national origin, sexual orientation, or gender identity.  Realtors® shall not be parties to any plan or agreement to discriminate against a person or persons on the basis of race, color, religion, sex, handicap, familial status, national origin, sexual orientation or gender identity. (Amended 1/14)
Realtors®, in their real estate employment practices, shall not discriminate against any person or persons on the basis of race, color, religion, sex, handicap, familial status, national origin, sexual orientation, or gender identity.  (Amended 1/14)
Moreover, Standard of Practice 10-3 was amended as follows:
Realtors® shall not print, display or circulate any statement or advertisement with respect to selling or renting of a property that indicates any preference, limitations or discrimination based on race, color, religion, sex, handicap, familial status, national origin sexual orientation, or gender identity. (Adopted 1/94, Renumbered 1/05 and 1/06, Amended 1/14)
The 2014 amendment to Article 10 therefore not only reaffirms NAR's and AAR's commitment to fair housing, it is also a reflection of our collective commitment to a market free of discrimination.
---
Fair Housing Resources from NAR
April 2014 marks the 46th anniversary of the 1968 landmark Fair Housing Act. Each year REALTORS® recognize the significance of this event and reconfirm our commitment to upholding fair housing law as well as our commitment to offering equal professional service to all in their search for real property.
Resources can be found here: http://www.realtor.org/programs/fair-housing-program
Listing Agreement Should Not Be Incorporated In The Residential Contract
To view the contents of this post, you must be authenticated and have the required access level.
Buyer's Agent Should Use Unrepresented Seller Compensation Consent Form While Representing A Buyer In A FSBO
To view the contents of this post, you must be authenticated and have the required access level.
The Dodd-Frank Act Does Not Apply To Commercial Transactions
To view the contents of this post, you must be authenticated and have the required access level.
Broker May Pursue A Buyer For A Commission With A Properly Executed Buyer-Broker Exclusive Employment Agreement (Buyer-Broker Agreement)
To view the contents of this post, you must be authenticated and have the required access level.
Trustee Generally Has The Authority To Sign On Behalf Of A Trust
To view the contents of this post, you must be authenticated and have the required access level.
Is Your Tax Deduction Lacking "Economic Substance"?
Recently, social media sites frequented by Arizona real estate licensees have been abuzz over the IRS's ability to disallow certain tax deductions on the basis that they lack "economic substance." Because the deduction of business expenses is important to REALTORS®, AAR asked Tax Accountant Eric Viavattene of Dobbins Wealth Management to shed light on this issue.
Finding ways to limit your tax liability is critical to your business. The key to success lies in understanding the latest rules for what does, or does not, constitute economic substance.
As a judicial concept, the doctrine of economic substance has existed for about as long as people have tried to limit taxation from business pursuits. Economic substance refers to the reasoning behind a business transaction. It asks, "does the transaction have any merit beyond avoiding tax?"
In the past, courts have determined whether a transaction had economic substance based on precedent – with no specific rules involved. The advent of Section 1409 of the Health Care and Education Affordability Reconciliation Act of 2010 changed all this. It requires that a two-part test be run to determine if a transaction qualifies.
To be considered as having economic substance the transaction must:
1) change the taxpayer's economic position in a meaningful way apart from any federal income tax effects; and
2) the taxpayer must have a substantial purpose for entering into the transaction apart from any federal income tax effects.
Additionally, the Act specifies a penalty of 40 percent of the liability for underpayments of tax from transactions that do not meet the qualifications. However, while the Act does create these tests and penalties, it doesn't say exactly when they should be applied, leaving a wide opening for their application.
For the REALTOR® community, these changes require business owners to take more stringent accounting measures and increase the documentation retained for their transactions. All transactions, including payroll, need to show business and economic merit beyond simply lowering tax liability. Payroll amounts for shareholders must be based on work recorded in time sheets or logbooks, or some other verifiable means, with rates comparable to industry norms. Business expenses need to be reasonable and necessary – no trips to the grocery store on the company dime unless they're really for company expenses, and even then, only with a receipt noting the reason for the expense.
Be sure to seek the advice of an accounting professional to learn what you can do to improve your process and reduce your liability.
---
About the Author:
Eric Viavattene is a partner at Dobbins Wealth Management, PLLC where he specializes in Short Sale/Foreclosure tax analysis and financial planning. As a Registered Investment Advisor and senior Financial Advisor, Eric provides a
unique tax perspective during the planning process as he works with individuals and small to medium-sized businesses to help them meet their financial goals.