Home
»
Arizona REALTOR® VOICE
April 7, 2020
To help you navigate the (COVID-19) health crisis and its impact on the real estate industry, we've developed a webpage that consolidates the latest news and information on the constantly evolving situation.
---
Arizona REALTORS® has developed a document that may help ease their concerns by requiring individuals to agree to certain criteria before entering the property.
---
Sharing documents with your team on TransactionDesk is a simple and efficient way to get things done without the hassle of emailing back and forth. Our tech team outlines the steps you can take to set up the connection.
---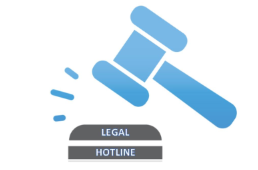 Licensees Should Not Represent Parties Who Refuse to Obtain Title Insurance
FACTS:
After the Purchase Contract (Contract) was entered into by the buyer and seller, intending to save some money, the parties decided they would not use a title company nor a traditional lender. The agents have been asked to draft an Addendum to the Contract providing for seller financing and eliminating the provisions addressing title insurance and the handling of escrow.
ISSUE:
Can the agents represent the parties in the transaction consistent with the standard of care?
ANSWER:
See discussion.
DISCUSSION:
Both the buyer's agent and the seller's agent owe their respective clients a fiduciary duty to promote and protect their interests. A.A.C R4-28-1101(A). Seller finance transactions are complex even under normal circumstances because of the Dodd-Frank legislation and should at least be reviewed by counsel. Closing a transaction without a title commitment and without title insurance is a very high-risk proposition for the parties and the brokerage firms involved.
The agents should notify their respective clients to obtain independent legal counsel.  If the parties refuse to hire counsel, it is recommended that the agents resign their agency roles in the transaction.
An Agent Sitting an Open House for the Listing Agent Cannot be Compensated Directly by the Listing Agent
FACTS:
A listing agent has hired an agent licensed with another brokerage firm to sit open houses. The listing agent pays the other agent hourly and pays by way of check issued directly to the other agent.
ISSUE:
May the other agent accept direct payment from the listing for sitting the open houses?
ANSWER:
No.
DISCUSSION:
Sitting an open house is activity that requires a license.  See ADRE Substantive Policy Statement No. 2017.01.  As such, the other agent my accept compensation only from the broker with whom they  are licensed.  A.R.S. §32-2155(A).  The agent therefore may not accept compensation directly from the listing agent.
---
March 31, 2020
What Does Governor Ducey's Shelter Order Mean for REALTORS®?
With nearly 100,000 people working in real estate and related industries, it's essential Arizona REALTORS® understand how governmental decisions are impacting their business.
Governor Ducey has issued numerous Executive Orders to deal with this evolving crisis, most recently the "Stay home, Stay healthy, Stay connected," policy to limit the spread of COVID-19.
What does this really mean for REALTORS®? Assistant CEO and General Counsel Scott Drucker has an analysis that will help you better understand this latest development.
---
AZ REALTORS® Ready To Assist Buyers and Sellers, Taking Extra Precautions
From technology, safety precautions and issues related to potential delays, your state association stands ready to help you navigate the heath and economic crisis.
The demand for real estate remains strong and Arizona REALTORS® has compiled information and resources to help you serve your clients and our community.
---
COVID-19 Causes Suspension of Some Evictions
Arizona Governor Doug Ducey recently issued two Executive Orders dealing with the prohibition of "Essential Services" and the postponement of certain evictions.
In this article, Arizona REALTORS® Assistant General Counsel Nikki Salgat identifies commonly asked questions and answers for tenants, landlords and property managers based on what we know to date.
---
TransactionDesk Virtual Training
While attending TransactionDesk classes in person is off the table during this period of social distancing, you can still enjoy virtual classes from the comforts of home.
Take a few minutes and watch recorded webinars on Authentisign and TransactionDesk without ever changing out of your favorite sweats and 80s concert tee shirt you've got on.
---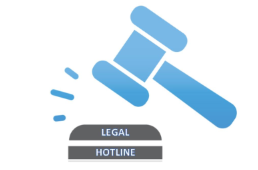 Providing Guidance to a For Sale By Owner (FSBO) Could Create an Agency Relationship
FACTS:
The buyer's agent presented an offer on a property that was for sale by owner ("FSBO"). In connection with the Purchase Contract, the seller executed the Arizona REALTOR® Unrepresented Seller Consent. During the course of the escrow, the seller has asked the agent multiple questions regarding price, a response to the Buyer's Inspection Notice and Seller Response, repairs to be made and title issues. The buyer's agent has answered some but not all of the questions posed by the seller.
ISSUE:
Has the buyer's agent created an implied dual agency by assisting the unrepresented seller even though the parties signed the Unrepresented Seller Compensation Consent Agreement addressing the various duties owed?
ANSWER:
See discussion.
DISCUSSION:
Agency can be either expressed or implied. Warren v. Mangels Realty, 23 Ariz. App. 318, 533 P.2d 78 (App 1978). Providing advice to and otherwise assisting an unrepresented seller could give rise to an implied agency relationship with that seller. Haldiman vs. Gosnell, 155 Ariz. 585, 748 P.2d 1209 (1988.). The buyer's agent should therefore provide no further assistance to the seller and should also remind the seller, in writing, that the buyer's agent is not representing the seller in the transaction.
Buyer Must Provide Seller a Copy of a Termite Report Obtained During the Inspection Period
FACTS:
The buyer and seller entered into an Arizona REALTOR® Residential Resale Real Estate Purchase Contract (Contract). During the inspection period, the buyer elected to cancel the Contract based on the results of a termite inspection obtained by the buyer. The seller did not contest the cancellation and further agreed to refund the buyer his earnest money. However, the seller did ask for a copy of the termite report. The buyer refuses to provide a copy.
ISSUE:
Is the buyer required to provide a copy of the termite report?
ANSWER:
Yes.
DISCUSSION:
The Contract provides at lines 222-223: "Buyer shall provide Seller and Broker(s) upon receipt, at no cost, copies of all inspection reports concerning the Premises obtained by Buyer." The buyer is therefore contractually obligated to provide the termite report to the seller.
---
March 24, 2020
Coronavirus & AZ REALTORS®
To help members navigate the evolving crisis with COVID-19 and its impact on our health and the real estate industry, we've developed a comprehensive webpage to provide Arizona REALTORS® with the latest information and resources.

Members can log in and access important FAQ's on conducting business as well as guidance from NAR, opportunities for online continuing education, plus updates on events and meetings.
---
Vetted, Relevant & Engaging
Have you ever purchased or invested time in something only to be left somewhat disappointed?

To help Arizona REALTORS® invest their time and resources wisely, we've established the Learning Assurance Seal to provide you additional peace-of-mind when selecting the real estate education courses.
---
Tech Helpline to the Rescue!
Not only are Arizona REALTORS® taking steps to prevent the spread of coronavirus, members are taking advantage of Tech Helpline to protect themselves from scammers and hackers.

Late last week, we were alerted that Tech Helpline successfully thwarted an attempt to gain access to a member's computer in the midst of the attack itself!
---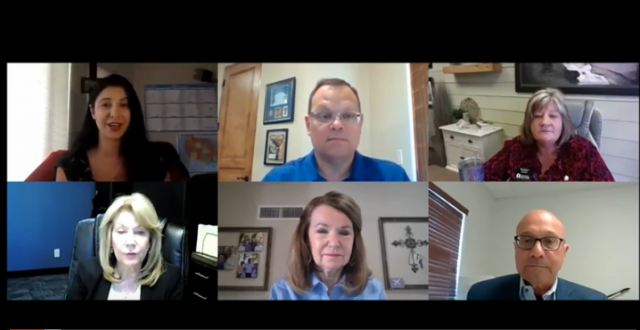 Did you miss the COVID-19/Coronavirus live-streaming webinar featuring speakers representing Arizona REALTORS®, Escrow/Title industry & Mortgage Lending communities? They discussed issues clients may be experiencing with their transactions and shared their experiences.
---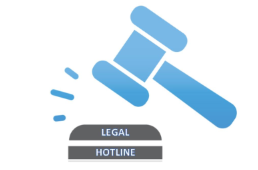 A Listing Agent Must Disclose Known Material Facts Even if Instructed by the Seller Otherwise
FACTS:
The seller is verbally abusive to the listing agent. The seller has also instructed the listing agent not to disclose to potential buyers that an oleander hedge encroaches onto the neighbor's property.
ISSUE:
Must the listing agent follow these instructions?
ANSWER:
No.
DISCUSSION:
The listing agent must disclose all known material facts regardless of instructions from the seller. See A.A.C. R4-28-1101. Additionally, the listing agent may want to consider terminating the relationship based on the seller's issuance of instructions contrary to law and the seller's abusive behavior.
Listing Agent is Required to Submit All Offers Received
FACTS:
The seller told the listing agent that he did not want to accept any offers from investors.
ISSUE:
Must the listing agent present offers from investors in spite of the seller's instruction?
ANSWER:
See discussion.
DISCUSSION:
The seller indicated that he would not accept any offers from investors. However, he did not instruct the listing agent not to present offers from investors. Thus, the listing agent is required to present all offers. See AAC R4-28-802 (B).
---
March 17, 2020
Annual Convention Cancelled
In light of the increasing concerns regarding the coronavirus, and in an abundance of caution, Arizona REALTORS® leadership has made the difficult decision to cancel the 2020 Arizona REALTOR® Convention which was scheduled for March 24th-26th at the Renaissance Phoenix Glendale Hotel & Spa.

This decision was not made lightly, and every alternative option was weighed before reaching the ultimate decision to cancel the annual Convention.
---
CMAs w/RPR ASAP
Having immediate access to comps is a tremendous asset when working with clients out in the field. Now, with RPR's Comps Analysis Express, REALTORS® can create CMAs simply with a phone or tablet.
---
Curiosity Can Kill Your Computer
As Americans surf the web for information about the spread of COVID-19, people must also protect their computers from cyberattacks attempting to infect our computers with malware. Learn about the different tactics these unscrupulous hackers use in an attempt to access our computer systems.
---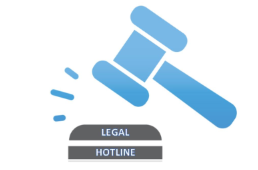 Broker Must Produce Subpoenaed Documents
FACTS:
The broker received a subpoena from the Superior Court to produce its file in a civil litigation. The broker is not a party to the litigation but did represent a party during the transaction at issue.
ISSUE:
Does the broker's duty of confidentiality prohibit him from producing the documents requested in the subpoena?
ANSWER:
See discussion.
DISCUSSION:
Generally speaking, a brokerage owes its client a duty of confidentiality. This means that the broker may not divulge transaction documents or information to a third party without its client's consent. However, a subpoena is in essence a court order commanding the delivery of the documents. The court order trumps the duty of confidentiality. In other words, the broker should comply with the subpoena and produce the requested documents.
Note: Any personal information, such as social security number, date of birth, etc. should be redacted from any documents before they are produced.
Buyer May Cancel Based on the Disclosure of a New HOA Rule in an Updated SPDS
FACTS:
While escrow was pending, but after the inspection period, the HOA passed a regulation requiring that all homes in the subdivision be painted a specific color. Based on the new HOA regulation, the home at issue must be painted. The seller updated the SPDS to reflect this information. The buyer does not like the mandated color and does not want to spend the additional money necessary to paint the house.
ISSUE:
May the buyer cancel the transaction based on the new HOA rule?
ANSWER:
Yes.
DISCUSSION:
Pursuant to Section 4f of the Residential Resale Real Estate Purchase Contract, the buyer has five (5) days after receipt of a SPDS or any updates thereto to cancel the transaction based on newly disclosed information. Here, because the obligation to paint the house is not acceptable to the buyer, the buyer has five (5) days after receipt of the updated SPDS to cancel the transaction.
---
March 10, 2020
Coronavirus Guidance from NAR
You've no doubt seen press coverage pertaining to the coronavirus outbreak, and heard about the recent cancellation of some large, global gatherings.
The PDF is available to download HERE.
---
TRID apply to construction loans?
While the Truth In Lending Act and RESPA made our lives easier by consolidating four disclosure forms into two, questions on how to correctly apply the rule on construction-related loans have arisen.
To help Arizona REALTORS® better understand recent clarifications issued by the Consumer Financial Protection Bureau, our very own General Counsel and Assistant CEO Scott Drucker outlines which types of loans are now subject to TRID's integrated disclosure requirements.
---
AZ Housing Vitality Outlook
Looking for a few additional talking points to share with potential clients? Just looking for economic insights to help prepare your business for the upcoming year?

This week we're featuring the Arizona Housing Market Vitality Forecast which not only includes a statewide outlook, but it also breaks down regional forecasts as well.
---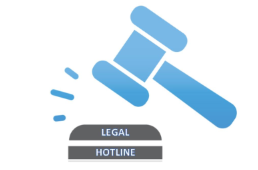 Landlord Cannot Recover Full Rent from Breaching Tenant Where a Replacement Tenant Was Found
FACTS:
The tenant breached the lease and vacated the premises six months early. The landlord marketed the property and was able to obtain a replacement tenant with a rental rate $250 more per month than what the original tenant was paying.
ISSUE:
May the landlord pursue the original tenant for the full amount due for the remaining six months of the lease?
ANSWER:
See discussion.
DISCUSSION:
Generally, a landlord has a duty to take reasonable steps to mitigate damages in the event of a tenant's breach. See A.R.S. § 33-1305 and Dushoff v. Phoenix Co., 23 Ariz. App. 238, 532 P.2d 180 (1975). Here, the landlord was able to mitigate his damages and locate a tenant who was willing to pay more money on a monthly basis. As such, the landlord may not pursue the tenant for the full amount due under the original lease. The landlord would be limited to pursuing the amount of money, if any, in lost rent during the time the home was vacant, any repair expenses, and the marketing expenses incurred to find a new tenant, all balanced against the increased rent received from the second tenant.
A Licensed Contractor is Required to Make BINSR Repairs Where a Permit is Required or the Repair is in Excess of $1000
FACTS:
In the BINSR, the buyer asked for certain plumbing and electrical repairs. The seller intends to hire an unlicensed handyman to make the repairs.
ISSUE:
Must a licensed contractor be utilized to make all repairs if requested by the Buyer in the BINSR?
ANSWER:
See discussion.
DISCUSSION:
Generally, a contractor's license is required by statute for work which the aggregate contract price, including labor and materials, exceeds $1,000 in value or requires a permit. Thus, to the extent that the repairs exceed $1,000, the seller is required to hire a licensed contractor to make those repairs. See A.R.S. §32-1121(A)(14) for details on the statutory exemptions from contractor licensure for work that does not exceed $1,000.
---
March 3, 2020
Wells 101
With more than 120K Arizonans getting their water from a private well, are you prepared to talk with your clients about the procedures, rules, regulations, and forms that will be a part of their transaction?
WATCH WEBINAR
BONUS INFO: GUIDE FOR OPERATING SHARED WATER WELLS IN AZ
---
Preformed Pixels
For Arizona REALTORS®, creating Templates in TransactionDesk can reduce the time it takes to complete required documents as well as ensure accurate information is on their forms.
Our TDESK TEAM has a quick step-by-step primer on how to create these templates so you can start adding minutes to your day.
---
¿Pueden Tus Clientes Leer Esto?
Can your clients read the title of this article? If so, they may be interested to know that Arizona REALTORS® has translated its most often used forms and advisories into Spanish.
---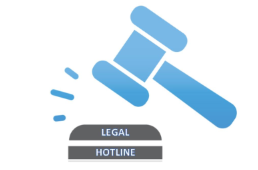 An Affidavit of Disclosure is Mandated by Statute and May Not be Waived by the Parties
Description for this block. Use this space for describing your block. Any text will do. Description for this block. You can use this space for describing your block. Description for this block. Use this space for describing your block. Any text will do. Description for this block. You can use this space for describing your block.
FACTS:
The buyer submitted an offer on a home in an unincorporated and unsubdivided area. As part of the offer, the buyer requested an affidavit of disclosure. In the counter offer, the seller refused to provide an affidavit of disclosure.
ISSUE:
May the parties waive an affidavit of disclosure when otherwise required?
ANSWER:
No.
DISCUSSION:
When property being sold is in an unincorporated and unsubdivided area, an affidavit of disclosure must be provided by the seller at least seven days before the close of escrow. A.R.S. § 33-422. Accordingly, the affidavit of disclosure may not be waived by the parties.
Inoperable Car Does Not Give the Buyer the Ability to Cancel the Real Estate Contract
FACTS:
The buyer and seller entered into an Arizona REALTOR® residential purchase contract. Subsequently, in an addendum, the seller agreed to convey several cars on the Property to buyer as part of the transaction.
ISSUE:
Can the buyer cancel the purchase contract upon finding out one of the cars does not run?
ANSWER:
See discussion.
DISCUSSION:
Probably not, Section 6j of the Contract provides that the buyer can cancel within the Inspection Period if the buyer "disapproves of items as allowed herein." This language references Section 6a of the Contract, which specifies the items which the buyer can investigate during the Inspection Period. All of these items relate to the real property, and not personal property. Therefore, the buyer cannot cancel because one of the cars is inoperable.
---
February 25, 2020
Mary Lee Greason Award
During last week's Professional Standards Workshop, Arizona REALTORS® took the time to recognize a member with the Mary Lee Greason Excellence in Professional Standards Award. The honor is bestowed upon someone who has exhibited a passion for professional standards through exceptional service, commitment, preparation, and leadership.
---
Arizona's Youngest REALTOR®
All of us remember the 𝑾𝑯𝑶 𝒐𝒓 𝑾𝑯𝑨𝑻 that got us into the industry. While some people came into real estate later in life, some figured it out much earlier. While we were more interested in the latest Journey record or Star Wars movie, we recently became aware of a young man who became a REALTOR® while still in High School late last year and we had to meet him.
---
Counting Arizona
We all know that the number of people living here grows each day. Whether it's one of Arizona's 5 C's, (Climate, Citrus, Cattle, Cotton or Copper) or something else, we need to have the resources and infrastructure in place when the next million people move to the Grand Canyon State.

That's why it's so important we get an accurate count of the people who already live here. In just a few weeks the U.S. Census Bureau will begin the process and Arizona REALTORS® can help make sure our communities get back what they pay in via their annual tax bill. In this short video, Sindy Ready, the 2020 Scottsdale Area Association of REALTORS® President reveals how you can get involved, and make a little $$$ while doing it!
---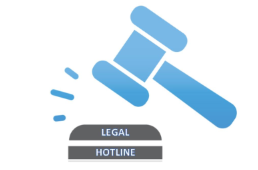 FACTS:
The licensee is running late for a property showing and asked her assistant to unlock the door in advance.
ISSUE:
Can an unlicensed assistant unlock a home for a licensee in the event the licensee is late?
ANSWER:
See discussion.
DISCUSSION:
Pursuant to Arizona Department of Real Estate in Substantive Policy Statement number 2017.01, an unlicensed assistant may unlock a home for a licensee so that the licensee can show a client the property or preview the property. However, the unlicensed assistant may not have any discussions pertaining to the property.
FACTS:
A property management company has a swimming pool barrier policy for tenants with children. This policy requires tenants with children to install a fence or otherwise comply with swimming pool barrier laws. Furthermore, at the termination of the tenancy, the tenant is required to remove the fence or other improvements at the tenant's expense.
ISSUE:
Is this policy in compliance with Fair Housing laws?
ANSWER:
No.
DISCUSSION:
Familial status (including tenants with children) is a protected class under Fair Housing laws. If the property management company has a policy which places conditions or restrictions upon the rental because of familial status, e.g., compliance with swimming pool barrier laws, the property management company has probably committed a discriminatory act under the Fair Housing laws. See A.R.S. §41-1491.01.
---
February 18, 2020
Presidential Preference Election
Today is the deadline for people to register to vote in Arizona's March 17th Presidential Preference Election.
This year, the Democratic Party is the only political party holding a Presidential Preference Election. To participate, a voter must be registered as a Democrat by 11:59 p.m. tonight. You can register HERE, or visit our webpage for more information on upcoming elections, candidates and how to participate in the rest of Arizona's elections in 2020.
Digital Document Depot
One of the many features available in TransactionDesk is unlimited storage. This week, our TDESK experts walk you through the steps to save your documents in DocBox.
Silver Tsunami Causing Homelessness?
According to a recent study released by the Maricopa Association of Governments, the number of unsheltered homeless has jumped a staggering 200% over the last six years.
As the cost of housing continues to increase, it's becoming more important to find solutions for Arizona's most vulnerable people. While there may not be an easy solution, Arizona REALTORS® are partnering with the Arizona Community Foundation to build a dedicated funding source for nonprofit agencies that build and operate permanent supportive, low-income and working poor housing units.
HOW YOU CAN GET INVOLVED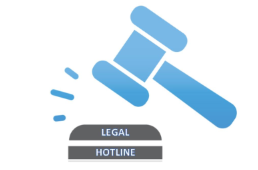 True / False
Dual Agency Applies to the Entire Brokerage Firm
FACTS:
The Parties entered into the Arizona REALTORS® Residential Resale Contract. Agent A represents the buyer and Agent B represents the seller. Both agents are licensed with the same brokerage.
ISSUE:
Which box should be checked in the Agency Confirmation section of the Arizona REALTOR® Residential Resale Contract (lines 449-450 and lines 463-464)?
ANSWER:
See discussion.
DISCUSSION:
The "both Buyer and Seller" box at lines 450 and 464, respectively, should be checked because the same brokerage represents the buyer and the seller, even though two different licensees represent the individual parties.
True / False:
The Buyer is Obligated to Investigate Insurance Premiums During the Inspection Period
Description for this block. Use this space for describing your block. Any text will do. Description for this block. You can use this space for describing your block. Description for this block. Use this space for describing your block. Any text will do. Description for this block. You can use this space for describing your block.
FACTS:
The parties closed escrow based on a fully executed Arizona REALTORS® Residential Resale Contract. After closing, the buyers discovered that homeowners' insurance premiums will be approximately 5 times more than they anticipated based on a prior fire in the home. The fire and resultant repairs were disclosed by the seller in the transaction. The buyers are demanding that the buyers' agent reimburse them for the cost of the additional insurance premiums for the time they own the house, which the buyers estimate at 10 years.
ISSUE:
Is the buyers' agent legally obligated to pay the unexpected insurance premiums?
ANSWER:
Probably not.
DISCUSSION:
There is a trend with the Arizona appellate courts to enforce risk shifting provisions in contracts. For, instance the language warning the buyers to investigate square footage if it was material to them was enforced by the Court in Elm Retirement vs. Callaway, 226 Ariz. 287, 246 P 3.d 938 (App. 2010). The language regarding insurance is akin to the square footage language enforced by the Court of Appeals. The insurance language (lines 237 through 239) provides:
IF HOMEOWNER'S INSURANCE IS A MATERIAL MATTER TO THE BUYER, BUYER SHALL APPLY FOR AND OBTAIN WRITTEN CONFIRMATION OF THE AVAILABILITY AND COST OF HOMEOWNER'S INSURANCE FROM THE BUYER'S INSURANCE COMPANY DURING THE INSPECTION PERIOD.
(emphasis in original)
Based on the quoted language, the buyer's agent should not be obligated to pay the increased insurance premiums. Independent legal counsel should be consulted.
---
February 11, 2020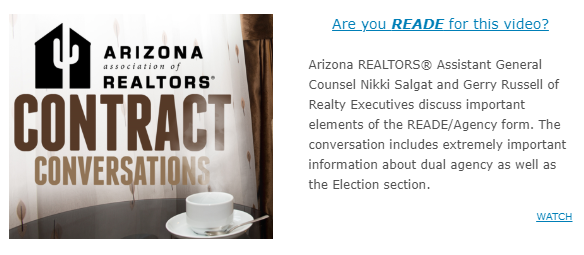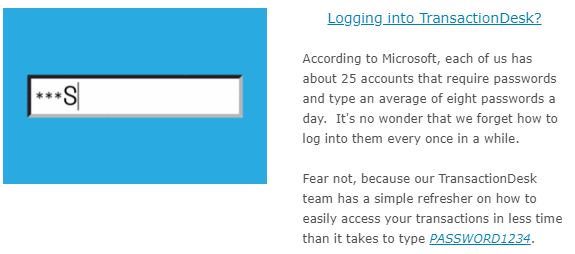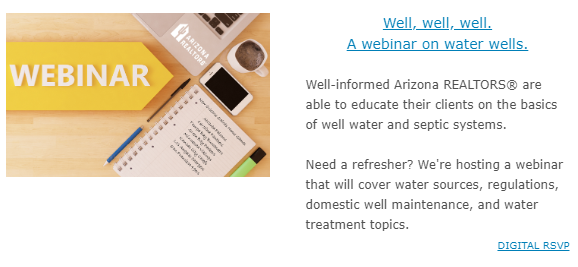 ---

Licensees Must Advise Clients to Obtain Counsel Regarding Pre/Post Possession Agreements
The Broker Has Immunity for Failure to Supervise if Immediately Reported to ADRE
---
February 4, 2020
Problem: Homelessness /// Solution: AZ Housing Fund
With more than 10K individuals looking for housing, the growing number of homeless living in Arizona is nearing crisis levels.

While there isn't an easy solution to completely solve the problem, one organization has developed a mechanism where people can help reduce homelessness. Combined with the Arizona REALTORS® supported ESCROW DONATION PROGRAM, better days lie ahead for low income and the working poor.
New Guidance for Assistance Animals
Housing providers are often faced with tenant requests for assistance animals. While accommodating some requirements can be fairly straight forward, others can be more difficult.

To help people understand the complex regulations of the Fair Housing Act, specifically the rules related to assistance animals, the Department of Housing and Urban Development recently issued formal guidance to help clarify many of the issues that have come up during these conversations with tenants with disabilities.

In this article, Arizona REALTORS® Assistant General Counsel Nikki Salgat provides an in-depth analysis of the significant clarifications and discusses the best practices outlined in the official notification.
Accessing Accessibility
Some of our clients face unique challenges when looking for a home that meets their accessibility requirements.

In this special column, the founder of AbleUSA reveals how Arizona REALTORS® can best help seniors or others with special needs through the process and find a place they are comfortable calling home.

---
January 28, 2020
Blight to Beauty
REALTORS® know better than most how important a vibrant, welcoming community can be. Not only is it important to our clients, but it's also a point of pride for those who already live there.

However, we all come across so-called "eyesores" that we would like to see transformed into something that makes the neighborhood an even better place to live.

Did you know that NAR has grants to do just that?
REAL ESTATE & REAL ID
In just over 250 days, the Driver License most of us have will no longer be accepted to fly or enter federal buildings. However, does the REAL ID ACT have any impact on REALTORS? What about our mortgage partners who have to verify identity?

Just recently, an Escrow Officer in Arizona ran into an out-of-state ID that had "Not for REAL ID Purposes" written on it. Is this ID acceptable? What should she do?
TransactionDesk® Tips & Fab Features
The reviews are in! As more and more Arizona REALTORS® begin to use TransactionDesk®, most are finding it to be a better forms platform.

Since its implementation, nearly 10,000 users have completed 50K transactions.

BINSR May Continue on Additional Pages
No Requirement That Home Comply With Current Building Code
January 21, 2020
REALTOR® DAY AT THE CAPITOL
Less than 24 hours into the 54th legislative session, Arizona REALTORS® met with state leaders to express their concerns and advocate for the industry.
NEW CPOA ADDENDUM
As the number of commercial properties governed by an association similar to an HOA has grown, it became clear that Arizona needed a form that formally discloses fees that become payable upon close of escrow.

Recently, a dedicated group of individuals set out to create the Commercial Property Owner's Association Addendum.
PROFESSIONAL STANDARDS WORKSHOP
When can a seller compel arbitration? Who can file an ethics complaint? Who actually has the right to due process? If you need a refresher on Professional Standards, we've got an important workshop coming up!
LEGAL HOTLINE
T/F Agent May Not Procure Employment Agreement from Party Subject to Existing Exclusive EA
T/F Agent Must Recommend Professional Advice Prior to Pre-Possession Agreement
---
January 14, 2020
Residential Purchase Contract to be Revised
Arizona REALTORS® will soon an updated Residential Purchase Contract with three important revisions.
Solar Lease / Solar Loan Assumption Addendum
Smart Home Devices
Seller Concessions
New App Lets You Personalize and Share Social Media Content
Did you know that a new app provides you with a powerful tool to easily access, personalize and leverage "That's Who We R" campaign assets across social marketing channels? It's true and takes only a few minutes to set up. Don't believe us? Listen to Shane Cook from South East Valley Living talk about the technology.
Adding Forms to Transactions
This week's hot tip is all about adding standalone forms in TransactionDesk. Our experts lay it out in five easy steps.
LEGAL HOTLINE
T/F Buyer Cannot Waive Requirement of Affidavit of Disclosure
T/F The Seller Must Provide An Affidavit Of Disclosure
When The Property Is Not Subdivided In An Unincorporated Area
---
January 7, 2020
Buyer Contingency Addendum
Arizona REALTORS® have dozens of forms that make complex financial transactions manageable. While each form itself is valuable, special attention should be paid to the Buyer Contingency Addendum.

In this Contract Conversation, our Assistant CEO and General Counsel Scott Drucker and Stephen Gomez of Real Living Properties For You discuss the form and reveal several areas where REALTORS® need to be extra careful.
zipForm Benefit Transition
With access to MLS Connect and zipForm Mobile set to expire during the second week of January, Arizona REALTORS® are making their final decisions whether to purchase these zipForm add-ons or utilize the TransactionDesk platform which offers comparable services at no cost.
LEGAL HOTLINE
T/F Listing Broker Cannot Disclose Halfway House for Recovering Alcoholics
T/F Team Leader and Member May Agree Upon Dispute Resolution Methods
---
December 31, 2019
High Performance Brands
Are you choosing the best elements to reinforce your brand?
Laura Monroe, one of the nation's leading brand management consultants, reveals how we can better attract and retain clients with a sustained commitment to build our personal brand.
Profile Perfection
Is one of your New Year's resolutions to make sure your information is accurate in TransactionDesk but unsure how to make the changes? Fear not! Our experts can make sure that this is one resolution you can keep!
LEGAL HOTLINE
An Agent Should Not Represent A Family Member In A Dual Agent Transaction
Listing Broker Can Show Offers to Competing Buyers
---
December 24, 2019
Phishing Scams: What To Do
We're all getting better at spotting an obvious phishing attempt from a so-called Prince asking for $100,000 and our social security number. However, today's cyber criminals come up with far more sophisticated ways to try and steal our identities, access confidential documents or even hold our information hostage.

With all of these fraudulent emails and scams circulating the internet, what should REALTORS® do when they catch a phishing scam?
Cutest Companion Contest
We debate a lot of "important" things at Arizona REALTORS®. While arguments about whether hot dogs are a sandwich and if cereal is really a soup get heated, nothing stirs up more controversy than the discussion about the annual Cutest Companion Contest.
Arizona REALTORS® forms
Arizona REALTORS® have licensing agreements with the industry's leading transaction management companies.

These partnerships help members access state association forms, local REALTOR® association forms, and multiple listing service forms via their respective platforms.
LEGAL HOTLINE
T/F Can a landlord limit occupancy to two persons per bedroom without violating Fair Housing Laws?
T/F Must real estate licensee comply with Fair Housing Act even with personal residence?
---
December 10, 2019
NAR Three Pillars
With less than twelve months to next year's elections, the REALTOR® Party recently reaffirmed its commitment to protecting homeownership, private property rights, and strengthening communities.
Never Underestimate Your REALTOR Role
Special guest column from one of the 100 Most Influential Real Estate Leaders in America.
Customizing your Emails on TransactionDesk
We all know how important it is for us to brand our promotional materials. Did you know that it's easy to include a signature and logo to your emails as well?
LEGAL HOTLINE
T/F A Registered Sex Offender is not a Member of a Protected Class Protected by the Fair Housing Laws
T/F Buyer Should Receive Return of Earnest Money when Property doesn't Appraise for the Purchase Price
---
December 10, 2019
2020 Code of Ethics Changes
To keep up with a continuously evolving industry, NAR routinely makes changes to these standards, and this year we've got several. Click the link for our report on the updates. After all, Arizona REALTORS® seek to be the "Best Prepared Real Estate Practitioners with the Highest Standards!
Cooperation and Courtesy
In this special column from the Wisconsin REALTORS® Association, Debbi Conrad writes that licensees are best served when they perform their duties with civility, candor, diligence, respect, courtesy, cooperation, and competence.
Create a Clause on TransactionDesk
Clauses save you time by storing the phrases or wording you commonly use for transactions. With this feature, you can create general clauses that can be reused in multiple forms.
LEGAL HOTLINE
---
December 3, 2019
Mack in a Minute
Earlier this year, the legislature made it easier for out-of-state REALTORS® to transfer their license here, but there are specific qualifications people must meet before they become an Arizona REALTOR®. In these short videos, Rick Mack clears up some common misconceptions and sheds some light on the process.
¿Pueden Tus Clientes Leer Esto?
Can your clients read the title of this article? If so, they may be interested to know that Arizona REALTORS® has translated its most often used forms and advisories into Spanish.
Formula for Legislative Success 31+16+1=?
These numbers, (31 votes in the House, 16 in the Senate plus 1 from the Governor) add up to the ability to pass new laws or block bills from ever emerging from the statehouse. But getting the results REALTORS® need from lawmakers isn't possible without our members occasionally flexing their muscles at the capitol.
Mark your calendars, because we've set the date for our annual visit with state legislators.
LEGAL HOTLINE
T/F Landlord Must Provide Two Days' Notice to Access the Residential Property for Showings
T/F The Arizona REALTOR® Form Library does not Contain an Agreement For Sale
---
November 26, 2019
2019 NAR Conference
Miss this year's National Association of REALTORS® Conference & Expo in San Francisco? Don't despair, we've got the highlights!
Using Markups in Authentisign
Authentisign has a great feature that allows you to add text to a document that needs to be signed by your clients.
Realtors® & Red Kettles
For 154 years the Salvation Army has provided assistance to those in need. From homeless shelters and senior housing, to helping families during natural disasters, the Army is there when people need it most.
---
November 19, 2019
---
November 12, 2019
AZ ⚡ DC
Ordinary people are oftentimes thunderstruck by the laws that come out of our nation's capital. We know it's a long way to the top, but for those about to rock, we've got an update from Washington on the issues and concerns that impact Arizona REALTORS®.
WCR UPDATE
Among the many notable speakers during last month's Leadership Conference, those in attendance got an update from the Women's Council of REALTORS®.
Save the Date
The annual Arizona REALTORS® Convention (March 24-26, 2020) is the place to be when you're looking for opportunities to learn, stay tuned-in to best business practices and network.
---
November 5, 2019
---
October 29, 2019
Contract Law 101
A recent court decision by Arizona's Court of Appeals has REALTORS® talking about Anticipatory Breach. This week General Counsel and Assistant CEO Scott Drucker educates us on the ins and outs of a complex issue.
Is it time to update or replace your computer?
While it seems like most technology is out-of-date the moment we take it out of the box, our friends at TechHelpline can help us understand when its time to update our technology.
Annual Reports
Each year Arizona REALTORS® Committee Chairs give an overview of the activities and accomplishments of their respective committees at the annual Leadership Conference.
---
October 22, 2019
---
October 15, 2019
Court Examines AZ REALTORS® Purchase Contract
With roughly 70 transactional documents available for use by our members, sometimes Arizona REALTORS forms are subject to judicial interpretation as a part of litigation between buyers and sellers. In one recent lawsuit, the Purchase Contract became the center of a dispute where the seller accused the buyer of breach of contract related to the Additional Terms section of the Contract. Was the form clear? Did the court enforce its terms as the Association envisioned when it was created?
Scholarship Contest
Are you an experienced REALTOR® looking for a way to set yourself apart from your competition? Earning your Graduate, REALTOR® Institute (GRI) designation tells prospective clients that you understand the business better than most. While nothing in life is free, we're running a contest where GRI could be FREE for a few lucky Arizona REALTORS®.
Webinars, Classes and Vids, Oh My!
With so little time in the day, finding time for an in-person class or live webinar can be nearly impossible. To make things easier we've created a number of short videos that will get you up to speed on the essential tools you'll find within the program.
October 8, 2019
TransactionDesk, Broker Tools & Superusers
TransactionDesk is loaded with tools to manage your documents and transactions. One feature of the program allows Brokers to assign a Superuser who will be able to manage, review and keep track of Agents' files.
RAPAC RAFFLE
How about a Sonos Beam Soundbar for your TV or a Dyson Supersonic Hair Dryer for twenty bucks? Perhaps a Google Nest Hub at nearly 90% off?  For less than the cost of a sign rider, you could win one of these amazing prizes we're raffling off at the Leadership Conference
AND
support RAPAC at the same time!
Leadership Conference
Join 2020 Arizona REALTORS® President Mary Roberts on October 16-18, 2019 for the Leadership Conference. This conference is designed to provide training, share input, celebrate our 2019 accomplishments and welcome our 2020 leadership team.
LEGAL HOTLINE 
T/F Listing Agreements Belong to the Brokerage, Not the Agent
T/F Parties Are Not Obligated to Use the Standard Arizona REALTORS® Purchase Contract
---
October 1, 2019
Rookie Resources
To help new Arizona REALTORS® get off to a good start, we've posted a tremendous amount of resources for Real Estate Rookies on our website. From information about required forms and showing homes, our Smart Start Video Series features experienced REALTORS® sharing their advice and guidance.
Add a time stamp using Authentisign
Want to add a time stamp on TransactionDesk using AuthentiSign? The right click menu option allows you to do so quite easily.
Unexpected Guest
While REALTOR® SAFETY MONTH officially ended yesterday, keeping ourselves safe is a year-round responsibility.  To wrap up the annual awareness campaign, Arizona REALTORS® President D. Patrick Lewis shares a frightening situation he experienced while showing a house.
LEGAL HOTLINE 
T/F The Buyer is Not Obligated to Sign the Seller Property Disclosure Statement
T/F Listing Agent Must Disclose Co-broke Offering to Seller
---
September 24, 2019
Having Trouble Logging into TransactionDesk or SSO?
Some members using Google Chrome as their web browser are reporting a login problem when trying to access TransactionDesk through Single Sign-On.  To access your account, remove the password and re-enter it manually.
Realtor®Safety Month
According to a recent study, more than half of real estate licencees nationwide have felt unsafe at some point within the last year. This disturbing trend has many REALTORS® taking proactive steps reducing their exposure to risky or dangerous situations they can often find themselves in.

October 1st Forms Revision Release
On October 1, 2019, the following forms will be revised and released via all Arizona REALTORS® forms provider platforms.

Legal Hotline
T/F A Landlord May Treat A Residential Rental as Abandoned Under Certain Circumstances
T/F Landlord Must Hold Tenant's Abandoned Personal Property for 14 Days
---
September 17, 2019
Realtor Caucus Recap
Last week, 200 Arizona REALTORS® gathered in Phoenix to discuss the issues affecting the real estate industry during the 2019 REALTOR® Caucus. Attendees to this year's event heard from national and state political leaders and provided recommendations for legislative or regulatory action next year.
Authentisign Enhancements
Lone Wolf has made a number of enhancements to Authentisign including improvements to the checklist and the document approval process. As you get up to speed, visit our dedicated TransactionDesk® page for a list of tips and tricks, as well as ongoing improvement projects.

Agent Safety Alert Program
We all take steps to protect ourselves from dangerous situations with clients.  But when things go wrong, the REALTOR® community needs to be aware of the problem. That's why Arizona REALTORS® created a program to alert members of critical safety issues.  Watch Region 5 Vice President Eric Gibbs talk about the program and what you need to do to protect yourself.

LEGAL HOTLINE
Advertising Must Identify The Brokerage Involved
Check Do-Not-Call Registry Before Calling FSBO
---
September 10, 2019
Shape your future
Every 10 years, the United States Census Bureau undertakes a mammoth task of counting all the people residing in the United States. This count affects the allocation of funding for our community's public resources (e.g., roads, hospitals, schools), how we plan for the future, and our voice in government.  Learn more about the importance of the 2020 Census and how to participate.
The Down Low w/ Judy Lowe
In the final episode of the Down Low w/Judy Lowe, Arizona REALTORS® President D. Patrick Lewis asks the ADRE Commissioner what is making the phones ring at the Department of Real Estate. You might be surprised at the answer.

Financial Wellness Check-Up
After a long period of economic growth, there is speculation that a downturn is not far off. While many large-scale businesses can absorb a slump in the economy, most small businesses must be proactive to protect their assets and prepare for any bumps in the road.
LEGAL HOTLINE
T/F Cure Notice Sent Via Text Message Is Improper
T/F Cure Notice Must be Delivered to Buyer Through Agent
---
September 3, 2019
Asked and Answered
Arizona REALTORS® strive to provide useful programs and services while working to protect REALTORS® interests at the state, local and federal level.  To ensure the continued alignment with that mission, we periodically send out a survey to the membership for feedback and guidance as we continue to develop short and long-term plans to improve the organization.
What Reciprocity REALLY Means
Arizona's reciprocity law now allows out-of-state REALTORS® to practice in the Grand Canyon Sate.  The change has caused more than a few Arizona REALTORS® to scratch their heads in confusion.  
Authentisign Layouts
Did you know that you can save custom signature layouts when uploading your own documents in Authentisign? In this article from our Business Services Support Team, we walk you through the steps to create and save your custom signature layouts.
LEGAL HOTLINE
T/F A Counteroffer is Deemed to be a Rejection of the Original Offer
T/F Licensed Contractor Required for Repairs That Are Not of a Casual or Minor Nature
---
August 27, 2019
Cute Pet Could Win You $500
Want to dazzle your REALTOR® peers with some puppy dog eyes?  Awe them with the majesty of your feline friend? Perhaps earn some good karma with your chameleon? We've launched the The Cutest Companion contest and entries are just $15 to submit the cutest photo of your pet.
New Law to Ensure Mortgage Lending to Vets
ICYMI: We have a new law on the books that adjusted the seasoning requirements for a VA loan.  The bill, sponsored by U.S. Senator Kyrsten Sinema fixes a technical error and allows veterans to save money and avoid falling prey to predatory lenders
New Disclosures Required on Affidavit of Disclosure
Starting today, the state requires additional disclosures on the Affidavit of Disclosure.  The new requirements relate to water rights and solar energy devices.
LEGAL HOTLINE
---
August 20, 2019
Wire Fraud Advisory Updated
To address concerns related to the Wire Fraud Advisory, Arizona REALTORS® have revised the document to clear up any appearance of an agency relationship with an unrepresented party.
The Down Low w/ Judy Lowe
Arizona REALTORS®  President D. Patrick Lewis continues his series of conversations with ADRE Commissioner Judy Lowe. This week we're covering their discussions on Teams and this year's "Occupational Licensing; Reciprocity" bill passed into law by lawmakers.
➡️ TEAMS
➡️ RECIPROCITY

TransactionDesk® Tips & Fab Features
The reviews are in!  As more and more Arizona REALTORS®  begin to use TransactionDesk® , most are finding it to be a better forms platform.  But don't just take our word for it.  This week we asked Susan Nicolson of Sun Cactus Realty to give us her review of the program and offer a few tips, tricks and thoughts on how to best get started.
LEGAL HOTLINE
Brokerage Firm Cannot Pay a Referral Fee to a Non-Licensee
An Unsigned Email from an Agent is Not an Offer
---
August 13, 2019
The Down Low w/Judy Lowe
Arizona Department of Real Estate Commissioner Judy Lowe and Arizona REALTORS® President D. Patrick Lewis discuss the complaint process and how the agency works through them.
Arizona REALTORS® Gather for Major Investor Event
While Arizona REALTORS® enjoyed another year of legislative success, a group of real estate pros gathered outside Tucson to celebrate and gear up for another year of work to protect the interests of those working in the industry.
60 Second Real Estate Sound Bite
Pre and Post Possession agreements may seem simple on the surface, but they're a snake's nest of potential litigation.  This month Rick Mack speaks clearly on how you should go about creating these agreements and spells out the risks associated with them.
LEGAL HOTLINE
T/F Seller Must Disclose Potential Adverse Claim to Prospective Buyers
T/F An Arizona REALTORS® Buyer Broker Exclusive Employment Agreement May be Enforced Against Buyer if Listing Agent Refuses to Pay a Commission Split
---
August 6, 2019
Plenty of ways to access Arizona REALTORS® forms
The Arizona REALTORS® has licensing agreements with the industry's leading transaction management companies. These partnerships help members access state association forms, local REALTOR® association forms, and multiple listing service forms via their respective platforms.
What's True regarding TransactionDesk?
Former politician and diplomat, Daniel Patrick Moynihan, once said "Everyone is entitled to his own opinion, but not to his own facts."  However, with the advent of social media, the line between fact and opinion seems to blur. This trend can prove perilous as it leads to misinformation. So, let's separate fact from fiction and debunk some of the myths regarding TransactionDesk.
Trouble with uploading documents in eSign?
Some users have found that eSign "times out" when attempting to upload documents larger than 1MB. While eSign is working on upgrading the PDF processor which will solve this issue, we have developed a workaround.
LEGAL HOTLINE
T/F Seller May Not Unilaterally Change Time Frames in the Residential BINSR
T/F Listing Agent Must Disclose that Solar Panels are Leased, Not Owned
---
July 30, 2019
REALTOR® Caucus To Set 2020 Legislative Agenda
This September, Arizona's REALTORS® will gather in Phoenix to provide input on current issues that affect the real estate industry during the 2019 REALTOR Caucus.  The Caucus serves as an opportunity to discuss recommendations for possible legislative or regulatory actions for the upcoming legislative session.
The Down Lowe w/Judy Lowe
In the first of five videos, Arizona REALTORS® President D. Patrick Lewis talks with Department of Real Estate Commissioner Judy Lowe.  In the first installment, they talk about this year's new law passed by the legislature to allow the use of Arizona REALTORS® nicknames on marketing materials.
GEN Z: ARE REALTORS READY?
Ahhh millennials.  The generation seemingly known for avocado toast, selfies and participation awards.  Joking aside, it seems like we know all we need (or want) to know about this trend-setting generation.  But what do we know about Generation Z? What can Arizona REALTORS® expect from nearly 26% of the U.S. population?  They're more than just emojis, YouTube and Doritos.  How are they different from Gen Y? From floppy disks to flip phones, lets take a quick look at the next generation of potential homebuyers.
LEGAL HOTLINE
T/F  Out of State Agent May Not Represent a Party in an Arizona Real Estate Transaction
T/F  Out of State Broker May Not List Property For Sale
---
July 23, 2019
Nightmare Scenario
Imagine. Three years after buying your dream home, a bank you've never heard of tells you they've ordered the sale of your house because the previous owner defaulted on a $5.2 million business loan they took out a decade ago.  That's just what happened a few years ago when unsuspecting homeowners ended up in court fighting against the forced sale of their home.
What would the courts decide?  Would they side with the bank? rule that Arizona's homestead exemption laws protect the new homeowners?
TransactionDesk Update
More than 10,000 Arizona REALTORS® have begun using TransactionDesk.  With 235,000 unique transactions already logged, we're off to a good start.
To help users navigate the program, we've started to gather the best tips and tricks working within real estate's leading transaction management system.
AZ REALTORS® enjoy Tech Helpline
Tech Helpline's friendly, expert computer analysts are U.S. based and comprise a team of the most highly qualified technical support professionals in the tech support industry.
LEGAL HOTLINE
T/F  Listing Agent and Seller are not Required to Disclose Sex Offender in the Area
T/F  Licensee Must Disclose Status In Real Estate Transaction
---
July 16, 2019
July 9, 2019
July 2, 2019
Eminent Domain and the Takings Clause of the Fifth Amendment
Remember when Arizona homeowners were faced with the state's use of its eminent domain power to expand the Loop 202 (a.k.a. South Mountain Freeway) in 2015?  With Arizona's growing population and the need for more and updated modes of transportation, along with infrastructure, the state's eminent domain power will likely continue to be utilized in the future.

Victory for Subsidized Housing Vouchers in Arizona


In September 2018, the subsidized housing community in Arizona began to experience an exodus of landlord participation in housing voucher assistance programs  following an appellate ruling that called into question a landlord's ability to enforce some provisions of the lease and Housing Assistance Provider (HAP) Agreement.
Earnest Money Language in Contract


More frequently, agents are writing phrases into the Purchase Contract about earnest money being nonrefundable after the inspection period.  Learn what attorney Rick Mack has to say about the problems you might be creating for yourself when you use this wording.
June 25, 2019
Risky Relationships
Our business relationships are extremely important to us. From home inspectors to lenders and contractors we routinely interact with people who we've come to trust and enjoy working with.

Arizona School Report Cards


Because of the number of drownings and near-drownings in Arizona, most of which involve small children, most places around the state have enacted swimming pool barrier laws. Generally, these laws require that all affected swimming pools (or certain other contained bodies of water) be protected by an enclosure surrounding the pool area, or by another barrier, that meets specific requirements.
Commercial Listing Platforms
Have you ever tried going into Arizona REALTORS® eSign through Single Sign-On and received an error message? There are two reasons why you might be getting the error message.
June 18, 2019
Association Health Plan in the works for Arizona REALTORS®
Healthcare premiums are not cheap. REALTORS® as sole proprietors/self-employed small businesses understand this all too well. To assist with alleviating the burden of this cost and finding more suitable healthcare, Arizona REALTORS® is working towards a solution – an Association Health Plan.

Understanding pool barrier laws

Because of the number of drownings and near-drownings in Arizona, most of which involve small children, most places around the state have enacted swimming pool barrier laws. Generally, these laws require that all affected swimming pools (or certain other contained bodies of water) be protected by an enclosure surrounding the pool area, or by another barrier, that meets specific requirements.

eSign error via Single Sign-On?
Have you ever tried going into Arizona REALTORS® eSign through Single Sign-On and received an error message? There are two reasons why you might be getting the error message.
---
June 11, 2019
---
June 4, 2019
Broker Involvement Program Recruitment Phone BankNAR Legislative Meeting Recap
Volunteers and staff met at the Tucson Association of REALTORS® offices and held a highly successful Broker Involvement Program recruitment phone bank recently.
¿Pueden Tus Clientes Leer Esto?


Can your clients read the title of this article? If so, they may be interested to know that Arizona REALTORS® has translated its most often used forms and advisories into Spanish.

Tenants in Possession
When your clients buy a home with a tenant in place, can they immediately evict the tenant and move right into their new home? Can they raise the rent and ask for an additional security deposit? Do you know what new owners can and can't do? Learn what the law says from attorney Rick Mack in June's Mack in a Minute video.
---
May 28, 2019
---
May 21, 2019
---
May 14, 2019
100 days and counting…
The Arizona State Legislature has been in session for over 100 days and it doesn't appear as if they'll be adjourning any time soon. Since no more bills can be introduced, the legislators are slowly working through the ones they have left, which makes this a good time to let Arizona's REALTORS® know what bills have been signed into law already this year that could impact their business.
It's My Two Cents
For almost 20 years, Larry King had a weekly column in USA Today titled "It's My Two Cents." The column consisted of short, random quips, insights and opinions and was perfect for busy readers with not a lot of time to spend on long articles.
---
May 7, 2019
---
April 30, 2019
Accommodating Assistance Animals in Rental Housing  By Attorney General Mark Brnovich
Landlords are obligated under fair housing laws to grant reasonable accommodations for their tenant's disabilities if the accommodation would afford the disabled tenant an equal opportunity to use and enjoy the dwelling as a non-disabled tenant.
Arizona's New Cell Phone Law
In today's day and age, technology has allowed for most of us to have the simple convenience of our workplace in our hands at all times with a mobile device.  For REALTORS®, this technology allows us to easily conduct business on the go. In Arizona, however, the laws surrounding the use of handheld devices have been silent, often defaulting to distracted driving laws or a piecemeal of city ordinances that ban the practice of texting while driving.
---
April 23, 2019
---
April 16, 2019
---
April 9, 2019
---
April 2, 2019
Moving at the speed of Government
Arizona is a state on the leading edge in the technology sector, and now innovative and disruptive technologies in the property sector have a home thanks to Governor Doug Ducey when he signed HB 2657 into law on March 21.
Arizona REALTORS® are Stepping up in a Major Way for Statewide Advocacy EffortsMere months after orchestrating an overwhelming victory at the ballot on Proposition 126, individual REALTORS® across the state have been stepping forward to become Major Investors in RAPAC
Legal Hotline

The landlord and tenant execute an Arizona REALTORS® Residential Lease Agreement for a one-year term expiring on February 28th.  The tenant advised the landlord that he was vacating the premises on February 26thand had all of his personal effects removed by February 28th.   Did the lease terminate on February 28th?
The buyer and seller entered into an Arizona REALTORS® Residential Resale Real Estate Purchase Contract.  After the inspection was completed and before the inspection period was over, the buyer submitted a Buyer's Inspection Notice and Seller's Response ("BINSR") that did not identify any items disapproved.  Rather, the BINSR on Page 1 said "see attachment."  The attachment was an addendum reducing the purchase price by $7,000.00 signed by the buyer.  The seller is unwilling to reduce the price by $7,000 and rejected the proposed addendum.  May the buyer cancel based on the seller's rejection of the addendum? 
---
March 19, 2019
---
March 12, 2019
RPAC + REALTOR® PARTY = RESULTS
Few organizations have the record of success that REALTORS® have enjoyed over the last 50 years.  The combined effort at the local, state and federal level have protected our industry and created the opportunity for continued growth.
TransactionDesk®
New member benefit from the Arizona Association of REALTORS®.  Click HERE to find out what's included in this new member benefit and see how you can register for training.

Legal Hotline
---
March 5, 2019
---
February 26, 2019
Advertising Checklist
When advertising, can you answer "yes" to ALL of the Advertising Checklist questions to ensure compliance with Arizona rules and statutes?
ICYMI: TransactionDesk® is Coming!
Arizona REALTORS® will be rolling out TransactionDesk® by Lone Wolf Technologies (Lone Wolf) as a member benefit.

Legal Hotline
---
February 19, 2019
Who Does What?!?
End the confusion and learn what each entity does for you and who you need to call for information.
---
February 12, 2019
---
February 5, 2019
---
January 29, 2019
---
January 23, 2019
---
January 15, 2019
---
January 8, 2019
---
January 2, 2019
---
December 26, 2018
---
December 18, 2018
---
December 11, 2018
---
December 4, 2018
---
November 27, 2018
---
November 20, 2018
---
November 13, 2018
---
November 6, 2018
---
October 30, 2018
---
October 23, 2018
---
October 16, 2018
---
October 9, 2018
---
October 2, 2018
---
September 25, 2018
---
September 18, 2018
---
September 11, 2018
---
September 4, 2018
---
August 28, 2018
---
August 21, 2018
---
August 14, 2018
---
August 7, 2018
---
July 31, 2018
---
July 24, 2018
---
July 17, 2018
---
July 10, 2018
---
July 3, 2018
---
June 26, 2018
---
June 19, 2018
---
June 12, 2018
---
June 5, 2018
---
May 30, 2018
---
May 22, 2018
---
May 15, 2018
---
May 8, 2018
---
May 1, 2018
---
April 24, 2018
---
April 17, 2018
---
April 10, 2018
---
April 3, 2018
---
March 27, 2018 Special Edition
---
March 20, 2018
---
March 13, 2018
---
March 7, 2018
---
February 28, 2018
---
February 23, 2018
---
February 13, 2018
---
February 6, 2018
---
January 31, 2018
---
January 25, 2018
---
January 17, 2018
---
January 9, 2018
---
January 2, 2018