OUTPERFORM
Arizona metro area house prices are forecasted to outperform the national market. Current local conditions support an estimated 6.9% increase in the next twelve months. Arizona's housing market vitality, based on the seven metro housing markets which comprise it, is stronger than that of the overall U.S. and currently ranks the state as twenty second in the nation. Recent changes in local conditions suggest the possibility of improvement in short-term performance.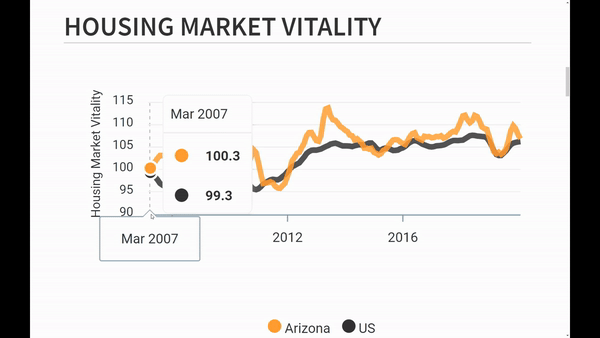 Housing Market Vitality summarizes the impact of economic conditions on future house prices
A value of 100 corresponds to conditions supporting current prices; values less than 100 correspond to a dampening effect, and values greater than 100 indicate a positive effect on house prices. A housing market vitality value can be interpreted as a forecasted growth rate. Hence, a reading of 105.8 can be interpreted as a forecasted 5.8% annualized increase in house prices.
ARIZONA METRO HOUSING MARKETS
Arizona is comprised of seven metro housing markets that account for nearly 95% of the state's population. The markets are unique in their demographics and local economies and exhibit trends that are distinct from the national or state narrative. Each metro market presents its own unique opportunity.
---