Bullhead City/Mohave Valley
Central Arizona
Green Valley/Sahuarita
Kingman/Golden Valley
Lake Havasu
Northern Arizona
Phoenix
Prescott Area
Santa Cruz County
Scottsdale Area
Sedona/Verde Valley
Southeast Arizona
SEVRAR
Multifamily Proposed for Val Vista Square Mixed-Use
by Monica Tapia
By Tasha Anderson for AZBEX
A new multifamily residential project is being proposed for the 55-acre Val Vista Square Mixed-Use Development in Gilbert.
The property, owned by Gilbert Growth Properties, LLC and located north of the Loop 202 San Tan Freeway on Val Vista Drive, currently houses a 60KSF Veterans Administration Medical Clinic and a 9KSF Unison Bank.
In December 2018, The Town of Gilbert's Planning Commission approved a 20.4KSF ALDI grocery store for the site as well.
Now Gilbert Growth Properties, LLC has returned to the town's November 6th Planning Commission study session with a minor General Plan Amendment and a Planned Area Development amendment request to rezone approximately 34.1 acres of that property at the SEC of Val Vista Drive and Pecos Road, in order to allow for an approximately 314-unit urban-style multifamily residential community.
The Val Vista Square multifamily project will consist of four, 4-story buildings with a maximum height of 55 feet, along with one Carriage Unit building. The project's density is proposed at 35 dwelling units per acre.
The arrangement of the buildings will help promote "interconnectivity both inside the residential community and with neighboring developments within Val Vista Square," according to the staff report.
Parking will be included and meet Gilbert LDC standards. Parking agreements between adjacent properties within Val Vista Square may be used if needed to accommodate more parking needs.
"The residential component will spur the development of adjacent employment, hospitality and retail/restaurant uses," the staff report states. "Those users will be attracted by the new resident workforce and the consumer spending brought to Val Vista Square by the new luxury residential community."
"General Plan and Zoning amendments may be heard by the Gilbert Town Council as early as February 2020," according to the staff report. "Design Review may follow by a few months, after which approvals for construction documents will be sought. Construction could begin as early as Fall 2020."
At the first public meeting of an ad-hoc committee formed to study moving part of Eastern Santa Cruz County into Cochise County, state lawmakers heard a lot of complaints from Sonoita-Elgin-area residents about their representation from the Santa Cruz County government.
Even so, of the 10 people who spoke up at Tuesday's meeting, only two said they definitely support a move to Cochise.
"I'm still not sure what I think about the issue and that's part of the reason I'm here," said Sandra Ruppel. "What is apparent is there are a lot of emotions. Especially after the (Justice of the Peace Court) was cancelled here, I feel like we're not represented by our county or our county representatives. That we pay all our money and it goes over there and we don't see the services."
The meeting, which drew about 30 community members to the Sonoita-Elgin Fire District station, marked a public step forward for a movement that has been percolating in the eastern part of Santa Cruz County for several years.
It's fueled in part by frustration with what area residents describe as a lack of representation in the county government, which picked up after county supervisors voted last March to eliminate Sonoita's Justice of the Peace Court.
In response, local residents brainstormed ways to address their concerns, with some discussing the possibility of having Cochise County annex land in the Sonoita-Elgin area.
At Tuesday's meeting, area resident Gary Gilbert was one of two speakers who said they wanted to move to Cochise.
"My taxes continue to go up and I'm getting nothing for it," he said. "My opinion is, I'm willing to roll the dice, I want to go to Cochise County."
State Rep. Gail Griffin (R-Hereford) stoked the annexation flames earlier this year when she introduced a bill in the state House of Representatives that would have formed a committee to study the consequences of a potential move.
After the bill failed in the Senate, Griffin formed a special legislative committee called the Joint Ad-Hoc Committee on County Boundaries, saying that she was acting on behalf of concerned residents.
But it's not clear how many residents in the Sonoita area – a rural region with a population of just over 800 – are up for ditching Santa Cruz County.
Bruce Bracker, the county supervisor who represents the Sonoita-Elgin area, asserted that there wasn't much support for the secession movement.
"I think it's a very small group of very vocal people," said Bracker, a Tubac resident whose district includes eastern Rio Rico, Tubac and Patagonia, as well as Sonoita-Elgin. "And they are smart, they're articulate, and they're organized. But I don't think that the overall feeling in the east county is that they want to leave."
Laura Sink, who has lived in Sonoita for 35 years, said on Tuesday that "people are seeing the grass is greener on the other side. I feel very strongly that going to Cochise County is not going to solve our problems."
But there certainly wasn't a shortage of problems raised at the meeting, including rising tax rates, the shuttered Justice of the Peace Court, new regulations imposed on local wineries, and a general feeling of neglect by the county government.
"Representation in this area is the biggest problem," said Francis Garcia, who said she has lived in the area since 1983 and is not in favor of moving to Cochise County.
Several speakers specifically called out Bracker, who was not at the meeting.
"The first time that I had ever met our representative, Mr. Bracker… he told me right to my face in no uncertain terms that we were a small portion of the part of the county that he governed and made it very clear that it wasn't that important to him," said Michele Cardillo, a longtime resident who supports leaving Santa Cruz County.
Speaking about Bracker, Ruppel added that "he made a big point of cheering himself that he had brought in two large commercial buildings into the Nogales area, which is great, but that helps commerce over there. It doesn't particularly help commerce here. And so my concern is, how do we get an equity of services?"
Bracker told the NI that he spent Tuesday at an annual retreat with other county supervisors from around the state.
He said that he had talked with Griffin privately about the county-line committee. As for the complaints about representation, he added: "I return phone calls and I return emails and even if a constituent is mad at me, I'll sit there and have a conversation with them."
'Commonalities'
Justifying her creation of the special committee to study moving the county line, Griffin told Capitol Media Services in September that Eastern Santa Cruz County residents "feel they have more in common with Cochise County."
And a recent survey distributed by a local group included the question: "Are we a better 'fit' with Cochise County or Santa Cruz County based on: geography, culture, economic activity (wine/cattle), politically, fiscally?"
Gilbert – a veteran and the man who said he was willing to "roll the dice" with a move to Cochise – suggested that Sonoita-Elgin residents were wary of the Nogales area.
"There's a joke going around that the Mexican mafia runs Nogales," he said at Tuesday's meeting.
Glenn Wolfgang, who also spoke on Tuesday, addressed the elephant in the room.
"Are eastern residents of Santa Cruz County afraid of Spanish speakers?" he asked.
"The only commonality the residents of Eastern Santa Cruz County have (with residents of) Cochise County is that we have an increased general ratio of white residents to Hispanics," Wolfgang added.
That prompted a reaction from Cardillo, the resident who complained about Bracker.
"Whoever alluded to the fact that there might be racism here towards Hispanics – that's ridiculous," she said.
David Green, who has been involved in local organizing around annexation, told the NI after the meeting that the movement "has nothing to do with race."
Asked what commonalities the eastern part of Santa Cruz County shares with Cochise County, Green pointed out that Sonoita and Willcox, a community in Cochise County, are both wine regions.
The lineup
The Oct. 29 meeting was the first gathering of the special committee, which will form several working groups to study different issues related to moving the county line and is tasked with reporting on its findings by the end of 2020.
It includes six lawmakers: Griffin; Sens. Andrea Dalessandro (D-Sahuarita), Sylvia Allen (R-Snowflake) and David Gowan (R-Sierra Vista); and Reps. Becky Nutt (R-Clifton) and Rosanna Gabaldon (D-Sahuarita).
The committee also includes Sonoita-Elgin-area residents Green, Todd Bostock, Kent Callaghan and Matt Parrilli; former Cochise County supervisor Richard Searle; Jennifer Stielow, vice-president of the Arizona Tax Research Association; and Craig Sullivan, executive director of the County Supervisors Association of Arizona.
Griffin concluded Tuesday's session by praising the wine industry in Sonoita and telling attendees: "You have a lot of things going for you and we want to listen to you."
For some, that alone felt like a positive change.
Cardillo called out from the audience to thank Griffin for "saying those things about our area."
"It should show everybody in this room something major about what representation really means," she said.
Lennar to buy land for homes in Gilbert – Phoenix Business Journal
Nation's largest homebuilder in escrow to buy key chunk of East Valley land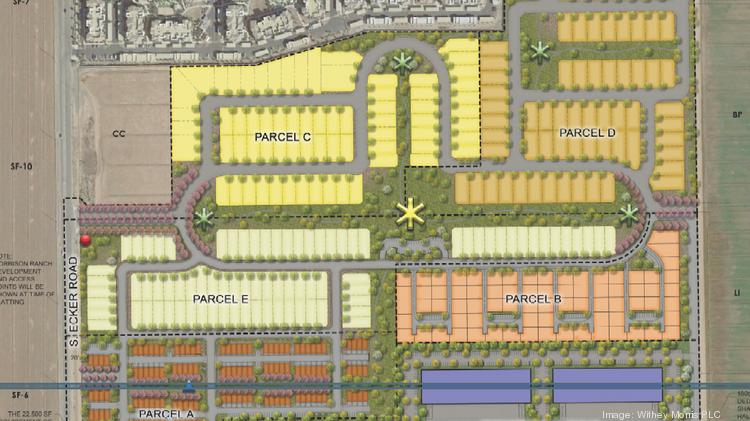 By Angela Gonzales  – Senior Reporter, Phoenix Business Journal
Miami-based Lennar Corp. (NYSE: LEN) is in escrow to buy one of the last remaining large parcels of land in Gilbert.
The deal to acquire 90 acres is expected to close within the next couple of weeks, said Ed Grant, executive vice president of Scottsdale Investment Management, who is selling the land to the nation's largest homebuilder.
Another 26 acres will be set aside for light industrial use, Grant told the Business Journal.
Plans call for beginning development during the second quarter of 2020 and beginning building model homes during the second quarter of 2021, said Jeff Gunderson, senior vice president of land acquisition and development for Lennar.
Located at the northeast corner of Recker and Warner roads, that community will be called Warner Meadow.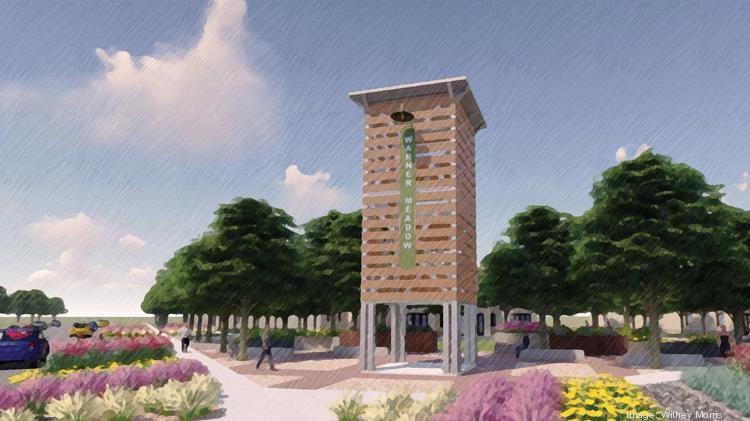 The goal is to have 487 homes in five distinct neighborhoods within Warner Meadow, from attached townhomes to 45-foot-wide single-family detached homes, Gunderson said. It's too early to set prices, he said.
"We will be submitting our preliminary plat to the town of Gilbert before Thanksgiving," Gunderson said. "We're excited because we think it's a great location for residential.
"We think that we were successful in putting a plan together that will really benefit the community in general," he added. "It's the right land use in the right location. It still leaves some light industrial for the town to continue to work on job creation uses for the light industrial component."
But it's been a long haul. The parcel originally was zoned for light industrial and business park uses, Grant said. In fact, the Gilbert Town Council denied the initial application to rezone the land for residential use in December 2018.
Then they hired Adam Baugh, a land use and zoning attorney with Withey Morris law firm. He was able to get it approved unanimously on Oct. 17.
"We spent the last nine or 10 months working closely with all the staff and stakeholders and community folks," Baugh said. "We've been able to listen and spend a lot of time getting feedback and not just bringing in plans. Getting all the stakeholders on board was a hurdle in itself."
There were many sacrifices made to get it over the finish line, Gunderson said.
"Adam got done what another zoning attorney couldn't get done," he said. "Our zoning attorneys and our planners did a great job. It took a lot of perseverance. We worked on this thing for two years to get the general plan amendment and zoning in place."
In the end, the rezoning application was recalibrated to meet everyone's needs, Grant said.
"There really wasn't a market for that much land in this particular location with that use," Grant said. "Really, what we did, was we right-sized the light industrial element. Now we feel we're in a really good spot to be able to find a user or a developer who could come in and make something really special that integrates nicely with the great things Lennar is going to do."
Tucson
WeMAR
KB HOME OPENS COMMUNITY IN GLENDALE, ARIZONA
Homes in Northern Ridge Estates start in the $260,000s.
KB Home (NYSE: KBH) on Friday announced the grand opening of Northern Ridge Estates, a new residential community in Glendale, Arizona.
The new community is ideally situated close to popular entertainment venues, including the Westgate Entertainment District, the State Farm Stadium and Gila River Arena.
"Northern Ridge Estates is a gated enclave of attractively priced single-story homes situated in a highly desirable neighborhood," said Kevin McAndrews, president of KB Home's Phoenix division. "As with our other communities, Northern Ridge Estates is focused on giving home shoppers the opportunity to purchase a new, personalized KB home at a price that fits their needs."
Northern Ridge Estates' commuter friendly location is close to Interstate 10, Loop 101 and Highway 60, and offers easy access to job centers, downtown Phoenix and several entertainment venues. The gated community also provides residents with a playground and greenbelts. The four single-story floor plans at Northern Ridge Estates feature up to four bedrooms and two baths, and range from approximately 1,500 to 2,000 square feet. These new homes showcase desirable design characteristics like great rooms, storage space and designer kitchens. Pricing begins in the $260,000s.
Estrella Opens New Gehan Homes Neighborhood In Its Goodyear Master-Planned Community
Builder's Castillo series offers six distinct floor plans starting in the mid-$200s
Goodyear, Ariz. (November 13, 2019) – Gehan Homes, the latest builder to open in the community, has debuted a 89 lot neighborhood in Estrella by Newland. This is the builder's second neighborhood in the Goodyear master-planned community and is the most recent to open in Lucero, the newest village in Estrella.
The neighborhood features six different floor plans ranging in size from 1,486 to 2,593 square feet and start in the mid-$200s. Single and two-story plans are available, and all plans offer a variety of customizable options focused on creating a home designed for modern, functional living. Options include extended patios, walk-in showers, multi-slide doors, and an owner's bath so homebuyers can customize their new home to fit their tastes and lifestyles.
"As the managing developer of Estrella, Newland strives to bring builders with innovate designs and high-quality craftsmanship into the community. The newest neighborhood to join our lineup is no exception," said William Olson, Senior Vice President and Division Manager for Newland Communities. "Gehan Homes is one of the largest private homebuilders in the United States and has been creating award-winning homes for more than 25 years."
Originally based in Texas, Gehan Homes expanded to Phoenix in 2012 and opened its first neighborhood in Estrella in 2014. The company offers thoughtful homes designed with real life in mind. Plenty of flexible options help ensure every home is personalized to suit the buyer's individual needs and style preferences. As a privately-owned company, Gehan Homes believes in the personal approach to new home building and is committed to providing the highest standard of quality and service throughout the process.
Gehan joins more than a dozen builders currently offering new homes in Estrella. The community features a variety of distinctive neighborhoods with homes in a diverse range of styles, sizes, prices, floor plans, and flexible options. Plans range from 1,220 to more than 3,400 square feet and begin in the low $200s. To learn more about Estrella, call the New Home Information Center at 623-386-1000 or visit estrella.com.
About Estrella by Newland:
Estrella by Newland is a 20,000-acre mixed-use master-planned community located in the City of Goodyear, approximately 17 miles west of Phoenix. Estrella features more than 500 acres of parks and open space including 72 acres of lakes for boating and catch and release fishing, Starpointe and Presidio Residents Clubs, hiking trails, and basketball, volleyball, Pickleball, and tennis courts. Estrella is also home to a Nicklaus-design championship golf course, The Golf Club of Estrella. The land use plan for Estrella calls for approximately 50,000 homes and about 1,600 acres of commercial space, with build-out anticipated for approximately 2032.
Newland, the largest private developer of planned residential and urban mixed-use communities in the United States, is the development manager for Estrella. With over five decades of experience, Newland and its affiliates have completed or have underway over 140 diverse real estate developments in 13 states. estrella.com, newlandco.com.
White Mountain
Yuma
---