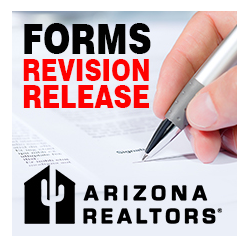 On October 1, 2019, the following forms will be revised and released via all Arizona REALTORS® forms provider platforms.
Buyer Pre-Closing Walkthrough: This form has been revised to make the form universally applicable so that it can be utilized in conjunction with all Arizona REALTOR® purchase contracts. More specifically, "Property" has been inserted next to "Premises" and the form now generally references the Remedies section of the purchase contracts as opposed to a specific section.
Residential Lease Agreement: Landlords and Tenants may be represented by more than one agent, especially when the agents are members of a real estate team. As such, like the Residential Purchase Contract, an additional line has been included under the "Broker on behalf of Tenant" and "Broker on behalf of Landlord" sections to make it easier for more than one agent to be identified on the Residential Lease Agreement when appropriate.
Vacant Land/Lot Purchase Contract: The Market Conditions Advisory has been removed from section 1h titled Addenda Incorporated because the Advisory is not an Addendum as it does not change or supplement the terms of the Contract.
Finally, the Tenant Advisory has been updated. By way of this update: (1) a wire fraud warning has been inserted on the front page of the Advisory; and (2) links have been updated.
---