Part Two: Write to Persuade
About the Series: Real estate agents spend more time writing than ever before, with email dominating modes of communication with clients, banks, other agents and more. Beyond email, agents need writing skills to prepare compelling website text, client handouts and other marketing material. All of this makes writing key to real estate business development in any type of market. Based on the principles of a new book, Before Hitting Send: Power Writing Skills for Real Estate Agents, this series of three articles provides practical how-to writing tips with examples and exercises from scenarios agents face daily.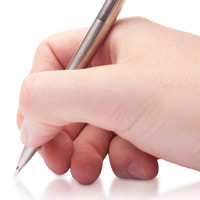 As a real estate agent, you write to persuade in many contexts:  to sell yourself, to defend an idea, to refute an opposing point of view.  In order to persuade a reader, you must use evidence to support your point of view, address viewpoints that conflict with yours, and present a strong conclusion.  Follow the tips outlined below to create a logical argument, using facts and evidence to persuade.
Tip #1:  Focus on the purpose of your argument.
What is your goal?  What do you hope to accomplish?  Why is it important?  What will adopting your point of view achieve?  With the answers to these questions in mind, you will create a more persuasive message.
Tip #2:  Identify your reader(s).
Who are you trying to convince?  Do you know this audience?  What do you know about him, her or them?  Target the message to the reader's unique issues and concerns.
Tip #3:  Get the reader's attention.  
The best way to get a reader's attention is by focusing your argument specifically toward him or her.  Show the reader how an issue, problem or situation affects him or her. To spur the reader to act, focus on that reader's hot points –the issues that you know move him or her to pay attention and take action. What are the hot-button issues that have either been articulated by the reader or that you anticipate he or she will respond with when reading your message?  Prepare for these and address them in the initial message.
Tip #4:  Resolve the issue.
Resolve the issue, problem or situation with your argument.  Explain what your plan or solution will accomplish.  Show how the reader will benefit.
Tip #5:  Marshall the evidence in support of your argument.
After collecting your evidence, set it out in an organized, easy-to-read format.  The opening sentence should introduce your argument or the point you are trying to make.  Next, state the evidence that supports the argument.  Each of these reasons will become the topic sentence for each paragraph in the body of the message.  Use reliable facts to support the argument and avoid emotionally charged language or punctuation.  Typing in all caps followed by a half dozen exclamation marks is not an effective "technique" for convincing a reader that your point of view is the right one.
Tip #6:  Respond to the reader's concerns; don't ignore them.
Respond to these concerns, state why they are not valid and articulate why your point of view is correct.
Tip #7:  Avoid turning the message into an "I" versus "You" message.
A reader is not likely to be persuaded to change his viewpoint if he feels you are blaming him for an issue, talking down to him or dismissing his viewpoint without proper consideration.
Tip #8:  Encourage the reader to adopt your solution.       
A simple and effective way to close the message is to say, "For all of the foregoing reasons, I encourage you to…." Or:  "For all of these reasons, I encourage you to…."
© Kaplan Inc. All Rights Reserved.
PUT YOUR NEW SKILLS TO WORK WITH THIS EXERCISE
Rewrite the following email in which the agent seeks to persuade her seller to reduce the listing price on his property.
To:  samseller@abc.com
Fr:  Vivian@realty.com
Re:  678 Oxford Lane
Sam,
Attached are the recent comps showing the market shift and demonstrating that we are now priced TOO HIGH!!!!  We are chasing the market downward now.  Do you want this to turn into a short sale????!  We have been on the market six months and have received zero offers.  Last week we didn't even have one showing.  Buyers educate themselves by viewing many homes.  They know what is a fair price.  If your home is not competitive in value with those they have seen it will not sell.   I know a price reduction will cut your profit on this property to almost nothing but you need to listen to me.  Lower the price NOW to $322,000 – $349,000.  I know what I'm doing.  Who is the real estate expert here –me or you?  Please just let me do my job!!  Attached are some additional comps.  Call me.
Vivian Edwards
EXERCISE KEY
The exercise can be written in a number of different ways. This key provides just one example.
To:  sam@abc.com
Fr:  Vivian@realty.com
Re:  678 Oxford Lane
Sam,
I understand your opposition to a price decrease and appreciate your frustration in walking from the sale of this "investment property" with virtually no equity.
For a variety of reasons, however, it is imperative that we lower the price on 678 Oxford Lane.  First, we have been on the market for six months and have not received a single offer.  Second, last week, in spite of my team's vigorous marketing efforts, we didn't have even one showing.  Buyers educate themselves by viewing many homes and they know what constitutes a fair price and what is not a fair price.  If your price is not competitive in value with other homes those buyers have seen, your home will not sell.
My concern is that without an immediate price reduction, you will be chasing the market downward and you will end up in a short sale situation.  You don't want that to happen and neither do I.  Please review the attached comps.  They reflect the market shift and demonstrate that 678 Oxford Lane is currently priced too high.  By lowering the price immediately, to a range of $322,000 to $349,000, you will instantly attract buyers to the property, thus accomplishing your goal of getting out of this property and on to new opportunities.
As always, I am happy to discuss this with you further.  Please consider my points and give me a call at your convenience.
Sincerely,
Vivian Edwards
---
---
Power Writing Skills for Real Estate Agents, Part 1
Power Writing Skills for Real Estate Agents, Part 3
---