No one should volunteer their time to a worthy cause because it will benefit their business. The volunteers we profile below were inspired by their passion to make a difference, not by their business plans. Nonetheless, their volunteer activities connected them with new people in their community, provided energy and perspective, and fostered skills that have served them well in their professional life.
"I've met so many new people, all with common interests," says Dru Bloomfield, ABR, CRS, GRI, with John Hall & Associates in Phoenix, about her various volunteer efforts. "And although my intent was to contribute to the community, my activities have generated significant business."
If you've been waiting for someone to reach out and invite you… for your business to get on a better footing… for the perfect opportunity… Stop waiting. Let these stories of REALTOR® activism inspire you to invest your time in a cause that stirs your heart. Do it because you have something to give. Just don't be surprised if you get out as much as you put in.
You Connect with New People
Volunteer work can be a great way to not only expand your sphere but to establish camaraderie in a relatively short period of time. When you're building a home with someone you don't know, it's hard to stay strangers for long. As a volunteer for Habitat for Humanity, Barbara McGill, CRS, GRI, with Long Realty in Tucson, has connected with a cross-section of the community—from builders to bankers, utility company employees to church groups.
Tip: Wear your name badge, a company hat or a t-shirt from a past volunteer experience. It provides an easy way for people to strike up a conversation.
Volunteering also provides you with an opportunity to demonstrate your professionalism. Some of the traits that make for a good volunteer—integrity, follow-through and interpersonal skills, for example—are important to people when they choose a real estate agent. As a board member for the Special Education Parents Advisory Council she helped found and for her neighborhood's HOA, Dru has earned the trust—and the business—of her fellow volunteers.
In addition, volunteerism can be a valuable way to connect with current clients. "When I'm driving clients around, I usually mention to them what I do," says Mary Frieling, with Realty Executives in Phoenix, who started an organization called Phoenix Children's Project (see "Four Ways to Give Back"). "It enhances my real estate business because my clients feel like I'm a real person. They ask me, 'How can I get involved?'"
You Learn New Skills—Or Make Use of Old Ones
You'll likely find that many skills you use in real estate are useful to charitable organizations. "As REALTORS®, we are networkers. That's how we develop our business," says Barbara. "It's some of the same protocol that we use to get people to participate and donate."
But volunteer work can also present challenges and opportunities that help you expand your abilities. Tina Totty, GRI, with Agave Premier Properties in Nogales, was encouraged to volunteer for her local REALTOR® association by a previous broker. Becoming an active participant in her local and state associations helped her develop confidence as an agent. "I feel that I am more in control," she says. "I know not to let clients push me."
Good Neighbor Awards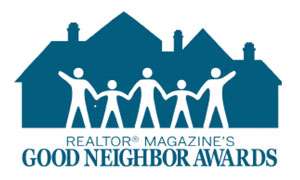 NAR's Good Neighbor Awards recognize REALTORS® who have made "an extraordinary commitment to improving the quality of life in their community through volunteer work." Each year, five winners receive $10,000 grants for their cause. (Five honorable mentions are also presented.)
The application deadline for 2010 is May 21, 2010. You can complete an entry formto nominate yourself or a colleague as a Good Neighbor.
Arizona's Good Neighbors
Arizona is fortunate to have had four Good Neighbor winners and three honorable mentions hail from our state in the awards' ten-year history. They are
2009 Honorable Mention
Margaret Pruitt Clark
Eve's Place (Surprise)
2009 Honorable Mention
Diana J. Croteau
Williams Needs an Angel (Williams)
2008 Winner
Reita Hutson
Gabriel's Dream, Inc… A Charity for Sudan's Lost Boys (Scottsdale)
2006 Honorable Mention
Jill Rich
The Sudanese Promise Fund (Tucson)
2000 Winner
Linda Booker
Christmas Angels (Glendale)
2000 Winner
Gil Gillenwater
Rancho Feliz Charitable Foundation (Scottsdale)
2000 Winner
Jill Rich
American Red Cross, Southern Arizona Chapter (Tucson)
Her confidence has blossomed in other ways. She recalls how intimidated she was during her first year of service on AAR's REALTORS® Issues Mobilization Committee. "I couldn't get past the amount of dollars. It was mind-boggling," she admits. "Now I'm the chair of that committee!"
Tip: If you work in a team, tackle volunteer challenges together. Being taken out of your element—to put a roof on a house, for example—can be a great team-building experience.
Volunteering can also be an outlet for talents that are underutilized in real estate. Linda Wise, ABR, GRI (& RN!) with West USA Realty of Flagstaff, taps into decades of nursing experience in her volunteer work for the Red Cross Disaster Action Team. A nurse since she was 19, Linda had embraced a second career in real estate. Yet when Hurricane Katrina hit the Gulf Coast, she resolved to put her nursing skills to work in her community. "It fits in so nicely with real estate because all my clients totally understand and are willing to work around a disaster's timeframe," she says. "With technology today, I just take my computer and can do what I need to in a shelter."
Tip: Determine what strength you can bring to your volunteer work, from negotiation skills to marketing expertise. Then embrace tasks that challenge you as well, such as budgeting or public speaking.
You Establish Your Niche
Volunteer efforts can help you discover or strengthen your real estate niche. While Dru was known in her community before serving on her homeowner's association board, she says that her stint on the board, including as treasurer, has increased her profile and her business dramatically. "It has helped establish my credibility as a neighborhood specialist," she says. "People say, 'If anybody can sell a house in this neighborhood, it's you.'"
She is careful, however, to keep her HOA work separate from her real estate work. When she had six listings open in one weekend, Dru developed a four-page document about the community and detailed what the relatively high HOA fees fund. She did not include her name on it and shared it with other agents who had listings in the neighborhood. "It was totally anonymous," she says. "Another [HOA] board member is a REALTOR®. We all are supportive of each other, but we're cognizant of the boundaries."
Tip: Follow your passion. Love mountain biking? You could volunteer to develop and maintain bike trails in your area—then develop a niche for neighborhoods that feature them.
You Gain Perspective & Energy
We all have heard of people who dedicate their lives to giving—not just Mother Theresa but local REALTOR® heroes too. (See "Good Neighbor Awards," above, for some prime examples.) Be inspired, not intimidated, by their examples. You don't have to exhaust your free time with volunteer work. In fact, small commitments of time can leave you energized for the rest of the week.
"I get so pumped up," says Tina. "When I come back from a task force, I am amped up, full of information, and I can't wait to tell everybody." She may be benefiting from something called "helper's high." Psychologists have found that volunteering makes people feel good. It can also have long-term health benefits.
Nothing can help you appreciate what you have like helping someone who has less. "Most of our families earn an annual income of less than $9,000 in a year," explains Mary. "I can make that on one commission check. It's been an awakening for me, personally, to shut up and quit complaining."
"With our businesses, we can get so bogged down into our little micro-world. Our deals are everything, and we have to move our clients' interests forward," says Barbara. "But volunteering helps you to have a broader outlook. It gives you a different way to relate to people."
---