REALTOR® SUCCESS CASE STUDY
---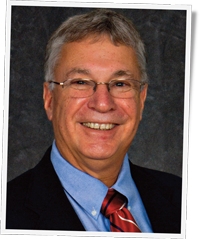 A.L. "Drew" Seargent, SRES, SRS
Coldwell Banker Residential Brokerage
Sun City
Drew Seargent didn't begin his second career in real estate with any specialty in mind. "At first, I was trying to conquer the whole city as a traditional real estate agent," he reports. "But then I found that I needed to get into a market niche and learn that product extremely well." Experience in the active adult communities on the west side led him to take the Senior Real Estate Specialist (SRES) course.
Purchasing Power. "The SRES course addresses the needs of baby boomers and matures and highlights the market share they possess and the wealth they've amassed over time," he notes. "These buyers are mostly cash purchasers or need limited financing options." With tighter lending standards and stiff competition between buyers, a niche with cash buyers appealed to Seargent.
Communication Preferences. The course also gave him insight into how best to reach out to these customers. "The mature audience believes in face-to-face communication," he reports. "They use the Internet, but nothing makes them happier than doing business the old-fashioned way, one-to-one."
Understanding the baby boomer and mature client's communication style also helps Seargent set realistic expectations for himself. "As a group, these clients take longer to make purchase or selling decisions," he acknowledges. "Sometimes I have to go back two or three times for a listing appointment, but that is anticipated as these are major decisions for my clients. The baby boomers and matures need to know all the facts and details of the purchase. And they need to develop trust in you."
Marketing to Baby Boomers & Matures. Because email and the Internet aren't normally the best way to communicate with this niche, Seargent values the marketing materials geared to the 50+ market available through SRES. "I chose a full-color, 4"x6" postcard with a picture of a golfer lining up a putt on a green," he says. "The message is, 'A Change of Course – Whatever you're moving towards, an SRES designee will find you the home of your dreams.'" He ordered 2,000 postcards both to mail and to use as a door-knocker flyer when canvassing his farm area in Sun City.
Value Adds. "Boomers and the GI Generation like to know that you are looking out for their interests and providing resources to them," he explains. One such resource Seargent has developed is a list of professional references, from trust attorneys to insurance representatives to assisted-living resources, who he feels comfortable recommending. "My goal is not necessarily to sell their home but to find the best solutions for their needs," he reports. "This may be remodeling their current living quarters with ADA adaptations, or it could be the sale of their home. Either way, as an SRES agent, I'm there to assist in the process."
Referral Engines. "I love helping people find seasonal or permanent retirement homes, helping them meet their goals," says Seargent. "Befriending them is as important as the product you're providing. Boomers and matures very much value references, and if you are genuine and helpful, they will let their friends and family know about the service you have provided."
Long-Term Benefits of SRES. SRES is more than just a two-day class. "After I received the designation, I went onto the SRES website," says Seargent. "It is a first-class resource base with tons of information—publications, web partners, client newsletters, support for seniors and monthly webinars highlighting national speakers."
"I don't know how anybody can sell in adult communities without attending this course and using this resource," he says. "I would highly recommend it to anyone who is considering representing senior communities from Chandler to the West Valley or any other location in Arizona."
---
REALTOR® SUCCESS CASE STUDY
This new series features best practices from AAR members across the state. If you or someone you know has a success story to share, please email editor@aaronline.com.
---
SENIOR REAL ESTATE SPECIALIST (SRES) COURSE
Thursday, July 26 – Friday, July 27 | 8:00am – 5:00pm
Arizona Association of REALTORS® Classroom | Phoenix
The SRES helps real estate professionals develop business-building skills and discover resources for specialization in the 50+ market. Expand your knowledge of how life stages impact real estate choices, connect with a network of resources and develop empathy with clients and customers.
Challenge stereotypes and draw valid generalities about 50+ real estate clients.
Adapt your communication and interpersonal approach to match generational expectations and preferences.
Raise awareness of dos and don'ts when striving to gain and serve the 50+ market.
Understand how Medicare, Medicaid and Social Security impact real estate decisions.
$179 (includes lunch)
Register Online | Class Flyer
Instructors: Frank Dickens, ABR, SRS, SRES, rCRMS & Laura Kovacs, CRB, SRES
CE: 6-legal issues, 6-general
---