Transaction Management Powered by SureClose®
Important changes for brokers using AAR Transaction Management powered by SureClose®
AAR will begin phasing out the SureClose® product as a member benefit in January of 2014. Several important changes will occur:
New signups will end on December 31, 2013.
AAR will continue to subsidize the majority of the cost, but brokers will begin paying $1 per file they create. This fee will increase to $4 per file in 2015.
Training and technical support for AAR brokers will be provided by AAR Business Services through 2014. SureClose® will take over all support and training in 2015.
All files will remain accessible for seven years from the date of creation, just as in the past.
For more information, please see our broker announcement and SureClose® Broker FAQ. New signups for SureClose® will be available through the end of 2013.
Looking for an alternative to SureClose®?  Where's the best place to start looking?  AAR has compiled information on some of the leading transaction management companies in the market today in the Transaction Management Comparison Matrix.  The matrix was developed to give brokers a glimpse at the functionality available and how to contact them to get more information.
Simply click on the link below to begin your search.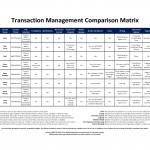 If you have any questions, please call Business Services at 866-833-7357 or email support@aaronline.com.
Training Webinars