Quick Links
Need Help?
Contact AAR Technical Support
Direct: (480) 304-8930
Toll Free: (866) 833-7357
Email AAR Support
Find A
REALTOR
®
*complete at least 1 field
AAR

Member Login
AAR Calendar
Tue, December 10
Wed, December 11
Thu, December 12
Coldwell Banker Success Days - Details
SRS: Seller\'s Representative Specialist - Details
SureClose Agent Training - Details
Full Calendar »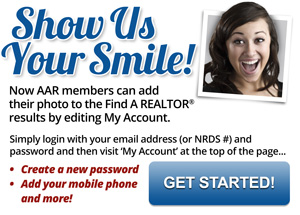 Polls

Loading ...
Efficient Business Tools
Exclusive Member Services, Certified Training, Video Webinars & Live Support to Help Ensure Business Success.
Click on one of these exciting services to learn more or to access training resources.
Note: Your eSign password is not connected to your password for this website.
Electronic Signature System
eSign is the new electronic signature benefit system, powered by GoPaperless. This member benefit is now available at no extra cost to our members.
Forms in the zipForm® AAR library are pre-mapped when imported into eSign using the eSign Printer Driver; this means signatures are automatically assigned to the correct position. The printer driver, along with a companion instruction sheet, can be downloaded to your computer using the links displayed below.
Note: Though electronic signatures are as valid as "wet" signatures, not all financial institutions choose to accept them. You may wish to confirm that the parties involved in your transactions will accept e-signatures before proceeding.
How to begin using eSign
To begin using AAR eSign you'll need to first login to your AAR eSign account. You'll need your email address that is on file with your local association as your AAR eSign Username and your NRDS number as your Password. Once you've successfully logged in, you'll be prompted to create a new password. Your next step is to download the Printer Driver from the link below, now you're ready to use AAR eSign. But before you do, be sure to watch the training videos or attend one of the live training webinars listed below. It all begins by visiting http://aar.esignonline.net.
eSign Printer Driver
Only For PC, V1.5 — Printer Driver Download
Only For MAC OS 10.8, V 1.5 — Printer Driver Download
Only For MAC 10.6 & 10.7, V 1.1 — Printer Driver Download
Training Videos
Watch eSign Videos
Training Webinar Registration
Business Services classes & training can now be found on the calendar. Select Business Services from the "Event Type" dropdown and then click on the "Filter" button.
Additional Support
To register for Transaction Management, call AAR: 480-304-8930
Transaction Management Powered by SureClose®
Training Webinars
RoboForm® Pro and RoboForm2Go®
What is RoboForm®?
RoboForm® is a program that installs on your computer to securely manage all of your passwords. When you surf to a login page, RoboForm® recognizes the page and automatically fills in the password. Now, all you need to remember is one, master password that unlocks all the rest.
RoboForm2Go® is the flash drive version of RoboForm® that allows you to take your passwords with you anywhere you go for use on any computer. RoboForm2Go® can synchronize with the desktop RoboForm® using GoodSync (desktop) or GoodSync2Go (flash drive) to make sure you always have the current password information you need.
A member login is required to access RoboForm® Discounts.
Training
Additional Support
Visit RoboForm®: RoboForm® Pro FAQ | RoboForm2Go® FAQ